"A beautiful beast. Its royal, red, angry colours, matched by nasty looking pneumatic claws."
Red Dragon was a heavyweight robot which competed in Series 3 of Robot Wars. It lost its only fight against Raizer Blade after breaking down, and did not return for any future series.
Design
[
]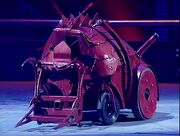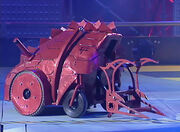 Red Dragon was an unusually shaped robot that resembled a dragon. Its steel shell - described as "scales" - was scavenged from a local scrapyard. In terms of weaponry, Red Dragon featured a hybrid of pneumatic claws - which were powered by a CO2 cylinder - and a lifter. Each side of the robot also featured a self-righting mechanism powered by a linear actuator, still a relatively new concept at the time of Series 3. Red Dragon was primarily driven by two large tyres, and also featured additional castor wheels at the front.
An additional feature that was highlighted by Philippa Forrester during the introduction of the machines in Heat A of Series 3 was Red Dragon's "lead" that was used to "take it for walks" outside of the arena.
The Team
[
]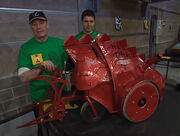 Red Dragon was built by a Sunderland-based team made up of the Armstrong family. Guitar shop owner Tom Armstrong captained the team, and was joined by his son Tom Armstrong Jr.. Another team member, Steve Armstrong, was listed on the statistics board, but he was absent during filming. The team were the only representatives of Tyne and Wear in the original run of Robot Wars, with even the reboot having double the representatives via TR2 and Vulture.
Robot History
[
]
Series 3
[
]
Red Dragon competed in the first heat of Series 3, where it was drawn against Raizer Blade, the successor to Kill Dozer in the first round.
At the start, Red Dragon got off the mark slowly, as the faster Raizer Blade crashed into it. A side-on attack from Raizer Blade then followed, as it pushed Red Dragon around and onto the Floor Flipper. Red Dragon attempted to back into space, but another Raizer Blade slam knocked Red Dragon near to Sgt. Bash.
"Red Dragon trying to spin away. Can't bring those claws into operation yet, and Raizer Blade certainly looks the more manoeuvrable and clever machine out there."
— Jonathan Pearce
Red Dragon managed to move away, but further pressure from Raizer Blade forced Red Dragon back towards Sgt. Bash and onto the arena spikes. Raizer Blade was next to taste the spikes, as it moved onto them after Red Dragon had escaped the arena hazard. Red Dragon then mustered a drive of its own, as it nudged Raizer Blade towards the CPZ, where its opponent then drove into. As Raizer Blade was put under pressure from Sgt. Bash and Sir Killalot, Red Dragon backed away and lined up another drive. However, as it arced towards Raizer Blade, Red Dragon suddenly stopped moving next to the Floor Flipper. The House Robots quickly pounced on Red Dragon's immobility, with Sgt. Bash damaging Red Dragon with his claw, before Sir Killalot skewered Red Dragon up into the air with his lance.
"Red Dragon is simply tossed into the air, and will soon be finished off. Flailed around like a loose leaf in autumn. And the red leaf of autumn colours of Red Dragon will be seen no more. Into the pit of oblivion and bye bye to you."
— Jonathan Pearce as Sir Killalot pits Red Dragon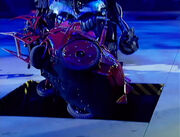 Sir Killalot then spun Red Dragon around, before carrying it towards the Pit of Oblivion, where he dropped Red Dragon to its elimination. With this, Raizer Blade was left to progress, and Red Dragon was subsequently retired.
"Red Dragon in the pit just like Stinger. Sir Killalot lives up to his name, but Raizer Blade lives to fight another day."
— Craig Charles
Results
[
]
Wins/Losses
[
]
Series Record
[
]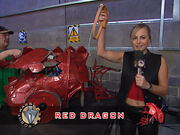 Outside Robot Wars
[
]
Red Dragon was not repaired after its only appearance on Robot Wars, and remained in its builder's garage for over twenty years. In October 2019, Tom Armstrong posted an intact and largely operational Red Dragon on eBay, at a desired cost of £1,378[1]. Ultimately, no buyers came forward to purchase Red Dragon for this price. Red Dragon was then relisted several times until April 2020, when its listing was removed, with Tom Armstrong choosing to keep the robot[2].
Trivia
[
]
Red Dragon was the only robot from the county of Tyne and Wear to compete in the original run of Robot Wars. Tyne and Wear would later produce the third place finalist of Series 8, TR2.
The cost of Red Dragon's listing on eBay (£1378) gained notoriety online for being far higher than the cost of most heavyweight robots sold online, irrespective of age. In actuality, the listed price was only £20 lower than Red Dragon's build cost stated on its statistics board, £1398.70.
References
[
]