The Refbot Minibot was one of several minibots released as merchandise. Like the other House Robot Minibots, it was amongst the first run of minibots, released in 2001.
It is based on the Series 4 version of Refbot, as no timer or yellow, red and green lights are present on the toy.
Features
Edit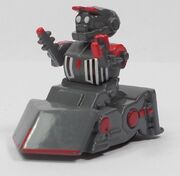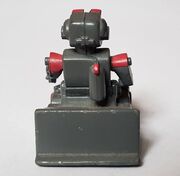 This minibot is largely accurate to that of the real robot, even down to moving arms and head. The moulding on the sides, body and head is also accurate to Refbot in Series 4. Cosmetic details such as the red colouring on the moving parts, the sides and plough and the front decals add detail to the toy, which also features a CO2 canister on the back of Refbot's body.
Releases
Edit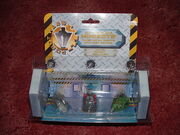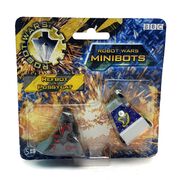 As part of the first wave of minibot toys, the Refbot minibot was released in a three-pack with Razer and Sgt. Bash, as well as in a two-pack with Pussycat.
As one of the only minibots in the original wave to never be included in a five-pack release or a playset, Refbot is among the more uncommon minibots in the original wave, but is still more widely obtainable than the majority of the second wave.
Differences to the real robot
Edit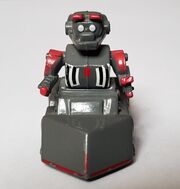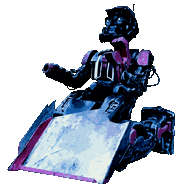 While the head on this minibot can rotate freely, it cannot move up and down as Refbot sometimes displayed that it could in the show. Refbot in Series 4 is also mostly black with a lighter coloured bulldozing plough and scoops at the front and rear. However the weapons, body, arms and head are all the same grey colour on this minibot. This is not an issue with the pullback release of Refbot. The rear scoop is also one large piece on this toy, inaccurate to the real robot.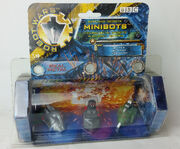 The three-pack containing the Refbot, Razer and Sgt. Bash minibots would later be updated in 2002 to use more contemporary packaging.
The Refbot and Matilda minibots are the only House Robot minibots to become somewhat 'out of date' within the show's original lifespan, with both House Robots gaining noticeable changes in Series 5, while the remaining House Robots remained visually identical until the end of Series 7.
Community content is available under
CC-BY-SA
unless otherwise noted.