Throughout the classic series and reboot of Robot Wars, various remote controlled toys were released, using radio control for the classic toys, and infrared control in the HEXBUG range relevant to the Robot Wars reboot.
The radio controlled toys were relatively fast and large in size, released to coincide with the classic series. Two of the later releases (Tornado and Sergeant Bash) had immobilising hot spots, functioning similarly to a cutoff switch on real robots. They had a recharge time of five hours. The toys were fairly expensive, ranging from £29.99 for Shunt to £89.99 for Sir Killalot. Since they were designed for battling each other, they are sturdily built, unlike some of the pullbacks. The weapons are also controlled by remote (like Shunt's axe or Growler's jaws).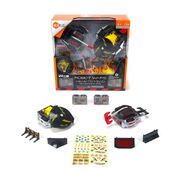 The infrared toys, developed by HEXBUG, coincided with the reboot of Robot Wars HEXBUG featured two varieties which could be customised, and were not based on any particular robot from the TV show, alongside a Matilda toy. These toys were smaller than the radio controlled toys, and were designed to work within a dedicated arena, but used a more reliable control system, and featured active spinning weapons for the first time. Matilda was priced at £39.99 as an individual release, while Impulse and Royal Pain would be bundled for a price of £49.99.
List of remote controlled toys
Edit
Tornado was the only competitor robot to be made into a remote controlled toy.

Matilda was the only robot to be released as a remote controlled toy twice.

In August 2018, HEXBUG UK consulted the general public to see which competitor robot should be converted into a remote controlled toy, out of Apollo, Carbide and Eruption. Carbide won the poll with 49% of the votes, while 25% of the votes went to the second-most popular choice, Apollo. Eruption finished with 14% of the votes, while 12% of votes were used on the "Other (reply)" option[1].
References
Edit
Community content is available under
CC-BY-SA
unless otherwise noted.