"Could leave more experienced machines on a... horn of a dilemma!"
— Jonathan Pearce introduces Rhino
Rhino was a competitor robot which appeared exclusively in Series 7 of Robot Wars. An animal-themed machine from previous series entrants Team Reactor, it reached the second round of its heat before falling to fellow veteran Steel Avenger.
Team Reactor had previously competed with their titular robot in Series 4 and Series 5, reaching the Heat Final in the latter.
Design
[
]
"We decided that we wanted something that was animal-based, but it had got to be something that was an aggressive animal. So, it was sort of an elephant, or a hippo or a rhino... other ones had been done before, and Rhino was what we went for."
— Russell Orton, explaining to Craig Charles Team Reactor's decision to build Rhino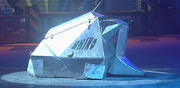 As its name implied, Rhino was a tall, silver four-wheel drive robot modelled on a rhinoceros. Taking 'nearly 500 hours' to design according to Team Reactor member Martin Crouch, it was built out of the team's desire to field a robot which looked 'different' from their previous entry as well as other competitors. Rhino employed two weapons – a high-pressure front flipper modelled on the animal's 'head' (also referred to as a 'horn' by Jonathan Pearce), and a choice of two-toothed rear flywheels, each painted red or grey, spinning at 2,500rpm and mounted diagonally to function as a bludgeoner.
Pearce's commentary also implied that Rhino featured a separate self-righting mechanism, though its function and overall effectiveness were never demonstrated on television.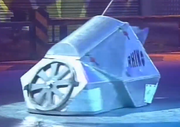 Upon initially being interviewed by Jayne Middlemiss, Russell Orton admitted that the team was uncertain about the damage potential of Rhino's untested flywheel weapons, but were confident that its flipper was highly effective. This proved to be the case in televised combat where Rhino was capable of lifting opponents effortlessly, albeit not without tipping itself forward due to the flipper's shape and positioning. Conversely, the rearward-facing flywheels demonstrated limited effectiveness and at one point proved easy to damage against other spinning weapons, resulting in them being changed over in between both televised battles.
"What is that? That's not a... a weapon! That's some sort of fan..."
— Jonathan Pearce comments on the limited damage output of Rhino's flywheel
Rhino's statistics also highlighted a lack of driving practice, which was particularly evident in its performance at the qualification stage.
The Team
[
]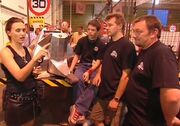 Although not explicitly mentioned onscreen, Rhino was entered by the returning Team Reactor from Birstall, Leicestershire, comprised of captain Russell Orton, his son Daniel and Martin Crouch. During interviews, the team alluded to their previous appearances with Reactor in Series 4 and 5, although Rhino itself would frequently be referred to as a newcomer elsewhere.
Qualification
[
]
In its qualifier for The Seventh Wars, Rhino faced Aggrobot, the similarly-themed Ceros and Dutch entry Twister. For much of the battle, it had a fairly passive involvement as Team Reactor were still getting used to controlling their machine across the arena. Ceros instead immobilised Aggrobot and attacked the more threatening Twister, in turn sparing Rhino from any major damage. However, the Ceros website states that their machine was also flipped early into the qualifier, possibly suggesting that Rhino may have landed a flip of its own at some stage.
"We fought for around 2 minutes in which time ceros managed to get flipped, self right perfectly and they go on to toss aggrobot several feet in the air and on contact with terra firma again were dead to the world :). We the decided as rhino were still trying to learn how to control their machine that we should go for twister as otherwise it would look like we were scared of it."
— Ceros website, describing the qualifier also involving Rhino[1]
Though Twister would ultimately be declared the winner, Rhino would still receive a discretionary place in the main competition alongside Ceros and Aggrobot.
Robot History
[
]
Series 7
[
]
Rhino made its Seventh Wars debut in Heat I, facing newcomer Mayhem, sixteenth seed Storm 2 and returning Sixth Wars Heat Finalist Supernova.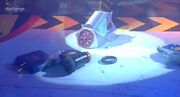 Equipped with the red flywheel, it initially lunged towards Supernova, but could not match the blue machine's speed and was soon nudged and pushed towards the Flame Pit by Storm 2. Rhino was then turned round, rammed and lifted by Storm 2 at high speed into an angle grinder, almost being thrown onto its side close to its starting position. Bouncing back onto its wheels, Rhino was again not fast enough to pressure a nearby Supernova. However, it withstood a side-on attack from Mayhem which allowed Supernova to remove its rival spinner's right tyre.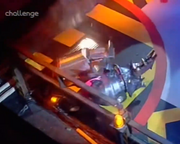 Rhino resumed its tussle with Storm 2, getting a powerful lift on the New Blood champion before Storm 2 rammed it into the wall and briefly carried it closer to the bottom-left corner. Shortly after both robots broke free, Rhino charged at and briefly lifted Storm 2 from the side; Storm 2 in turn pushed and sent it sliding into Matilda's CPZ. Rhino thrust its flipper just as Matilda damaged the arena wall, narrowly avoiding the House Robot's flywheel as a result.
With Mayhem eliminated, Rhino faced more pressure from Storm 2 and Supernova, taking a blow from the latter's disc which bent its own flywheel out of shape. However, it got underneath and again lifted Storm 2 from the front, but was almost knocked over when Supernova charged in with another attack. With its flipper now open, Rhino briefly nudged Supernova before Storm 2 rammed the latter disc-first into Sir Killalot, severely damaging his right track.
By this point, Rhino was encountering noticeable drive issues along with Supernova; it was next seen crawling back and forth along the top wall while the latter was again rammed by Storm 2. Supernova completely lost mobility shortly after Storm 2's attack, and was counted out as Rhino, with several dents and gashes in its sides, raised its flipper one last time. Team Reactor's machine would progress alongside the dominant Storm 2.
"Rhino, just about moving... I'm not too sure how fit Rhino will be to fight on..."
— Jonathan Pearce, expressing doubts about Rhino as it survives its first battle
Rhino faced the seasoned veteran Steel Avenger in the second round.
"It definitely got wrecked a bit this morning."
— Martin Crouch, upon revealing the damage inflicted to Rhino in its opening melee
Martin Crouch revealed that it had sustained major external damage and a 'little bit' of internal damage in its earlier battle, forcing Team Reactor to cut away and rebuild the robot's chassis and body entirely. As such, Rhino received 'big plasters' to conceal the biggest gashes left in its right-front and rear quarters, along with the grey flywheel in place of the red one damaged by Supernova. Crouch and team captain Russell Orton remained confident, however, the former vowing to try and throw Steel Avenger out of the arena.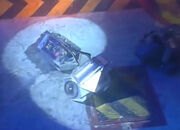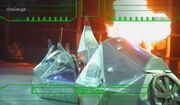 Rhino immediately charged towards Steel Avenger, missing an initial flip as the two competitors barged each other in the centre. It reversed into Steel Avenger, but could not get its flywheel to good effect as the Colchester machine dented its top panel with a few axe blows. In the process, Rhino drove around and narrowly escaped Growler's CPZ upon bumping into the House Robot, then the entry gate. Again, it missed a side-on flip on the approaching Steel Avenger, but succeeded in lifting and pinning Steel Avenger with the flipper while pushing it back across the arena.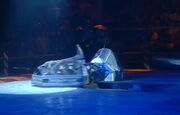 In return, Steel Avenger left another dent in Rhino's armour and pressed the pit release button once both machines separated. Rhino, having almost driven itself into the descending pit, rammed and pinned Steel Avenger while missing yet another flip. Next, Rhino attempted to lure Steel Avenger past the Flame Pit and Mr. Psycho's CPZ, where it shuttled back and forth and enabled Steel Avenger to steer it into the right wall.
"Steel Avenger beginning now... just to put points on the board, should it go to a Judges' decision, hurtling after Rhino. The Rhino, very much... an endangered species out there in the war zone."
— Jonathan Pearce as Rhino takes the brunt of Steel Avenger's axe blows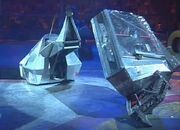 Rhino sustained several more axe blows to its top panel and flipper, all while struggling to move away from Steel Avenger as it was steered towards the open pit. Having survived an initial push by Steel Avenger, it fired its flipper and sat by the pit edge as Steel Avenger in turn flicked it and almost reversed into the pit itself. Steel Avenger survived, axing Rhino's flipper once more and setting itself up to pit Team Reactor's machine from the front. In response, Rhino flicked Steel Avenger up in a last-gasp attempt to survive, but was finally pushed in seconds after Steel Avenger landed on its wheels.
"Rhino, great last bit of defence, but in they went, in the end! One last... flick of the tail, if you like, before they went down. You can't have the tail wagging the dog, says Steel Avenger!"
— Jonathan Pearce as Rhino is pitted
Rhino was thus eliminated from The Seventh Wars; Russell Orton revealed to Craig Charles afterwards that it had suffered from drive issues which hampered its steering later on in the fight. This would prove to be Team Reactor's final appearance on Robot Wars.
Results
[
]
Wins/Losses
[
]
Series Record
[
]
Trivia
[
]

Ironically, despite Team Reactor's statements, Rhino's heat aired directly after Heat H, which contained Ceros, a fellow rhinoceros-inspired design.

Coincidentally, Ceros and Rhino were both from Leicestershire and fought each other at the qualifiers.

Team Reactor and Team Steel Avenger previously appeared in Series 4, Heat M, but did not fight each other there until their encounter in Series 7, Heat I.
For its televised appearance, Rhino was accompanied by a cuddly rhinoceros mascot in The Pits, which was visible on top of the robot in both of Jayne Middlemiss' interviews with Team Reactor.
References
[
]