Richard Browning is an English inventor, and the founder of Gravity Industries Ltd, who starred in an educational segment during Series 10 of Robot Wars. Browning is best-known for inventing the Daedalus Mk. 1, more commonly known as the Gravity Jet Suit, a suit equipped with six jet packs, allowing the wearer to hover above ground level. A former Royal Marine Reservist, Richard Browning is often named a 'real life Iron Man'[1], a nickname which Robot Wars also proclaimed.
"We love a bit of engineering here at Robot Wars, so I caught up with judge Sethu Vijayakumar to discuss the UK's home-grown Iron Man!"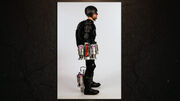 In Heat 1 of Series 10, Angela Scanlon and Professor Sethu Vijayakumar discussed Browning's Daedalus Mk. 1. They overviewed the purpose of the suit, and Vijayakumar expressed the state of physical fitness that users of the suit must require, which Richard Browning satisfied through his history of ultra-marathon running.
Angela Scanlon: "There's a guy, a young British engineer, who has kind of captured the imagination of the world, Richard Browning, who has created this unbelievable machine!"
Sethu Vijayakumar: "Yes, it's literally strapping rockets onto your arms and legs, and creating a personalised travel."
Angela Scanlon: "Right, and can anyone do it?"
Sethu Vijayakumar: "Not really, you need to be really fit, you need to be able to solve the issues that TESLA are trying to solve by landing the rocket backwards."
— Angela Scanlon and Sethu Vijayakumar introduce the Daedalus Mk. 1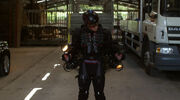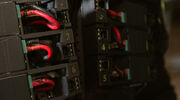 After Vijayakumar introduced the Daedalus Mk. 1 to Scanlon, the episode then cut to an interview with Richard Browning, held off-site from the Robot Wars arena, the only time this took place during an educational segment in the show. Richard Browning first explained the setup of the Daedalus Mk. 1, and how it was engineered to offer its hovering capabilities. During this explanation, clips of Browning wearing the suit, and using it to hover above ground level were played.
"So, the core component really to the suit are the collection of micro-gas turbines. They are small, miniature versions of, really what you have on a [Boeing] 747. They're very lightweight and they produce an enormous amount of thrust. Between all six, they create a nice, balanced shroud of thrust. That's the idea. And I've got the arm mounts which connect them very comfortably to my arms. There's a harness that then harnesses those engines, the rear engines, to my waist. We've then got a backpack with a fuel bladder system which contains the fuel. That's sort of double-lined so it's extra-secure. On the front, we've got all the electronics, the ECU's, the brains of the engines. And below that, the lithium ferrous batteries, they're quite chunky batteries because they have to run the glow-plugs to vaporise the fuel during the start-up sequence."
— Richard Browning explains the functionality of the Daedalus Mk. 1 during Robot Wars
Richard Browning then proceeded to explain the practical applications of the Daedalus Mk. 1, stating its planned uses by military forces, and the possibility of medical and rescue operations in the future.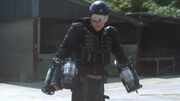 "In terms of actual practical applications, we've got a collaboration with the UK military, and we've also got one, it looks like, with the US military around some applications of moving soldiers around a battlefield. There are also some interesting conversations going on around medical evacuations, search and rescue, getting into an area that would be tough with a helicopter and other aircraft - this has got a lot of potential."
— Richard Browning explains the practical purposes of the Daedalus Mk. 1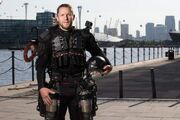 Richard Browning has demonstrated the capabilities of the Daedalus Mk. 1 on other television programmes prior to his appearance on Robot Wars, including demonstrations which took place on live television, examples including including the BBC's The One Show[3], Sky News[4] and Wired[5].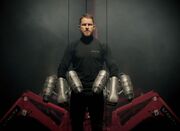 Outside of television, Richard Browning is known as a public speaker, and has performed other demonstrations of the Daedalus Mk. 1 outside of television, performing 57 demonstrations within the first twelve months of the suit's completion. These included four TED talks[6], Berlin's CUBE Connects[7], and performed for a team of Red Bull executives in France[8]. The company of Gravity Industries Ltd was founded in March 2017, with the Daedalus Mk. 1 being completed in April 2017.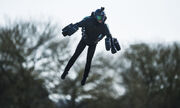 In a Guinness World Record attempt for 'Fastest speed in a body controlled jet engine powered suit', Richard Browning achieved a speed of 51.3mph[9] to claim the world record. This speed was later exceeded by Dr Angelo Grubisic of Gravity Industries Ltd, with a speed of 74kmph[10].
Richard Browning had a prominent role in the American TV episode Savage Builds - Building Iron Man on Discovery Channel, where Richard Browning demonstrated his technology that would then be incorporated into a titanium Iron Man suit, which the show's host flew with at the end of the episode.
Due to BBC's policies on advertising, Richard Browning's suit and company could not be mentioned explicitly by name, with the Daedalus Mk. 1 only being described rather than named, while Gravity Industries Ltd was unmentioned.
Series 8 and 9 had previously featured a segment in every episode where Angela Scanlon or Dara Ó Briain would talk to one of the Judges about advancements in the field of robotics and roboteering, but Richard Browning's segment was the only segment in the main run of Series 10 to focus on an aspect of robotics separate from Robot Wars, and was the only segment in the entire reboot to feature a pre-recorded interview without a presenter of the show or a Judge present.

At two minutes and fifteen seconds, of which Browning was present for one minute and twenty-three seconds, the segment detailing the Daedalus Mk. 1 was among the lengthiest educational segments in Robot Wars.

The Daedalus Mk. 1 was named by Richard Browning's at-the-time eight year old son[11].
Community content is available under
CC-BY-SA
unless otherwise noted.