Rigby was a loanerbot which appeared exclusively in Nickelodeon Robot Wars. It was lent to Team Chippermonkey, who also entered Basenji in this and the second season of Robot Wars: Extreme Warriors, and competed solely in the Mayhem competition under the controls of John Carioti's son, Andrew. However, it lost in the first round after it was badly damaged by The Revolutionist.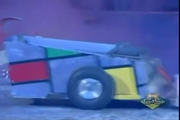 Rigby was a two-wheeled, box-shaped robot with a slanted top panel and a steep front wedge. Its weapon was a pneumatic axe which it appeared to share with other loanerbots, while its body was painted grey with black outlines resembling rectangles, with some painted green, red, blue and yellow. While Rigby's axe proved reasonably powerful, its exposed wheels and fragile armor were both susceptible to damage, as proven during its only battle.
Robot History
Edit
Nickelodeon
Edit
Rigby appeared exclusively in the Mayhem competition, facing Diskotek and The Revolutionist in the first round.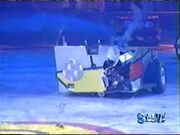 It immediately spun around before it was pushed across the arena by Diskotek, the attack appearing to immobilize it on one side. Rigby continued to spin around in circles until The Revolutionist slammed into it twice, sending it spinning and causing severe damage to its rear armor. Another impact ripped one of Rigby's wheels out of alignment, and The Revolutionist left it immobilized on the arena floor as Sir K placed the also-immobile Diskotek onto the Floor Flipper. As The Revolutionist and Sir K attacked Diskotek, which regained mobility after being thrown by the Flipper, Rigby was counted out by Refbot, before Sir K grabbed and placed it on the Drop Zone along with Diskotek. Both robots had an assortment of golf, tennis, ping-pong and bowling balls dropped onto them, with Rigby axing Diskotek as the latter drove away and 'cease' was called.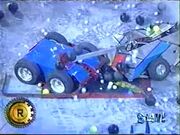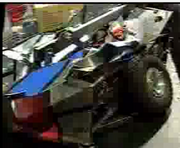 "Wow, there's a strike!"
— Stefan Frank as a set of bowling balls drops onto both machines
Following a dominant performance by The Revolutionist, both Rigby and Diskotek were eliminated from the Mayhem competition.
Wins/Losses
Edit
Series Record
Edit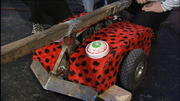 Similarities have been drawn between Rigby and Stanoscloir, a robot used by Team Nemesis during Techno Games, and as Rigby was a loanerbot, it is feasible that both robots are the same build.
Community content is available under
CC-BY-SA
unless otherwise noted.