"What makes RoboCop look like a rookie, the Daleks look like wheelie bins, and could give R2-D2 a right good see to?"
— The first ever advertisement of Robot Wars on BBC Two
Robot Wars is a British television game show which was originally broadcast from 1998 until 2004, and was revived in 2016 to continue for three additional series. The idea of Robot Wars came from a US-based robot combat competition which ran from 1994 until 1997. The show ran for ten UK series, as well as two series of Robot Wars Extreme and the one-off series Robot Wars Revealed. Several international series of Robot Wars were also produced.
The show was originally broadcast on BBC Two on Friday evenings for the first four series, moving to BBC Choice on weekday evenings for the fifth and sixth series and both series of Extreme, with all four series being repeated on BBC Two in its regular Friday timeslot shortly after the original broadcast. For the seventh series, the show moved to Five and was broadcast on Sunday evenings. The rebooted series of Robot Wars aired on BBC Two once again, this time on a late-peak Sunday evening timeslot with repeats the following Monday night in the UK, and the following Wednesday night in Northern Ireland, later airing in America on the Science Channel in August 2018.
Both series of Robot Wars Extreme were repeated on digital channel Dave between 2010 and 2011, and have since been repeated again on Challenge from November 2015 and January 2016 respectively. The Second Wars also enjoyed a repeat run on Challenge in May/June 2014, before Challenge began showing repeats of Series 5 in November 2015, Series 6 in January 2016 and Series 7 in March 2016. H2 also started repeating Series 3 and 4 in January 2016.
The principle of Robot Wars has always been for competitor robots, built and driven by amateur engineers known as 'roboteers' to wage against the robots of other teams in combat. While attempting to win battles by damaging and/or immobilising their opponents, robots must also dodge the hazards of the Robot Wars Arena, including the House Robots, such as Sir Killalot. The House Robots in particular are used to attack robots which drive into their vicinity, usually by damaging or taking them to nearby arena hazards. Winning battles brings competitors closer to their goal of becoming Robot Wars Champion, in the knockout tournament format. Robots must be equipped with weaponry to aid them in battles, including flipping weapons, rotating weapons such as flywheels, bar spinners and circular saws, or the power of brute force.
1994-1997 US Competition
Edit
The Robot Wars television show was based on a robot combat competition of the same name which ran from 1994 until 1997 in the United States of America. This competition was created by San Francisco-based designer Marc Thorpe, who worked as a senior toy designer for the LucasToys division of Lucasfilm. Thorpe had earlier created a radio-controlled vacuum cleaner based on a radio-controlled tank, and unsuccessfully pitched a 'destructive vehicles'-themed toy concept to LucasToys, named 'Danger Zone'.[1] Following the failure of the 'Danger Zone' proposal, Thorpe was inspired to develop the concept of the Robot Wars events, creating a set of rules for the competition and advertising the concept to potential participants. Thorpe would receive 70 requests for entry forms, and 17 entries for the first competition; however, limited funding prevented him from running the event immediately.[2]
"Once I had the idea I set about finding ways to make a visual representation and I filed a trademark application. My biggest fear was that the trademark, the brand would not be recognized due to the conceptual stretch implied in the name. How do you define what a robot is or is not? I did not know if people would accept the characterization of what are essentially R/C vehicles as robots. As it is no one has challenged RW as misleading. I feel that people want this so much that they just disregard the issue. So I started to modify my tank putting scary, sinister looking devices etc on it. Literally just putting them on it. None of them worked. It was all for show. Next, I took photos, created rules and advertised. I took out adds in an art magazine and an R/C magazine. I was not prepared for what was about to happen."
— Marc Thorpe on developing the Robot Wars concept[3]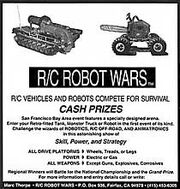 In early 1994, Thorpe sent a promotional package for the inaugural US Robot Wars event to Wired magazine; a few days later, the magazine contacted him, stating that they wanted to produce photographs and an article on the event. Realising that he did not have a functioning robot ready, Thorpe modified his tank further to incorporate a top-mounted chainsaw bought from a hardware store. Although the chainsaw was not functional, photographer Bill Zemenek was impressed with the robot; both the article and the accompanying photograph appeared in the February 1994 edition of Wired, the former written by Jef Raskin.[4] This gave the inaugural US Robot Wars event a substantial amount of exposure, allowing Thorpe to concentrate on preparing the event itself.
The first competition was held in 1994 at the Fort Mason Center in San Francisco, attracting 1,200 attendees.[5] The success of this event lead to three further competitions taking place between 1995 and 1997. Approximately one month prior to the first event, Thorpe formed a partnership with New York-based record company Profile Records, who provided additional funding for the competition.
Partnership with Mentorn & BBC pitch
Edit
In 1995, Profile Records partnered with production company Mentorn to produce and televise a Robot Wars event in the UK. Mentorn acquired the worldwide television rights from Profile later that year, and Tom Gutteridge and Steve Carsey created the television format from the original Robot Wars concept. The series was originally pitched to Channel 4, but it was rejected, so Mentorn approached the BBC instead. In order to prove the viability of a potential television series, Tom Gutteridge arranged a meeting with Michael Jackson, the then-controller of BBC Two, which took the form of a live event. The event - the 1995 UK Open Competition - featured several stock robots and three American robots specially flown into the UK - Thor, La Machine and The Master. Jackson was left impressed by the 1995 UK Open and its audience reaction, promising Mentorn some episodes. However, Jackson left his job at BBC Two to become controller of BBC One and was replaced by Mark Thompson, a friend of Gutteridge. The previous controller of BBC One, Alan Yentob, had become the new BBC Director of Programmes, and he was not interested in the idea of Robot Wars. As a result, nothing came of the televised Robot Wars proposal until 1997, when Yentob left his role to become the BBC Director of Television, which finally allowed Thompson to commission the series. Filming for the first series began later that year.
Televised show
Edit
Mentorn used Marc Thorpe as a consultant on the show and the first series of Robot Wars in the UK was broadcast over six weeks in February and March 1998. It was an immediate hit, with more than 2 million viewers, and a further 27 episodes were commissioned by the BBC that year. 155 episodes were produced in total, and the show was seen in 26 countries.
In addition to the main series, two series of Robot Wars Extreme were produced, featuring various side competitions and one-off battles. Two seasons of Robot Wars: Extreme Warriors were produced in the US for the TNN network, and a version aimed at a younger audience was also produced and aired on Nickelodeon. Also produced were two series of Dutch Robot Wars and a single series of German Robot Wars (although a German series had been planned and cancelled one year prior to the televised series[6]), which were broadcast in their respective countries. All were produced in London by Mentorn, and executive produced by Tom Gutteridge and Steve Carsey.
According to The Guardian, by 2002 Robot Wars generated £100 million in revenue worldwide, primarily through international distribution deals and merchandise sales.[7] It was also reported that an animated series based on the show was planned by Mentorn in order to expand the Robot Wars name into the children's entertainment market. Scheduled to be produced for a 2004 or 2005 debut, the animated series was scrapped before airing a single episode.
"RW was not dropped due to a fall in ratngs - consistent 2m viewers for past few series. BBC2 controller simply decided it was time for a change."
— Meeting between Mentorn and the Roboteers Committee[8]
In 2003, after six main series and two series of Extreme, the rights for the show were acquired by Five, which broadcast the seventh series starting in November 2003. The final episode, the Third World Championship, was broadcast in March 2004, after which the series was eventually cancelled, leading to a 12-year hiatus off-air.
Attempted revival
Edit
Although Robot Wars would not return to television until 2016, there were several attempts made to revive the show during its hiatus off-air. In January 2009, Gutteridge, now chairman of production company Standing Stone Productions, had discussed on behalf of Robot Wars LLC of producing a new series of the show with commissioning editors of Sky Television. Unsuccessful, Gutteridge from 2010 to 2011 held discussions about a possible revival to representatives of BBC Two, BBC Three, ITV 1 and ITV 4. Within this time period, Gutteridge also discussed with Adam McDonald, controller of daytime at ITV 1, on a possible new series of Robot Wars on early Sunday evening timeslots. However, ITV ultimately rejected the idea.[9]
By March 2011, Gutteridge was preparing a proposal of reviving the show, submitting it to Channel 4. However, the broadcaster rejected the concept for a second time. Nonetheless, Gutteridge was optimistic that Robot Wars would return in the near-future, believing that 2012 or 2013 were ideal for the show's return.[9]
Live Events
Edit
After Robot Wars ended, robot combat in the UK continued with a series of non-televised live events held across the country, mostly organised by Roaming Robots, Robots Live! and Robo Challenge, and featuring several former Robot Wars veterans in addition to new competitors and roboteers. On June 17th, 2006, Geoffrey Thorpe of Robot Rumble filed an application to register the trade mark Robot Wars, eventually being registered on December 1st, 2006. However, on April 22nd, 2009, Robot Wars LLC and Robot Wars Limited submitted an application to the Intellectual Property Office that claimed the registration of the trademark was invalid. On March 2nd, 2011, the report was published, with the case being upheld in favour of Robot Wars LLC and Robot Wars Limited. Thorpe was ordered to pay the two companies £3,100 in damages.[9]
In February 2013, it was announced that Roaming Robots Ltd. had agreed a deal with Robot Wars LLC to use the Robot Wars brand name for its live shows, also gaining the rights to the House Robots, should they become available. Alan Gribble's replica of Matilda was used as a House Robot throughout the run of the live shows.
The first official event of the new Robot Wars live show was held in Barnsley in February 2013, and a new Robot Wars UK Championship was held in July 2013, with Eruption winning the title. In late 2015, a Robot Wars World Championship was also held, which was won by Toxic 2 over Thor. These events ran until the end of 2016, where John Findlay revoked his use of the Robot Wars brand, to avoid clashing with the unaffiliated television reboot. These events were succeeded by Extreme Robots, a new touring show which allows heavyweight spinners to compete on the live circuit for the first time in over a decade.
Return to TV
Edit
On January 13th 2016, the BBC announced that Robot Wars would be revived for a new series produced by Mentorn Scotland, with filming taking place in March of that year. The series consisted of six episodes, each an hour long, which were filmed in Glasgow and broadcast on BBC Two. Filming began on March 4th, with an unaired pilot being filmed on March 1st, and was concluded on March 13th. The series began airing on July 24th 2016, with a series of teaser trailers and a BBC iPlayer-exclusive preview being released in the lead up to the series' broadcast.
On October 11th 2016, a second series of the rebooted Robot Wars, officially known as 'Series 9', was announced by the BBC, again consisting of six episodes and set to air on BBC Two. Filming of Series 9 began on December 2nd and concluded December 7th 2016. A celebrity spin-off, Robot Wars: Battle of the Stars aired on December 28-29, 2016. The main series premiered on March 5th, 2017[10]. The day after Series 9's televised premiere, Series 10 was officially revealed, and applications opened, ahead of filming in May 2017. Series 10 began airing on BBC Two on 22nd October 2017, with a run of eight episodes comprising of the main series and two forthcoming International Specials.[11][12][13]
On March 16th 2018, roboteers[14] were contacted[15] to confirm the BBC's decision to produce no future series of Robot Wars. This was later confirmed by the official Robot Wars Twitter account[16]. A spokesman for Mentorn Media added that the production company are "exploring a number of ideas" in order to find a new home for Robot Wars, following the BBC's verdict[17]. In August 2018, the rebooted series of Robot Wars began airing in the United States of America on the Science Channel[18], which also airs BattleBots.
Personalities
Edit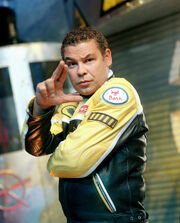 The first series was hosted by Jeremy Clarkson, the pit reporter was Philippa Forrester and commentary was provided by Jonathan Pearce. Clarkson left the show after the first series and was replaced with Craig Charles, who presented the show until the original version ended in 2004. The main roles of Clarkson and Charles were to present each segment of the show, announce the winners of every battle and speak to the teams after the end of battles, Gauntlet runs and Trials.
Forrester's role as pit reporter consisted mainly of speaking to contestants about their robots in the pits before and after battles, although she was also seen introducing the Gauntlet in the first two series. In Series 4 and the first series of Robot Wars Extreme, Julia Reed took over the role of pit reporter due to Forrester's pregnancy, with Forrester returning for Series 5, 6 and Extreme 2. When Robot Wars moved over to Five for the seventh series, Jayne Middlemiss took over as pit reporter, with Forrester again being pregnant during this time.
For Series 8 (originally known as the '2016 series'), Dara Ó Briain and Angela Scanlon became the show's new co-hosts, taking up joint roles as presenters and pit reporters. Both hosts introduced and closed the show in each episode as well as speaking to competitors before and after each battle. Additionally, they occasionally watched battles from inside the control rooms and announced every judges' decision in Series 8. Jonathan Pearce also returned for the reboot to reprise his role as commentator. Ó Briain and Scanlon would retain their roles for Series 9 and 10, with Pearce providing commentary for both series.
Presenters
Edit
Introduce each episode.
Introduce the Trial stage (Series 1-2).
Interview competitors before and after battles, Gauntlet runs and Trials.
Film links between rounds, connecting filming sessions together.
Watch battles from inside one of the control rooms (Series 8 Grand Final, Series 10).
Announce the winners of every battle/judges' decision.
Close all episodes.
Pit Reporters
Edit
Introduce the Gauntlet stage (Series 1-2).
Introduce all competitor robots at the start of every Heat (Series 3-4).
Interview competitors in the pits about their robots before and after battles, Gauntlet runs and Trials.
Present many of the trophies to the winning teams.
Close some (Series 1-7, Extreme) or all episodes (Series 8-10).
NOTE: The Pit Reporter takes on all the responsibilities of the Presenter in Series 8-10, as there is no distinguished difference between the roles
House Robots
Edit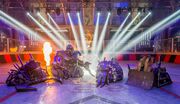 While not personalities in the sense of being human presenters, the House Robots are recognisable robots owned by the BBC, of which at least one will appear in every battle on the show. The House Robots are confined to the Corner Patrol Zones (CPZs), a set of marked areas in each corner of the arena where they will attack competitors if they drive too close, either by driving error or being pushed in by another competitor. If a robot is immobilised, the House Robots are permitted to attack the defeated competitor, inflicting further damage for entertainment purposes, or to take them to various arena hazards such as the Pit of Oblivion. One House Robot, Refbot, served a different purpose, ensuring a fair fight by separating robots which became locked together, extinguishing fires, and counting out immobile machines in later appearances.
The list of House Robots includes:
The format for the first two series consisted of between six and twelve heats featuring six competitor robots per heat. All robots competed in a series of three challenges - the Gauntlet, the Trial and the Arena - in the following order:
In the First Wars, the six heat winners fought each other in a single six-way battle to determine the series champion. The Second Wars featured two Semi-Finals with six Heat Finalists each, who competed in the Gauntlet and Trial stages again before fighting in two one-on-one battles. The two winners from each Semi-Final progressed to the Grand Final, where the four remaining robots paired off in two eliminator rounds and the two winners met in the final to determine the series champion. The losers of each eliminator would also face each other in a playoff for third place.
From the Third Wars onwards, the Gauntlet and Trial stages were discarded and the championship took the form of a straight knockout tournament spanning between 12 and 16 heats, with two Semi-Finals and a Grand Final. The format varied from series to series, with Series 4, 6 and 7 featuring two three- or four-way melees and two head-to-head battles to determine the Heat Finalists, and Series 3 consisting exclusively of one-on-one battles. Heat winners would then progress to the Semi-Finals, with two robots from each going through to the Grand Final of each respective series. In Series 5 and 6, the losing robots from the first round of each Semi-Final would fight in a three-way Losers Melee, with the winner of this battle progressing to the second round along with the first round winners.
In Series 8-9, the first-round battles were referred to as Group Battles, with two robots progressing from these four-way melees into the round-robin style Head-to-Head stage. Here, the four surviving competitors would fight each other in a series of one-on-one battles in order to score points and qualify for a place in the Heat Final. The two highest scoring robots would then fight for a place in the Grand Final, with the winner of the Heat Final automatically progressing. The Grand Final followed a similar format to the heats, with the Group Battles featuring three robots each instead of four. The Grand Finalists consisted of all five heat winners, as well as a sixth 'wildcard' entry chosen out of the five Heat Finalists.
For Series 10, the format was changed again, with only one winner from each three-way Group Battle progressing to the Semi-Finals of each heat. The four losing robots from the Group Battles then fight again in the Robot Redemption Knockouts, a set of head-to-head battles where the winners progress to the Semi-Finals to join the Group Battle winners. Winners of each Semi-Final advance to the Heat Final as in the original series; losers enter a playoff for third place. All five heat winners automatically qualify for the Grand Final; every second-and third-place finisher enters the Ten Robot Rumble, where they fight each other in a melee for a chance to be reinstated as the sixth Grand Finalist. The Grand Final in Series 10 follows the same format as the heats, although the third-place playoff is omitted.
In each arena battle, there were many ways in which a competitor robot could lose a battle:
Whenever a battle ended with no clear winner, a panel of three Judges would decide on the outcome by scoring each competitor on style, control, damage and aggression. The original Judges for the first two series were Eric Dickinson (the only British veteran of the original US competition), Adam Harper (then holder of the land speed record for electronic vehicles) and Professor Noel Sharkey (Head of Robotics at Sheffield University) who judged every series.
In Series 3, Dickinson was replaced by Martin Smith (Head of the UK Cybernautics Society). Series 4 saw Adam Harper replaced by Dr Myra Wilson (Head of Computer Science at the University of Wales, Aberystwyth). In Series 5, Mat Irvine (BBC Technical Consultant and House Bot designer) went from being the show's safety inspector to Judge, and he, Smith and Wilson cycled throughout, with two of each acting as Judges for Series 5 and Extreme 1. After this, Wilson left the show, and Irvine, Sharkey and Smith remained in their roles until the original end of the show's run.
When Robot Wars returned in 2016, Sharkey returned alongside two new Judges - robotics professionals Professor Sethu Vijayakumar and Dr. Lucy Rogers. Additionally, the 'style' category was dropped from the scoring criteria, leaving only 'control', 'damage' and 'aggression'. The Judging line-up remained the same for Series 9 and 10.
International versions
Edit
In addition to the UK series of Robot Wars, other versions of the show were produced for television networks around the world, featuring competitors from other countries as well as their own hosts, pit reporters and commentators. A US version of the show called Robot Wars: Extreme Warriors was produced for the TNN network, running for two seasons, alongside an additional series produced for the children's channel, Nickelodeon, intended for younger audiences. There were also two series of Dutch Robot Wars produced for the BNN network in the Netherlands, and one series of German Robot Wars produced for RTL II in Germany. All international versions of the original show were produced in the main Robot Wars television studio in London or RAF Newton, with the battles taking place in the main Robot Wars Arena and featuring the UK series' judges and House Robots.
As well as these localised versions, the original UK series was broadcast in other territories, including North America, Australia, mainland Europe, the Middle East and Asia. In some territories such as India and most European countries, the programme was broadcast in English with regional subtitles. Elsewhere, such as in Pakistan, the series was dubbed into each country's regional language, in this case both the Hindi and Urdu languages, with English subtitles. Some of these dubs, such as the Swedish and German versions of The Fourth and Fifth Wars respectively, also featured new continuity links filmed with regional presenters, as well as new commentary specifically produced for these versions.[19] (However, the Swedish network TV6 and the Danish network TV2 are known to have broadcast episodes in English subtitled with their respective country's native language, seemingly from the first series of Robot Wars Extreme onwards, although with the latter channel only the Fifth Wars Grand Final has re-emerged in subtitled form.) Arguably the most well-known international dub was Robot Wars: Grand Champions, a North American dub of The Fourth Wars aired by TNN, which featured US hosts and commentary.
In December 2016, Passion Distribution, the distribution company for Robot Wars, announced that a local version of the rebooted series would be produced with Group M Entertainment for audiences in Asia.[20] This was later revealed to be intended for the Chinese market.[21] As of 2018, the rebooted UK series has also been broadcast or is scheduled to be broadcast in other territories, including Germany (ProSiebenSat.1 TV Deutschland)[22], the United States (Science Channel)[23] and South Korea (FX Korea)[24].
Episode Guide
Edit
Champions
Edit
UK Champions
Edit
Below are the Champions and Grand Finalists of the ten main series of Robot Wars. For more information on each series, see the individual articles linked below.
World Champions
Edit
Below are the Champions, Finalists and Semi-Finalists of the three Robot Wars World Championships. For more information on each series, see the individual articles linked below.
Robot Wars officially sponsored the VEX UK Nationals 2018 robotics tournament, and will reportedly continue this sponsorship over the 2018-19 season[25].
References
Edit
External Links
Edit
Community content is available under
CC-BY-SA
unless otherwise noted.