The first heat of Series 10 aired on October 22nd, 2017. It was the first of five heats to determine the finalists of Series 10 of Robot Wars.
Competing robots
Edit
Newcomers
Edit
Apocalypse

Attack
Axe
Armour
Steel, titanium
Weight
110kg
Speed
18mph
Drive
Ampflow A28-400 24V motors
Power
Electric/pneumatic
Battery
LiPo 22.2V
From: Coleshill, North Warwickshire
Team: Ed Wallace, Chris Page, Miles Page
Donald Thump

Attack
Vertical spinner
Armour
3mm HARDOX
Weight
110kg
Speed
15mph
Drive
2 x Ampflow E30-400
Power
Electric
Battery
LiFePo 24V
From: Hereford, Herefordshire
Team: James Davies, Allan Davies
Apollo

Attack
Flipper
Armour
Laser-cut Hardened Steel
Weight
108kg
Speed
12mph
Drive
2x AmpFlow A28-400-F48
Power
Electric
Battery
LiPo, 48V
From: Conwy, North Wales
Team: Dave Young, Alan Young
Behemoth

Attack
Titanium Scoop
Armour
Titanium, Polycarbonate & Stainless Steel
Weight
108.6kg
Speed
15mph
Drive
6WD, Chain Driven
Power
Electric
Battery
LiFePo4 28.8v
From: Hemel Hempstead, Hertfordshire
Team: Anthony Pritchard, Kane Aston, Kevin Cleasby, Michael Pritchard
Sabretooth

Attack
Drum spinner
Armour
3.2mm HARDOX and layered HDPE
Weight
106.85kg
Speed
15mph
Drive
2x AmpFlow A24-400 48V
Power
Electric
Battery
LiPo 12V
From: Haslemere, Surrey
Team: Gabriel Stroud, Robert Pickford, Al Cannon
The Swarm

Attack
Pincers/Flipper/Spinner/Anti-Spinner
Armour
HARDOX 3.2mm
Weight
104kg
Speed
Untested
Drive
RB 775 18V motor
Power
Electric
Battery
LiPo 18.5V
From: Brighton, East Sussex
Team: Ian Watts, Sam Watts, Mike Hamilton-Macy, Ryan Pratt
Behemoth vs Donald Thump vs Sabretooth
Edit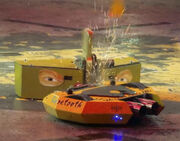 The two spinners both stayed relatively still as Activate was called while they spun up their weapons. Behemoth edged towards Sabretooth and skirted around them, but Sabretooth turned their drum towards Behemoth and sent the scooped robot rolling over. Donald Thump moved in and hit the front of Sabretooth. The spinners took chunk out of the front of either robot, Donald Thump losing one of its cartoon eyes, but Sabretooth took damage to the weapon mounts.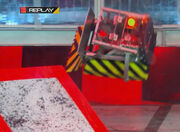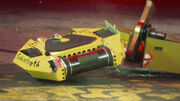 The robots scattered to avoid each other temporarily, and Donald Thump charged across the arena to the side wall. As it charged back into the middle of the arena, chasing Behemoth, Sabretooth landed a hit with the drum. Donald Thump turned, and Behemoth charged, taking a glancing blow off the spinner, before continuing over the floor flipper, which sent the veteran robot barrel rolling off and back onto its wheels. Donald Thump got its bar up to speed as Sabretooth charged in, but turned at the last minute, allowing Donald Thump to tear a gash out of the armour on Sabretooth's wheelguard, raising it up.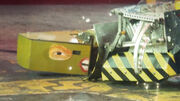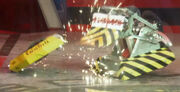 Behemoth then attacked Donald Thump by charging head-first into its spinner, but mistimed their flip, and threw themselves over. Sabretooth then slammed drum-first into Donald Thump, loosening a front panel. Sabretooth charged at Behemoth, and nipped at the scoop, before being flung away when the flipper was fired. Behemoth then set about chasing Sabretooth around the arena as Donald Thump had stopped moving.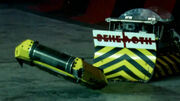 Behemoth pressed the Dial of Doom, and Sabretooth moved in for an attack. The drum hit the scoop of Behemoth, catapulting Sabretooth into the Dial of Doom tyre itself, which activated the pit. Sabretooth was driving across the arena, and almost drove in, but turned and slammed hard into Behemoth. Behemoth recoiled, and Sabretooth turned over, but both stopped moving, as Behemoth's safety link had been removed, while Sabretooth could no longer gain purchase on the arena floor. Sabretooth's drum could be heard grinding against the floor, but it didn't move.
"You smashed into each other, and it was that impact which totalled you both!"
— Dara Ó Briain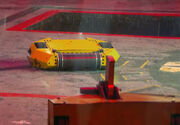 Gabriel Stroud revealed after the battle that the damage caused by Donald Thump had caused Sabretooth to be beached off its tyres when upside-down, preventing it from driving away. He admitted to feeling 'robbed', believing his team had won the battle.
Angela Scanlon: "This is a bit awkward! There was so much talk, we're gonna win, we're not just here to win a battle..."
Gabriel Stroud: "We should've won! But you know, if we hadn't been flipped by Behemoth at that point, we would still be going!"
Angela Scanlon: "Okay, keep telling yourself that, Gabriel!"
— Angela Scanlon mocks Team Legion's boasts
Results: Behemoth, 1st Place. Sabretooth, 2nd Place. Donald Thump, 3rd Place.
Apocalypse vs Apollo vs The Swarm
Edit
Apollo charged straight through The Swarm, hitting the two robots that hadn't moved, Rubber Duck and Blenda. Rubber Duck were flipped over by the slam, and Blenda pirouetted around as the spinner was trying to speed up. Rubber Duck self-righted, as Apocalypse slowly chased the nippy Pinza around the arena.
"I don't know how you're supposed to fight those things!"
— Professor Noel Sharkey empathises with The Swarm's opponents.
Apocalypse pushed Pinza and Skye around as Apollo took the tiniest of glancing blows from Blenda's spinner. Apocalypse, which had now lost the use of its axe, pushed Rubber Duck towards the arena side wall, and then reversed into the blade of Blenda, but pushed the little robot back and out the way. Apollo pushed Pinza, and finally got one of the clusterbots onto its flipper, sending Pinza flying through the air, where it bounced down behind Sir Killalot. Apocalypse slammed into Rubber Duck, and were then set on by Apollo, but nothing came of the attack as Apollo misjudged their flip.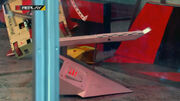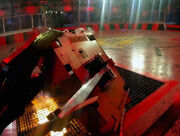 Apocalypse shoved Blenda towards the wall, but were vulnerable to Apollo, which flipped Apocalypse cartwheeling back onto their wheels. Apollo pushed Apocalypse across the arena, and sent them flying again, this time landing in the grasp of Sir Killalot. Apocalypse were stuck on the flame pit, and Sir Killalot picked the robot up, before dumping it back down stuck.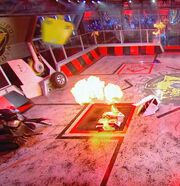 Apollo tried to flip Rubber Duck by the wall, but missed and only succeeded in turning themselves over. Apollo tried to line up Skype for a flip, but its wedge shape allowed it to drive off. Rubber Duck were being harassed by the Floor Flipper, which allowed Apollo to line up a great drive, before throwing the tiny robot over the polycarbonate screen and out of the arena.
"A giant against the minnows - oh ho ho! It flew, it literally flew!"
— Jonathan Pearce as Rubber Duck is tossed out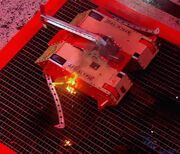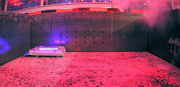 Apollo attacked Blenda head-on, but the spinner did little damage. Meanwhile, Apocalypse had started to catch fire on the flame pit. Apollo flipped Skye again and pinned Blenda in a corner. Skye activated the Dial of Doom, opening the pit. With Rubber Duck out of the arena, and Pinza seemingly stuck upside-down, The Swarm had lost the battle, so Skye eventually drove straight into the pit, leaving Blenda as the only mobile clusterbot left. After 'cease', Apollo flipped Pinza again, before unsuccessfully attempting to flip Sir Killalot over; however, the latter moment was not shown on television.[1]
Results: Apollo, 1st Place. The Swarm, 2nd Place. Apocalypse, 3rd Place.
Robotics industry segment
Edit
Angela Scanlon: "There's a guy, a young British engineer, who has kind of captured the imagination of the world, Richard Browning, who has created this unbelievable machine!"
Sethu Vijayakumar: "Yes, it's literally strapping rockets onto your arms and legs, and creating a personalised travel."
Angela Scanlon: "Right, and can anyone do it?"
Sethu Vijayakumar: "Not really, you need to be really fit, you need to be able to solve the issues that TESLA are trying to solve by landing the rocket backwards."
— Angela Scanlon and Sethu Vijayakumar introduce the Daedalus Mk. 1
Heat 1 was the only episode of the main competition in Series 10 to feature a segment on the robotics industry, a staple of every episode during Series 8-9, while - otherwise, only Heat 3 would feature a Robot Wars-focused interview with Dr Lucy Rogers, while the World Series returned to the informative segments.
"In terms of actual practical applications, we've got a collaboration with the UK military, and we've also got one, it looks like, with the US military around some applications of moving soldiers around a battlefield. There are also some interesting conversations going on around medical evacuations, search and rescue, getting into an area that would be tough with a helicopter and other aircraft - this has got a lot of potential."
— Richard Browning explains the practical purposes of the Daedalus Mk 1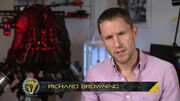 Prior to the Redemption Round, Angela Scanlon and Professor Sethu Vijayakumar discussed the future applications of robotics, leading to their introduction of Richard Browning, and his hovering bodysuit, the Daedalus Mk 1. In a separately recorded segment, Browning himself then explained how the Daedalus Mk 1 was engineered, and its applications in the real world, past-and-present.
Redemption Round
Edit
Apocalypse vs Sabretooth
Edit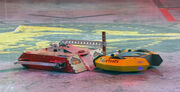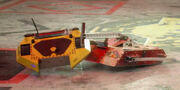 Sabretooth turned and allowed Apocalypse to slam into the rear of their machine. Apocalypse landed a few blows with their now-working axe on the top of Sabretooth, who turned the drum towards Apocalypse. Apocalypse pushed Sabretooth head-on, repeatedly slamming down with the axe, eventually damaging the little wedge on the front of Sabretooth. This attack also removed the weapon belt from Sabretooth's drum, disabling it. Apocalypse ramped underneath Sabretooth as the yellow robot struggled to get the drum up to speed. Sabretooth backed off towards a CPZ, and almost were hit by the axe of Shunt. Sabretooth came worryingly close to Shunt's axe for a second time, but instead turned and activated the Dial of Doom, which chose to use the Fog of War for the first time.
"Whack him! Whack him, drive into him, hit him!"
— Gabriel Stroud during the battle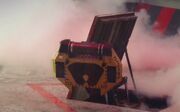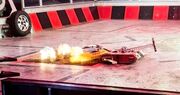 With the Fog of War reducing visibility, Sabretooth blindly drove about, and were unwittingly thrown by the floor flipper. Apocalypse chased Sabretooth and attacked with the axe again, but after this, they seemed to become impaired on one wheel. Sabretooth wandered into the danger zone and again had to take an axe blow. Sabretooth tried spinning on the spot, but all of Apocalypse's axes fired in unison, temporarily trapping their opponents. Once released, Sabretooth turned and drove into the side of Apocalypse, cross-arena slamming it into the side wall, where Apocalypse stopped moving. Rob Pickford then drove Sabretooth straight into Shunt, to the disgruntlement of Gabriel Stroud.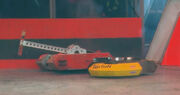 Gabriel Stroud: "Now just pummel him into the wall! Right come on, now come out of there and now hit him again!"
Rob Pickford: "He's stopped. He's stopped!"
Gabriel Stroud: "No, hit him again! Go and hit him! I don't care, hit him!! Oh he's on fire..."
— Tension amongst Team Legion
Regardless, Apocalypse started pouring out smoke, and Gabriel Stroud realised that his victory had already been earned.
Winner: Sabretooth
Donald Thump vs The Swarm
Edit
As the robots entered the arena, Team Ballistix were having some technical troubles with the intermittency of Donald Thump's weapon, and were forced to run the whole battle without the spinner working.
"Well this is going to be an interesting one, 4 tiny robots against a robot with no weapon!"
— Dara Ó Briain before the battle.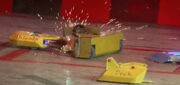 Donald Thump moved forwards and pinged the scattering Skye away. Skye's next move was to drive into fellow member of The Swarm, Blenda, sending sparks flying. Blenda moved in on Donald Thump, hitting one of the front panels with its spinner. Both turned, and Blenda came in again, ripping the front panel away from Donald Thump. The Dial of Doom was activated, sending Sir Killalot on the rampage. Donald Thump tried to attack Rubber Duck, but were lightly flipped away. Blenda charged in and ripped the front panels clean off Donald Thump, as it ricocheted away past Dead Metal. Donald Thump took a few more hits from Blenda as it tried to attack the most dangerous of the four clusterbots.
"Donald Thump, very loud, very proud, heading through?"
— Jonathan Pearce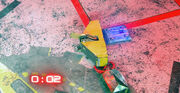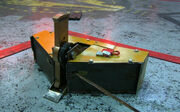 Dead Metal trapped Blenda and dragged it away over the flame pit, using the saw on top of the little yellow robot. Donald Thump pushed Pinza back, as Skye were sent spinning away in some friendly fire with Blenda. Donald Thump came in to attack Blenda again, but successive hits eventually took their toll and Donald Thump ground to a halt. With all four members of The Swarm moving, Pinza and Skye came in for a final attack as Cease was called.
James Davies: "Those so-called "judges"..."
Dara Ó Briain: "So-called, yeah, so-called, my so-called eyes told me I'd lost, but no!"
— Controversy from the politician
Winner: The Swarm
Semi-Finals
Edit
Apollo vs Sabretooth
Edit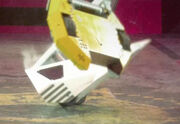 Sabretooth dodged the initial attack of Apollo, but not for long, as the former champion turned and got its flipper under the drum. Sabretooth were sent flipping through the air as Apollo stood on its back end. Both landed on their wheels and kept driving, where Sabretooth once again went up the flipper of Apollo, which didn't flip. Sabretooth escaped through the claws of Sir Killalot, as it became apparent the drum wasn't working. Apollo started chasing Sabretooth until it got stuck on the flame pit, but Apollo missed the flip, turning itself over. Apollo self-righted and drove towards Sabretooth, which was near the side wall. Apollo was slightly too late on the flipper, and missed a chance to send Sabretooth out of the arena.
"Sabretooth's fighting for its life here, isn't it?"
— Professor Noel Sharkey on Sabretooth's runaway tactics.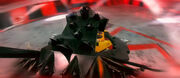 Sabretooth did get the drum up to speed, and when it next rose up Apollo's wedge, visible damage was caused to the white machine. Sabretooth rode up again, but the drum had stopped again, so it retreated and activated the Dial of Doom. Dead Metal was released, and it trapped Sabretooth, attacking the competitor with the saw. Sabretooth were released, but just went back to running away. Both moved around until Sabretooth charged across the arena, vaulting over the top of Apollo as they met. Apollo turned and drove into Sabretooth, flipping its opponent into the air and CPZ.
"Such a good driver, so knowledgeable about robots, about what it takes to win in the arena, but can his machine win against the redoubtable Apollo?"
— Jonathan Pearce
Apollo flipped Sabretooth again, as it landed in Dead Metal's CPZ again. Sabretooth landed a hit that would have caused damage had the drum been working, but nothing came of it. Sabretooth drove away, but Apollo forced them into a closing wedge by one of the low walls, and scooped up Sabretooth before flipping it over the wall and out of the Arena.
Winner: Apollo
Behemoth vs The Swarm
Edit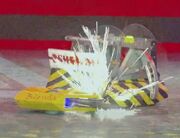 Under command from Sam, The Swarm instantly scattered as Behemoth charged in. Behemoth first pushed Rubber Duck away, and then turned to chase the others, ramping off Skye. Behemoth shoved Rubber Duck across the arena and moved away, before taking a massive whack from the spinner on Blenda, bouncing both robots away and sending a shower of sparks flying. Behemoth recovered, turning Pinza over, which started to smoke badly. Behemoth started bullying Rubber Duck, which wasn't managing to flip the larger robot.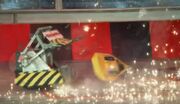 Behemoth pushed Blenda away, and was again hit by the blade, but it was on its scoop, which produced nothing more than just sparks. Behemoth flipped Blenda away, into the CPZ with Matilda. As Blenda tried to escape, it took a tusk off Matilda's face. Behemoth flipped Rubber Duck , but in doing so, moved towards Matilda's flywheel, and were flipped over multiple times by the impact. Behemoth righted and chased after Skye and Blenda, eventually flipping Skye over.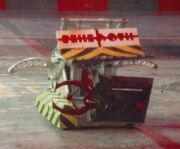 The invertible Skye moved towards Pinza to try and right it, but Behemoth charged into both of them and pushed them to a wall, flipping Skye straight out, and bouncing Pinza back onto its wheels. Behemoth shoved Rubber Duck over and into Sir Killalot. Behemoth then drove Pinza at full speed across the arena, violently flipping it into a screen. Smoke started pouring out of the top of Pinza, which eventually became a flame. Behemoth pushed Rubber Duck, and then sent Pinza barrel rolling with a well-timed flip. Rubber Duck tried to cower behind Sir Killalot, but the house robot ended up grabbing the lightweight robot with the claw, dangling it over the flames as Cease was called.
"That's very tricky trying to keep you lot [The Swarm] entertained"
— Ant Pritchard after the battle
Winner: Behemoth
3rd Place Playoff
Edit
Sabretooth vs The Swarm
Edit
"You know what, I'm playing to get into the 10-way!"
— Gabriel Stroud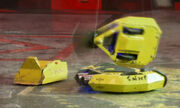 For this battle, the damaged Pinza had been replaced in The Swarm by the anti-spinner clusterbot, also called Skye. Both versions of Skye moved towards Sabretooth, which tried to spin up the drum. Blenda moved in and landed a good hit on the side of Sabretooth, but only succeeded in firing itself away. Sabretooth, now with the drum up to speed smacked Skye, throwing it into the air. Rubber Duck bounced off Sabretooth, before the two spinners of Sabretooth and Blenda collided, sending Blenda bouncing across the arena. The spinners collided again, with similar results.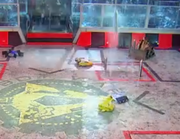 Rubber Duck flipped Sabretooth into the air, but the heavyweight robot drove on, hitting Blenda again. Sabretooth turned and dove over the Arena spikes, which malfunctioned and blew two of the four high into the air, landing in the arena.
"The spikes on the arena floor have gone! I've never seen that before."
— Jonathan Pearce's bewilderment as the hazard breaks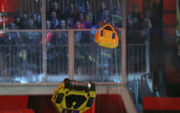 Sabretooth hit Blenda again, and drove around, pushing Skye away before picking on Blenda, pushing it over the floor flipper, which fired. Both robots sailed into the air, but Sabretooth were inverted. Rubber Duck also charged in and were flipped by the flipper. Sabretooth, not hindered like they were in the first round, drove away, pushing the two rogue arena spikes into Skye, which was trying to right Rubber Duck. Blenda hit Shunt's scoop, and was then hit by the axe. Sabretooth hit Skye and Blenda again, as the wedge-shaped Skye pushed Rubber Duck onto the floor flipper, which fired and put the yellow robot back onto its wheels.
"Oh no, why have they gone in there, Sabretooth? Why go in there, that's suicide!"
— Jonathan Pearce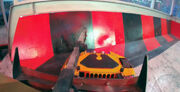 Sabretooth drove the anti-spinner Skye hard into the wall, getting it wedged at an angle. Blenda was trapped in the claws of Dead Metal, and deposited on the grate of the flame pit, unable to escape. Sabretooth misjudged a drive and were pinned by Shunt in his CPZ. Rubber Duck got stuck on the grate trying to rescue Blenda, and were then attacked by Dead Metal. Sabretooth shoved the other Skye into the wall, turning it over. With three members of The Swarm immobile, time expired on what would normally be a win by knockout. However, The Swarm had not been immobile for ten seconds, so the battle was sent to a Judges' decision, which was easily won by Sabretooth.
Winner: Sabretooth
Heat Final
Edit
Apollo vs Behemoth
Edit
"After their controversial exit last series, can they finally realise their dreams? Dreams, twenty years in the making."
— Dara Ó Briain on Behemoth before the battle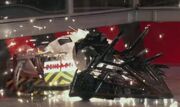 Both robots moved forward tentatively towards each other, eventually meeting in the centre of the arena. Apollo slipped underneath Behemoth, with the latter turning itself over with the force of its own scoop. Apollo shepherded Behemoth into Sir Killalot's CPZ, with Sir Killalot manoeuvring Behemoth against the wall as it self-righted. Behemoth drove away from Sir Killalot to escape, and spun round in front of a pursuing Apollo; Apollo slipped underneath and threw Behemoth high into the air. Behemoth recovered, dodging the Series 8 champion as it drove around the spark jets and arena spikes.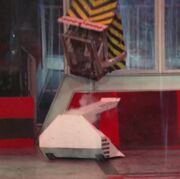 After several bumps and near-misses, Behemoth eventually scooped Apollo up and flipped it over. Apollo tried to self-right as it was being pushed towards the Arena Tyre, hitting the Tyre and opening the Pit in the process. Both competitors strayed into a nearby CPZ, where Dead Metal trapped both against the back wall, obscuring the robots from the teams' view within the control room. Despite sustaining light damage to its scoop, Behemoth pushed Apollo towards the wall, with the latter self-righting as it was momentarily dragged onto its side by Dead Metal. Behemoth reversed out and onto Apollo's flipper near an entry gate, allowing Apollo to throw it towards one of the polycarbonate screens. It self-righted, reversed over the spikes and turned round, before rolling Apollo over and pushing it over the Flame Pit as it tried to self-right.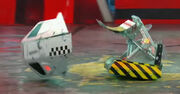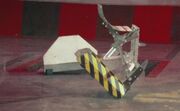 Despite being nudged by Sir Killalot, Apollo self-righted, again scooping Behemoth up before pushing and throwing it into Dead Metal's saw. Behemoth tumbled over into the wall as a result of this flip, and was briefly pinned there by Dead Metal. Again, sparks flew as Dead Metal's saw made contact with Behemoth's scoop, but Behemoth survived, throwing itself off its wheels as Apollo came in to attack again. As Apollo reversed, Behemoth got underneath and pursued it across the arena; seconds later, Apollo spun round, only for Behemoth to collect and flip it again. The momentum in this attack resulted in Apollo careering into the open Pit, to the jubilation of Team Make Robotics.
"Apollo are down! Apollo are down! Splashdown, Apollo! Behemoth, the greatest moment in twenty years! Twenty years of hurt and grief, end with huge celebrations, and frustration for Apollo."
— Jonathan Pearce
Heat Winner: Behemoth
References
Edit
Community content is available under
CC-BY-SA
unless otherwise noted.