Heat 5 was the last of five qualification episodes to determine the Grand Finalists for Series 10 of Robot Wars. It aired on November 26th, 2017.
Competing robots
[
]
Coyote

Attack
Clamping jaws
Armour
22mm copper pipe, 20mm steel bar
Weight
110kg
Speed
12mph
Drive
24V, 800W scooter motors
Power
Electric
Battery
LiPo 8Ah, 22.2V
From: Irvine, Ayrshire
Team: Jamie McHarg, Rachel Gibson, Calum Jones, Tony Smith
Expulsion

Attack
Tool Spinner
Armour
ARMOX
Weight
70kg
Speed
15mph
Drive
2 x 1kW 24V motors
Power
Electric
Battery
LiFePo 6s, 22.2V
From: Essex
Team: Georgina Henwood, Rebecca Ashford, Juliette, Harry
Hobgoblin

Attack
Spinner
Armour
High grade aluminium/HDPE plates/HARDOX shell
Weight
110kg
Speed
12mph
Drive
500W brushed DC motors
Power
Electric
Battery
LiFePo 8s, 29.6V
From: Reigate, Surrey
Team: Harry Hills, Matt Smith, Andy Russell
Magnetar

Attack
Drum spinner
Armour
8mm HARDOX 600, 6mm HARDOX 450
Weight
107kg
Speed
13.5mph
Drive
4 x brushless skateboard motors
Power
Electric
Battery
LiFePo 12s ~50V
From: Madeley, Shropshire
Team: Ellis Ware, Peter Ware, Tara Ware
Push to Exit

Attack
Flipper
Armour
Titanium, hardened steel and aluminium
Weight
105.8kg
Speed
22mph
Drive
AmpFlow 24V DC motors
Power
Pneumatic
Battery
LiPo 28.8V
From: Mablethorpe, Lincolnshire
Team: Shane Swan, Anthony Murney, Stephen McCulla
Thor

Attack
Axe bot
Armour
3-6mm hardened steel and aluminium
Weight
106.5kg
Speed
30mph
Drive
32hp brushed motor drive
Power
Electric/Pneumatic
Battery
LiPo 28V
From: Pitsford, Northampton
Team: Jason Marston
Round 1
[
]
Coyote vs Expulsion vs Thor
[
]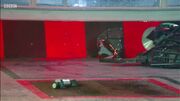 Coyote came in with the first drive of note, forcing Expulsion backwards and toppled it onto its side in the process. Coyote didn't come out of the CPZ without some danger itself though, as Dead Metal sliced into the side-support brackets of the Scottish machine. Meanwhile, Expulsion being overturned wasn't the only thing troubling the Brentwood School Roboteers in the early moments, as their minibot, Detention, found itself stuck on the Flame Pit.
"Oh no, it's already stuck!"
— Rebecca Ashford as Detention gets itself into early trouble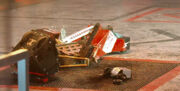 It was soon joined on the arena hazard by Expulsion itself as Dead Metal left Expulsion to rest after attempting to use her saw on it. Then, following a scuffle with Dead Metal, Coyote found itself temporarily stuck on the Pit of Oblivion slab - which had dropped downwards slightly. Thor was able to then strike the Arena Tyre, and although Coyote had freed itself from the Pit, it was still tasked with batting aside threats from Dead Metal for a second time as Rogue House Robot mode was activated. The House Robot ended her roam into the centre of the arena by sending minor sparks from Thor's axe head. A period of Thor dominance followed, as Coyote was charged into, and also took three hits to the top of its clamping weapon from Thor's axe.
"One man team, Thor. He likes it that way, does Jason. A builder by trade, and building his way to a very good first Group Battle."
— Jonathan Pearce as Thor dominates proceedings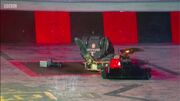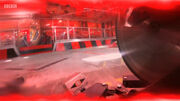 After this, Thor overshot one of its drives and Coyote was able to slide its weapon underneath the side of Thor's front wedge. Thor quickly freed itself though by swinging its axe - with one of Coyote's side brackets falling off as well. Thor then came in with another blow from its axe, before accelerating Coyote into an arena entry gate. A Coyote drive followed, with Thor replying once more by shovelling Coyote onto the Flame Pit. This pushed the remains of the inactive Detention into the centre of the arena, before the Arena Tyre was bumped into again. The doom dial gave the same result as the previous occasion, letting Dead Metal charge around the arena in a Rogue House Robot period of action. Both of the active machines dodged attempted attacks as Detention was swept up by Dead Metal, with Thor then retaliating at the end of Dead Metal's spell by coming in with an axe attack on the House Robot.
"They don't like the fact that the school team was bullied, and they're having a go!"
— Jonathan Pearce as the competitors turn on Dead Metal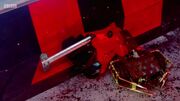 Coyote followed shortly after by clamping onto the right-hand claw of Dead Metal, but this was the last chance Coyote got to use its weapon, as the next head-on impact between Thor and Coyote snapped Coyote's top jaw. After Coyote narrowly avoided being flipped by the Floor Flipper, a final rally of Thor pressure came, before cease was called. Thor was awarded a unanimous decision by the judges, and progressed to the Heat Semi-Finals, with Coyote and Expulsion dropping into the Robot Redemption Round.
Results: Thor, 1st place. Coyote, 2nd place. Expulsion, 3rd place,
Hobgoblin vs Magnetar vs Push to Exit
[
]
Push to Exit prematurely darted towards Hobgoblin, but only succeeded at charging into an entry barrier. The front-hinge flipper quickly composed itself though, and was able to flip Hobgoblin over and into the arena side wall after sliding underneath Harry Hills' machine.
"Wo-hoar, Hobgoblin, watch out for the front flipper of Push to Exit!"
— Jonathan Pearce as the flipper machine carries out a strong attack
Magnetar then joined the action, and after Push to Exit mistimed a flip, Magnetar connected with a hit which sent Push to Exit's front over and onto the Floor Flipper. The activation of the arena hazard dropped Push to Exit onto Magnetar's drum - causing more damage, before Magnetar slid the overturned Push to Exit into Shunt.
Shane Swan: "Fire! Fire!"
Stephen McCulla: "Firing, I'm firing - nothing's happening!"
— Team S.Tek discover trouble with their weapon as Push to Exit fails to self-right
The House Robot connected with two hits to the base-plate of Push to Exit before skidding Push to Exit onto the raised Pit of Oblivion. With Push to Exit failing to self-right, and the overturned Hobgoblin unable to move outside of its own circumference, both machines were counted out.
"Don't do me, Ellis, please - don't do it."
— Shane Swan pleads for Ellis Ware not to attack his already beaten machine again
Magnetar celebrated by gyro dancing after its drum was spun up again, and Ellis Ware's machine progressed to the Heat Semi-Finals, leaving Push to Exit and Hobgoblin facing Robot Redemption Round fights to keep their place in the competition.
Results: Magnetar, 1st place. Push to Exit, 2nd place. Hobgoblin, 3rd place.
Redemption Round
[
]
Coyote vs Hobgoblin
[
]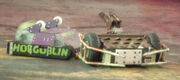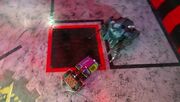 This fight was due to feature Dead Metal, but as the competitors and House Robots were being loaded into the arena an armed Dead Metal lost control. Faulty electronics caused it to spin wildly before striking the arena tyre. Shunt was used to control Dead Metal until it could have its link removed, and the rogue machine was replaced with Sir Killalot[1].
Coyote - opting to team up with its minibot, Roadrunner, instead of equipping its chainsaw for this fight - stilled Hobgoblin's egg-beater weapon with the first head-on collision between the two machines. Coyote then slid Hobgoblin towards the Arena Spikes, before Hobgoblin - which had suffered from a battery short-out in between battles - started to suffer from mobility issues on the Pit of Oblivion slab after a drive belt had slipped. After Roadrunner descended the Pit, Coyote attempted to get to grips with Hobgoblin.
"Coyote is doing the chasing, and is in underneath Hobgoblin..."
— Jonathan Pearce as Coyote carries out the aggressive work
However, Coyote unable to successfully move Hobgoblin in danger areas of the arena during this period which also saw one of Coyote's pipe fittings fall off. Soon after though, Coyote was able to drive Hobgoblin broadside on and into Sir Killalot. The House Robot was the machine which came off worse from this interaction though, as his claws were buckled by Hobgoblin's weapon. Still, Hobgoblin was in danger, as Coyote held it over the Flame Pit, with Hobgoblin lost a drive belt soon after. With the damaged Sir Killalot retreating, Shunt took over the reigns of House Robot responsibility by pressing Hobgoblin against the arena wall. Shunt then exacted revenge on Hobgoblin with a barrage of axe hits, but it was the House Robot himself that suffered soon after, as his axe tip was shattered off after a direct hit to Hobgoblin's egg beater.
"Oh! And comes away with a minor, moral victory there!"
— Jonathan Pearce as the immobile Hobgoblin still manages to damage Shunt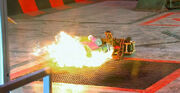 Shunt lifted over Hobgoblin as it was counted out, and although Coyote was through to the Heat Semi-Finals, it still came in with an attack on the House Robot itself after cease was called. Shunt carried out the final action by charging Coyote into the arena wall, and after tensions diffused, Hobgoblin's elimination from the competition was confirmed.
Winner: Coyote
Expulsion vs Push to Exit
[
]
Expulsion connected with an early hit to the front of Push to Exit, but was knocked into Dead Metal's CPZ in the process. Expulsion retreated over the Flame Pit, before being met with a drive by Push to Exit. The next meeting between the two left Expulsion beached on the front of Push to Exit - which was unable to carry out an attack of its own as its flipper failed to activate.
"They're trying to get the flipper to work, and it's not."
— Jonathan Pearce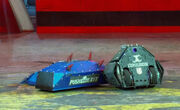 As Expulsion edged itself away from Push to Exit, the latter began to suffer from transmitter problems after turning around - allowing Expulsion to come in with two hits to the rear of Push to Exit. Expulsion got itself in danger following the second of its attacks though, as it was on top of the Floor Flipper, which turned the school team's machine over.
"Oh, Expulsion! Little bit naive, there."
— Jonathan Pearce as Expulsion is flipped over
Push to Exit twitched around after this, but was unable to move outside of its own circumference, while Expulsion tried in vain to spin its weapon up in order to self right. Both machines were counted out, and the battle went to the judges, who went unanimously in favour of Expulsion.
Winner: Expulsion
Semi-Finals
[
]
Coyote vs Thor
[
]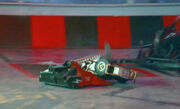 After being defeated by Thor in the Group Battle earlier on, Coyote was attached with a front wedge this time. Thor started strongly though, wedging underneath Coyote, before connecting with an axe blow soon after. Thor followed this up by driving Coyote into an unoccupied CPZ, where it slammed its axe down on the top of Coyote again. However, a rushed piece of driving saw Thor miss with the next swing of its axe, before it darted itself up the arena wall.
"And Thor doing the chasing, and the nudging."
— Jonathan Pearce as Thor starts strong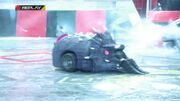 Thor connected with another axe attack soon after, but Thor found itself in trouble again as it got too close to Dead Metal. Coyote used this as a chance to activate the Arena Tyre, which called out Matilda in Rogue House Robot mode. Thor escaped from Dead Metal at this moment, but went over the Floor Flipper, so was forced to self-right. After getting itself back onto its wheels, Thor was met with a brutal slam from Matilda's rear flywheel, which ruptured Thor's CO2 supply.
"A weaponless wrestling match now, which means Jason's experience and skilled driving should give him the edge, but I tell you what - it's going to be closer than we thought."
— Jonathan Pearce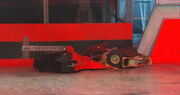 Without his weapon, Jason Marston was forced to use Thor as a wedge for the remainder of the fight. He adapted to the situation quickly though, forcing Coyote around the arena, before taking it in towards Matilda, who narrowly missed with a flip of her tusks. Coyote temporarily wedged itself underneath Thor three times in quick succession, but was unable to shovel it towards the Floor Flipper. Thor's next drive shunted Coyote into the arena gate which knocked off a section of Coyote's piping, before Coyote was nearly flipped by the Floor Flipper itself.
"Ooh, this is a good, tense one, isn't it?"
— Jonathan Pearce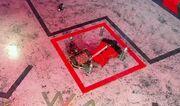 A competent final period of driving from Thor saw it drive Coyote into Dead Metal's CPZ and generally stopping Coyote asserting itself. Cease was then sounded, and Thor was given the victory by the judges, and progressed to the Heat Final.
Winner: Thor
Expulsion vs Magnetar
[
]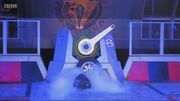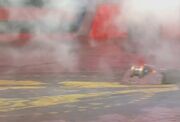 Expulsion's immediate tactic was to activate the Arena Tyre - which sounded for the Fog of War. During the time the arena was clouded, Magnetar spun its weapon up to speed, which it then used to crash into Expulsion when vision was restored. Expulsion was hurtled through the air and onto the Floor Flipper - where it was thrown even higher.
"But what am I hearing - I'm hearing Magnetar's death drum whirring up! Oh! What a powerful onslaught!"
— Jonathan Pearce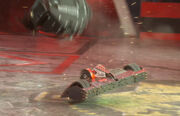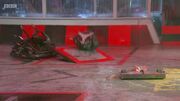 Expulsion landed crippled, and on its own weapon. Magnetar celebrated with its victory dance once again, as the beaten Expulsion was dropped into the Pit by Dead Metal.
"Magnetar looks devilishly powerful."
— Jonathan Pearce as Ellis Ware's machine progresses in ruthless fashion
Winner: Magnetar
3rd Place Playoff
[
]
Coyote vs Expulsion
[
]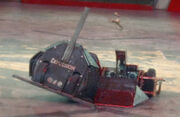 Expulsion started by drifting over the Arena Spikes, before coming in with a slam on Coyote, which ripped away some of its piping. Expulsion followed up its strong first attack with a less-than-precise piece of work though - slamming itself into the arena side gate.
"You need to be a bit more accurate with your driving, there - Georgina and the team, straight onto the arena side wall."
— Jonathan Pearce as Expulsion darts around aimlessly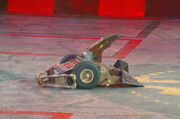 Some more sloppy driving from Expulsion carried out again soon after, with the side walls slammed into again. Coyote was then able to carry out a drive on Expulsion, but suddenly lost mobility completely.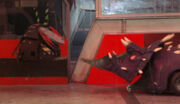 "Ooh, what's happened here! The shovel's working, but I think they've lost traction, or something - they've stopped!"
— Jonathan Pearce
Despite Expulsion getting itself into further trouble with Matilda's flywheel, it was still able to survive, and was declared victorious after Coyote was counted out.
Winner: Expulsion
Heat Final
[
]
Magnetar vs Thor
[
]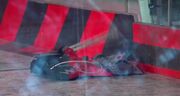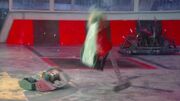 Despite being equipped with entanglement chains, Thor sustained damage in the opening seconds, as a Magnetar blow sent Thor over. Thor self-righted quickly, but as it was coming back down onto the arena floor, Magnetar sneaked underneath the base of Thor and connected with another hit. Thor then responded, as it got in behind Magnetar and drove it against the arena gate. After a rally of axe blows from Thor, Magnetar was able to move away. Suddenly, Thor found itself in trouble as it was tumbled by the Floor Flipper, and was forced into another swift self-right. Magnetar sheared away part of Thor's entanglement device in the next meeting between the pair, before Magnetar then slammed into the right-side wheel of Thor after getting in behind it. Thor charged off into the distance as it attempted to find some space to work in, but as it turned around Thor was met with a huge hit from the pursuing Magnetar, which sent Thor cartwheeling through the air again.
"Magnetar's on top - you can hear the whirr of the drum! Watch out, Thor!"
— Jonathan Pearce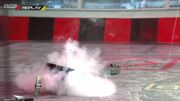 Thor attempted to compose itself on landing, but a quick combination from Magnetar's drum and the Floor Flipper dramatically immobilised Thor. Thor was inverted by the Floor Flipper, and midway through its landing, Thor collided with Magnetar's drum - with the hit fracturing Thor's gas supply for a second time in the Heat. Overturned, and weaponless, Thor was left beaten in a blanket of CO2. Thor was subsequently counted out, leaving Magnetar to celebrate in the centre of the arena, as Ellis Ware sealed his place in the Grand Final for the second time, as the winner of Heat 5.
"Magnetar: Well, we know it has the power, we now know it has the control. We now know it has a place in the Grand Final."
— Jonathan Pearce
Heat Winner: Magnetar
Trivia
[
]
Like Heat 2, this episode features no newcomers, even though it was originally planned to feature two.

Grappler Deadlock was to compete in place of Coyote, but was not fully assembled in time for filming.
Pneumatic spike Point Blank was to compete in place of Hobgoblin, but failed its safety check, and Hobgoblin became the final reserve to join the line-up.

For a second time, Thor was placed in the same episode as Expulsion, as was the case with Hobgoblin and Push to Exit.
References
[
]