During the filming of the Robot Wars: Series 8 Grand Final, a number of whiteboard matches were held to fill time, entertain the audience, and obtain extra footage for the series. After five robots were hand-picked by the producers, the teams were free to organise friendly matches against each other.
Of the five battles held, only two contributed footage to the televised series: clips of both Gabriel vs Behemoth and Eruption vs Infernal Contraption were used in the introduction to some episodes.
Competing robots
Edit
Behemoth
Weight
108kg
Weapons
Pneumatic scoop
Defence
Titanium armour
From
Hemel Hempstead
Team: Anthony Pritchard, Kane Aston, Kevin Cleasby
Eruption
Weight
109kg
Weapons
Pneumatic flipper
Defence
Anti-spinner armour
From
Lymm, Cheshire
Team: Michael Oates, Adrian Oates
Infernal Contraption
Weight
86kg
Weapons
16kg spinner
Defence
Sewage pipe armour
From
Cambridge
Team: Gary Ewer, Alex Gee, Douglas Young, Jashan Bhoora
Gabriel
Weight
108kg
Weapons
Interchangeable battle axe
Defence
HDP plastic armour
From
Grove, Oxfordshire
Team: Craig Colliass, Zack Colliass, Mark Colliass, Toby Colliass
Shockwave
Weight
110kg
Weapons
Armoured scoop
Defence
Steel Sheet
From
Reading
Team: Will Thomas, Ian Thomas
Turbulence
Weight
98kg
Weapons
Flipper
Defence
HARDOX and titanium
From
Leicestershire
Team: Ed Wallace
Eruption vs Infernal Contraption
Edit
"Infernal Contraption is a very old machine that had been renovated for the 2016 series, it is not something we considered to be a great threat but the team had done a fantastic job and it ended up giving us a very good fight!"
— Eruption - Robot Wars Facebook page on the fight against Infernal Contraption[1]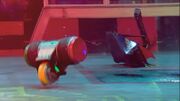 In the opening moments, Eruption got underneath Infernal Contraption and repeatedly threw it around the arena, mostly against the plexiglass wall sections. However, Eruption's flipper blade - consisting of a 'hastily welded' piece of RAEX previously used in its fight against Apollo - got caught on the Flame Pit a few times, hampering its manoeuvrability and allowing Infernal Contraption to dent it before it became free. Eruption continued to throw Infernal Contraption around the arena a few more times, eventually immobilising it by knocking out its weapon and drive links.
"Due credit to the team, for such an old machine it stood up to a huge number of impacts after being flipped and it was only the links that let them down in the end!"
— Team Eruption comments on Infernal Contraption's durability
Winner: Eruption
Eruption vs Shockwave
Edit
"The producers gave us the chance to organise the fights amongst ourselves, and having been very close friends for many years, ourselves and Team Shock both said we wanted to fight each other in the new TV arena! They had done a fantastic job repairing Shockwave after their fight with Carbide (despite a few pieces of metal missing here and there!), and Eruption and Shockwave were the first robots loaded into the arena."
— Eruption - Robot Wars Facebook page on the fight against Shockwave[2]
Team Eruption and Team Shock agreed to battle each other, as both teams had become close friends through competing on the live circuit together.
Eruption immediately got under Shockwave's scoop and landed a few flips, before Shockwave retaliated by charging Eruption into the arena wall. However, Shockwave's wheels were still having problems following damage sustained in its battle with Carbide, and following a few more flips from Eruption Shockwave lost a drive chain, leaving it with only three wheels still working. Despite this, Team Shock encouraged Team Eruption to keep attacking, with Eruption obliging and eventually throwing Shockwave out of the arena.
"Despite being immobilised, Will and Ian told us to continue attacking and we drove underneath Shockwave and flipped it out of the arena, giving Eruption the highest number of OOTAs in the new Robot Wars arena! Shockwave was unfortunately irreparable after this and did not fight again, but getting it back in the arena after the Carbide fight was a feat in itself!"
— Eruption - Robot Wars Facebook page on the fight against Shockwave[3]
Shockwave could not be repaired in time after this battle, and withdrew from the remainder of the whiteboard matches. It was replaced by Turbulence, and the battle with Eruption was its last in Robot Wars.
Winner: Eruption
Behemoth vs Gabriel
Edit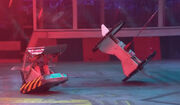 For this battle, Gabriel was driven by Team Saint's youngest team member, Toby Colliass.
During the battle, Behemoth launched Gabriel a considerable distance across the arena with a flip, and Gabriel eventually lost drive to one of its wheels after a rough landing. Despite this, Gabriel continued to attack Behemoth with its sword, and remained partially mobile for the rest of the battle.
As the Judges were not in attendance, the victor was instead determined by an audience vote. The larger cheer was received by Gabriel, which was declared the winner. However, like Shockwave, Gabriel sustained too much damage to participate in the remaining whiteboard battles.
Winner: Gabriel
Behemoth vs Eruption
Edit
"After their first whiteboard fights, Shockwave and Gabriel had both broken down and could not be repaired, which totally ruined our fights schedule! We were wheeling Eruption back to the pits to get it ready to fight again after the Shockwave fight, when one of the producers came after us and asked if Eruption could be back in the arena in 5 minutes. We quickly swapped out the Lipos for the A123s and swapped the gas bottle, and believe it or not we made it – that's 2 fights within 15 minutes!"
— Eruption - Robot Wars Facebook page on the fight against Behemoth[4]
Shunt was the House Robot for this battle, and uniquely, the arena spikes were controlled by an audience member in this battle. However, Eruption and Behemoth were both due to appear in a live event not long after filming, so both teams wished to avoid taking unnecessary damage, and kept clear of both hazards throughout the battle.
Both robots spent the majority of the battle fighting near the Flame Pit, and flipped each other around several times. At one point, Eruption flipped Behemoth into a corner, breaking one of its self-righting arms and leaving it unable to self-right. However, Team Eruption wanted to continue fighting for the audience's entertainment, so flipped Behemoth back upright to resume the battle.
"Had this been a competition fight we would have left them, but this was just for fun and to put on a show, so we flipped Behemoth again and the fight continued!"
— Eruption - Robot Wars Facebook page on the fight against Behemoth[5]
Eruption and Behemoth kept fighting for the full three minutes, and performed a 'victory spin' in the centre of the arena after 'cease' was called. Both robots received a resounding cheer from the audience, but no winner was officially declared.
"There was no judging for whiteboards so we don't know who won, but there was a large cheer from the crowd at the end as it put on such a great show, so I think we can count that as a win for both of us!"
— Eruption - Robot Wars Facebook page on the fight against Behemoth[6]
Winner: None declared
Infernal Contraption vs Turbulence
Edit
Turbulence entered this battle as a substitute, replacing the irreparable Shockwave. However, it was quickly immobilised following continuous attacks from Infernal Contraption's drum, which caused its removable link to fall out. Infernal Contraption won the battle by knockout, and the whiteboard matches were concluded.
Winner: Infernal Contraption
Gabriel vs Behemoth was the third example of an audience decision in Robot Wars, following on from Bunny Attack vs Hoot in Nickelodeon Robot Wars, and the Series 7 House Robot Rebellion.
An audience member controlled the arena spikes during the battle between Eruption and Behemoth.
Pilot competitor Turbulence was brought into the whiteboard matches as a reserve, after Shockwave withdrew due to sustaining too much damage in its earlier battles.

This was also where Turbulence gained its only loss in Robot Wars - it won the pilot episode without losing a single battle.

The whiteboard matches allowed Eruption to become the only competitor to flip a second robot out of the arena during Series 8. However, this flip was not televised.
References
Edit
Community content is available under
CC-BY-SA
unless otherwise noted.