Heat G of Robot Wars: The Fifth Wars was the seventh of twelve heats which determined the Semi-Finalists of Robot Wars: The Fifth Wars. The episode featuring Heat G was originally broadcast on May 14, 2002 on BBC Choice and repeated on August 23, 2002 on BBC Two.
Competing Robots
Newcomers
Dome
Weight
91kg
Dimensions
0.68 x 1.07 x 1.07m
Power
24V electric motors
Weapons
Pneumatic trebuchet
Strengths
Previous warzone experience
Weaknesses
No self-righting mechanism
From: St John's
Team Members: David Sweeney, Bella Boyd & Jim Boyd
Evolution
Weight
95kg
Dimensions
0.95 x 0.91 x 1.78m
Power
24V electric motors
Weapons
Rotating twin blades
Strengths
Can pull a car
Weaknesses
Lack of offensive weaponry
From: Ockwell Park
Team Members: Alistair Hare & Katie Hare
Hydra
Weight
100kg
Dimensions
0.4 x 1.1 x 0.78m
Power
2 x 750W electric motors
Weapons
Front scoop & central flipper
Strengths
Powerful & durable
Weaknesses
First time competitors
From: East Hagbourne
Team Members: Dennis Leadbetter, Andrew Leadbetter & Frances Leadbetter
Sabre Tooth
Weight
99kg
Dimensions
0.63 x 1.07 x 0.73m
Power
2 x 24V servo motors
Weapons
Giant shredding blade
Strengths
Destructive weaponry
Weaknesses
Overall durability
From: Haslemere
Team Members: Gabriel Stroud, Rob Pickford & Polly Parr
Veterans
Diotoir
Weight
93kg
Dimensions
1.17 x 1.04 x 0.39m
Power
50CC petrol engine
Weapons
Wedge & scoop
Strengths
Low ground clearance
Weaknesses
Flammable
From: Clondalkin
Team Members: Peter Redmond, Joe Gavin & Dr Zulu
Gravedigger
Weight
89kg
Dimensions
0.82m x 1.12 x 0.7m
Power
24V electric motors
Weapons
Double headed axe
Strengths
Good driving control
Weaknesses
Reliability
From: Thorpe St Andrew
Team Members: Jonathan Chaplin, Dave Chaplin & Chris Peacher
Spawn Again (seeded 13th)
Weight
79kg
Dimensions
1.25 x 0.85 x 0.5m
Power
12V electric motors
Weapons
High powered flipper & spike
Strengths
4 Wheel drive
Weaknesses
Comparatively light
From: East Tilbury
Team Members: Darren Ball, Graham Warner & Luke Jackman
Tornado (seeded 12th)
Weight
97kg
Dimensions
0.85 x 0.7 x 0.25m
Power
2 x 750W motors
Weapons
2000RPM spinning disc
Strengths
Invertible
Weaknesses
Easily flipped
From: Huntingdon
Team Members: Andrew Marchant, David Gamble & Bryan Moss
Eliminators
Tornado (12) vs Gravedigger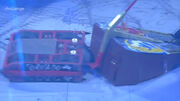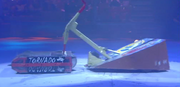 Gravedigger missed its first blow with the axe but managed to get a few on Tornado. Tornado then got around the side of the wedge-shaped machine ramming it into the arena wall and then shoved it into another wall where its machinery stopped working. Gravedigger was then counted out by Refbot, Sir Killalot then took the Series 3 semi-finalist to the flame pit to be "cremated" and then dumped it into the pit where it was "buried".
Winner: Tornado
Diotoir vs Dome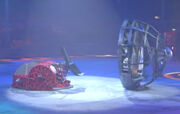 Immediately as the two machines approached each other (rather sluggishly), Diotoir overturned Dome with its scoop, where the latter couldn't self-right. The Irish robot then preceded to shove Dome down the pit, eliminating it from the competition and giving Diotoir an easy win.
"Dome... about as successful as the Millennium Dome."
— Craig Charles on Dome's poor performance
Winner: Diotoir
Evolution vs Sabre Tooth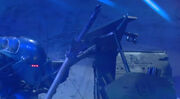 Evolution started defending itself with the spinning blade with Sabre Tooth cautiously approaching it before charging into it. Sabre Tooth then lost its weaponry after striking Evolution's MDF side since the chain had come off. Both robots then ran rings around each other, before Sergeant Bash then came out of his CPZ and crumpled into the wooden bodywork of Evolution and then Sir Killalot also attacked Evolution, bending its turret which resulted in Refbot giving both house robots a yellow card. The fight then went to a judges decision, and on the benefit of the doubt awarded it to Evolution.
Winner: Evolution
Spawn Again (13) vs Hydra
Spawn Again quickly overturned Hydra but Hydra immediately recovered before driving onto the front of the Essex machine where it was thrown again but then self-righted for the second time. Spawn Again then threw Hydra on its back twice more where afterwards it stopped moving. Spawn Again then got Hydra near the wall where it was attacked by Matilda and then the 13th seed then tried to get Hydra over the fence but failed both times so left it to be dealt with by Sir Killalot and Matilda. Hydra was counted out and then taken to the pit of oblivion.
Winner: Spawn Again
Semi-Finals
Tornado (12) vs Diotoir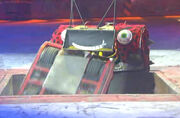 Both dashed out, Diotoir missed its first flip on Tornado, Tornado then shoved the Irish machine near Sergeant Bash where it escaped being set on fire before dodging Sergeant Bash again. Tornado then rammed into Diotoir a few times ripping off bit of fur with its disc every time it hit Diotoir. The 2 robots then shoved against one another having a pushing contest before Tornado rammed Diotoir more times. After Tornado shredded more bits of fur from Diotoir, the Irish robot then proceeded to hit the pit release button and then Tornado seemed to have lost power, and Diotoir pushed it in the pit. Diotoir almost fell in afterwards, but had successfully shown Tornado just how much of an advantage a lot of experience can be. On the Tornado website, the team claimed that Diotoir's fur kept snagging its cutting disc, and ultimately ended up losing drive on one side, which allowed Diotoir to push them into the pit.
"Had it sensed that Tornado was on its last legs, as it were? What a shock this is! Diotoir, very nearly going in themselves, but Tornado, the twelth seeds, crash out!"
— Jonathan Pearce as Diotoir pits Tornado
Winner: Diotoir
Spawn Again (13) vs Evolution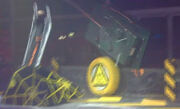 Before the battle, a brick was placed in the blade mechanism to make the weapon more powerful. As the battle started, Evolution spun its blade to defend itself from the Essex machine, but Spawn Again quickly came in and threw Evolution on its back where it couldn't self-right. Spawn Again then pushed the tank-like machine towards the arena wall where it was thrown clean out of the arena. The brick had reduced the effectiveness of the weapon by making it too heavy to spin properly.
Winner: Spawn Again
Final
Spawn Again (13) vs Diotoir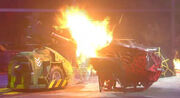 As soon as activate was called, Spawn Again flipped Diotoir up and over, the Irish robot then in a failed attempt to right itself, made both of its eyes fly off. After Spawn Again pressed the pit release, the Refbot counted Diotoir out. Sergeant Bash came in and set the Irish machine on fire where it was put out by Refbot before Sergeant Bash set it alight again and was also attacked by Matilda, Spawn Again was the heat winner despite having its flipper jammed open throughout the majority of the fight after Diotoir had been overturned.
Heat Winner: Spawn Again
"If you're gonna burn a robot, then Diotoir's the one to burn, on Robot Wars!"
— Craig Charles' sign-off
Community content is available under
CC-BY-SA
unless otherwise noted.