"Well, here we are folks: half way into Robot Wars 4. And since the wars began, each of the House Robots has become somewhat of a celebrity: Sgt Bash has been a guest on 'Ready, Steady Cremate', Matilda has done some topless modelling (she's got a lovely set of servos), and Sir Killalot was even been asked to open a supermarket. Well, the manager had lost his keys and they needed someone to cut open the door. But for the new six robots here today, fame still awaits. And here's when they start paying, in sparks."
— Craig Charles' introduction
Heat I of Robot Wars: The Fourth Wars was the ninth of sixteen heats which determined the semi-finalists of Robot Wars: The Fourth Wars. The episode featuring Heat I was originally broadcast on November 24, 2000 on BBC Two. The broadcast managed to attract 3.48 million viewers, an increase of 120,000 viewers when compared with the previous episode. According to BARB, this meant it ranked eleventh in the top thirty highest rated BBC 2 broadcasts during 20-26 November 2000.
Competing Robots
Edit
Newcomers
Edit
Destruct-A-Bubble
Weight
77.3kg
Dimensions
0.80 x 1.00 x 1.00m
Clearance
0.02m
Power
2 x Wheelchair motors
Weapons
Pneumatic lance
Notes
Shell is carbon fibre
From: Chelmsford in Essex
Team Members: Bill Cozens, Lawrence Cozens & Malcolm Burrells
Centurion (seeded 31st)
Weight
78.2kg
Dimensions
0.50 x 1.10 x 0.80m
Clearance
0.01m
Power
2 x Industrial motors
Weapons
Pneumatic axe and front lifter
Notes
2 x Wet go-kart wheels
From: Dagenham in Essex
Team Members: Ray Tait, Matthew Tait & Jeff Bradford
Eric
Weight
80.0kg
Dimensions
0.55 x 1.35 x 0.75m
Clearance
0.01m
Power
2 x Wheelchair motors
Weapons
Hydraulic lifting jaw
Notes
Stainless steel shell
From: Framfield in East Sussex
Team Members: Mike Hammerton, Ian Nicholson & Bruce Nicholson
Killerhurtz (seeded 16th)
Weight
80.0kg
Dimensions
0.30 x 1.20 x 0.80m
Clearance
0.04m
Power
2 x Electric motors
Weapons
Pneumatic axe and steel blade
Notes
Car style steering
From: Oxford
Team Members: John Reid, Dominic Parkinson & Rebecca Reaston-Brown
Small Torque
Weight
78.3kg
Dimensions
0.30 x 0.70 x 0.70m
Clearance
0.02m
Power
2 x Electric motors
Weapons
Spinning disc and sharp teeth
Notes
Shell is bullet proof plastic
From: Edinburgh in Scotland
Team Members: Richie McBride, Alex McBride & Martyn Sloss
Splinter
Weight
80.0kg
Dimensions
0.60 x 1.00 x 0.75m
Clearance
0.03m
Power
2 x 750W motors
Weapons
Motor powered claws
Notes
Made from plastic oil drum
From: Norwich
Team Members: Stuart Weightman & Craig Weightman
Eliminators
Edit
"Oh yes. Let the sparks fly, Craig. As always, we've two seeded robots and they both return from the last series. Centurion at number 31 face Splinter, new boys there and Small Torque, and the number 16 seeds Killerhurtz. They meet Destruct-A-Bubble, they're new and Eric, we've seen them before."
— Jonathan Pearce reviewing the robots in the heat and how they line-up in the first round
Killerhurtz (16) vs Eric vs Destruct-A-Bubble
Edit
Straight away, Killerhurtz rammed into the side of Eric and then moved away as Eric attempted to lift Destruct-A-Bubble. Killerhurtz charged into Eric again and then drove over the top of Eric. Killerhurtz went after Destruct-A-Bubble, which allowed Eric to lift Killerhurtz up but not over. After a period of jostling, Killerhurtz drove Destruct-A-Bubble into the arena wall, and Eric attacked the vulnerable Killerhurtz once more, nearly toppling it.
"Here comes Eric with a little shunt! Ooh, Killerhurtz - well it rocked and it rolled and it came back down."
— Jonathan Pearce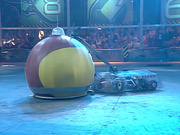 Killerhurtz forced Destruct-A-Bubble against the arena wall again before piercing Eric with its axe, with Shunt coming out to help separate the two robots. Killerhurtz continued to cause damage with its axe, this time penetrating Destruct-A-Bubble's carbon fibre shell.
"And the bubble is punctured by Killerhurtz!"
— Jonathan Pearce
Destruct-A-Bubble forced Killerhurtz against the arena wall while Eric lifted Killerhurtz again. Killerhurtz got one more axe blow in on Destruct-A-Bubble before cease was called. The judges unanimously voted Destruct-A-Bubble out, putting Eric and Killerhurtz through.
Qualified: Eric & Killerhurtz
Centurion (31) vs Splinter vs Small Torque
Edit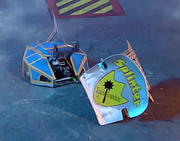 Centurion immediately flicked Splinter up but couldn't topple it over. Splinter fought back, shoving Centurion into the arena wall, before Small Torque barged Splinter into Sergeant Bash.
"And in slams Small Torque, with a very impressive movement, there - a great power drive."
— Jonathan Pearce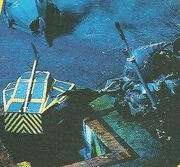 Splinter moved away and started spinning on the spot, while Centurion tried to flip Small Torque but failed to get any purchase. Splinter came in and grabbed Small Torque, dragging it around the arena. Centurion seemed to stop, but then sprang into life and drove into the arena wall. Splinter fed Small Torque to Centurion, which axed down onto it. Splinter then took Small Torque into Shunt's CPZ, who axed through Small Torque's shell.
"And the great axe blow penetrates the so called 'bullet proof' plastic shell of Small Torque!"
— Jonathan Pearce
Centurion was still next to the arena wall, showing no signs of movement. Dead Metal came in and sliced into the side, before Sir Killalot pitted the seeded machine.
Qualified: Splinter & Small Torque
Semi-Finals
Edit
"Craig, it's the axe of Killerhurtz against the crusher of Splinter. It's the spinning disc of Small Torque against the lifting jaw of Eric."
— Jonathan Pearce recapping the heat semi-finals
Killerhurtz (16) vs Splinter
Edit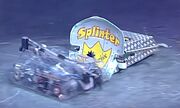 Splinter immediately caught Killerhurtz side and on grabbed it with the arms, moving it around the arena for a short period. Killerhurtz escaped, but Splinter was in hot pursuit and once again was able to grab hold of Killerhurtz.
"And at the moment, it's Splinter doing all the work, here."
— Jonathan Pearce
Splinter drove Killerhurtz around the arena, before Killerhurtz wriggled free and then slammed into the front of Splinter, damaging the front slightly. Killerhurtz then drove straight into Shunt and got axed. It escaped, but was now stuck in forward drive, which saw it drive across the arena and into the arena wall.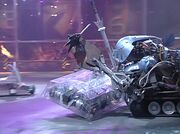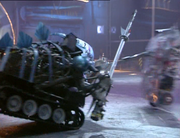 "Killerhurtz slammed against the arena wall! Are they dead? Are they immobilised?"
— Jonathan Pearce
Killerhurtz began to vent smoke from its tyres wearing down, so Sir Killalot came in and picked up Killerhurtz. Killerhurtz came loose from the grip of the House Robot, but could only drive into the arena wall inside of the CPZ. Sir Killalot picked Killerhurtz up again - this time by the axe - and spun it around in circles. After it landed, Killerhurtz drove at Sergeant Bash, and proceeded to attack its flamethrower. However, it had technically been immobile too long, so Splinter was given the win.
Winner: Splinter
Eric vs Small Torque
Edit
Small Torque got the first attack in with the disc, but caused little problems for Eric. Both robots then manoeuvred for position and clashed side on. Small Torque used its disc on Eric's wheel, but Eric moved away, unharmed.
"Just heard some metal grinding and squeaking."
— Jonathan Pearce as Small Torque attempts to damage Eric
Small Torque suddenly flew in towards Sergeant Bash's CPZ, but escaped. Eric flipped Small Torque over, but it was invertible. However, Small Torque then stopped and caught fire internally.
"There is smoke coming from Small Torque! The two motors on fire again."
— Jonathan Pearce
The special cooling system evidently hadn't worked. Eric then was attacked by Sir Killalot, but managed to get away. Sergeant Bash pushed Small Torque onto an angle grinder, which caused fantastic sparks. Cease was called, and Eric was confirmed as the winner.
Winner: Eric
Splinter vs Eric
Edit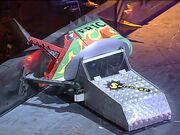 Splinter caught Eric side on right away, but Eric reversed away and Splinter drove into the arena wall. The battle slowed down, until Splinter drove at the rear of Eric and pushed it into Shunt, who axed it. Eric escaped, but Splinter grabbed hold of its opponent again and slammed it into the arena wall twice in quick succession.
"Eric slammed against the arena wall by Splinter. The more aggressive of the two, certainly."
— Jonathan Pearce
Eric moved away, with Splinter getting one of its arms caught on the arena wall. Splinter managed to free itself, before Eric got a flip in on Splinter, but it rolled back down onto its wheels.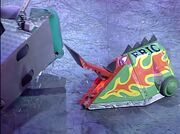 "Splinter up on its side! Crashes down."
— Jonathan Pearce
Eric continued to attack, and flicked the front of Splinter up. Splinter rammed Eric into the arena wall again as time ran out. The judges put Splinter through to the series semi-finals.
Heat Winner: Splinter
"Your Dad might hit the ceiling when he hears the footy scores, he'll do himself a mischief, watching Robot Wars!"
— Craig Charles' sign-off
During the Fourth Wars, alongside the main competition, a Pinball Warrior Tournament and Sumo Basho Competition were also held. Unlike the similar competitions of the Third Wars, these trials featured successful qualifiers for Series 4. In between the first and second rounds of each heat, a Pinball run took place, and two sumo attempts took place in between Round 2 and the Heat Final in each of the first eight heats. For Heat I, the Pinball featured King B3.
Pinball Warrior Tournament - King B3
Edit
Score: 225 points
This heat saw relatively poor performances by both of the seeds with neither making it to the heat final (the only other occasions when this happened in The Fourth Wars were in Heat G and Heat K).
For some reason, Centurion swapped places with Suicidal Tendencies for this heat when it should have been in the previous heat.
Destruct-A-Bubble was the only newcomer in this heat, although Splinter and Small Torque were new robots from Team Ivanhoe and Team Torque respectively.
During the battle between Splinter and Killerhurtz, Jonathan Pearce referred to Splinter by its predecessor Ivanhoe and referred to the pit as the floor flipper.
This was the final main competition appearance of Killerhurtz before being replaced by Terrorhurtz from the next series onwards.
At the start of the heat, Splinter was referred to as a newcomer despite it appearing in Series 2 as Ivanhoe. This was corrected later on and Ivanhoe's Series 2 performance was shown as well.
Community content is available under
CC-BY-SA
unless otherwise noted.