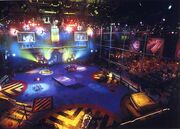 "Being the ball inside a pinball machine must be like being on giant assault course, and that's what faces the robots in our Pinball Warrior tournament. Oh yeah, and the course assaults back"
— Craig Charles
The Pinball Competition of Robot Wars: The Fourth Wars was a side event held throughout Robot Wars: The Fourth Wars. Gemini eventually won the competition by a margin of 10 points from Spawn of Scutter.
Arena
There were stacks of barrels at the front of the arena; a robot would score points for every barrel knocked down. In the middle of the arena, there was a ramp which a robot could drive over to gain points. At the two back corners there was a multiball release which robots would gain points for activating and a car door which robots could drive through to gain points. There were also three targets around the arena that robots could gain points from which were guarded by Dead Metal, Matilda or Sergeant Bash. Sir Killalot was given free rein of the arena. There was also a shallow pit near the front of the arena which robots could score points from if any of the balls from the multiball release fell in or if a giant sphere in the arena fell in, but no robot ever achieved this in its run. The robot with the most points at the end was the winner.
Results
| Rank | Robot | Image | Heat featured | Runthrough | Score |
| --- | --- | --- | --- | --- | --- |
| 1 | Gemini | | Heat M | Gemini split up, then teamed up to knock down the barrels, one half then hit Sergeant Bash's target, activated the multiball release and drove through the car doors, while the other drove straight over the bridge to make a full run. Then it managed to hit Matilda's target just before cease was called. | 255 |
| 2 | Spawn of Scutter | | Heat E | Spawn of Scutter started off by scoring points from the barrels, before it drove into Matilda and Dead Metal's targets before hitting the multiball release and driving into Sergeant Bash's target. Then it knocked down the other barrels, scoring a total of 245 points. | 245 |
| 3 | Killerhurtz | | Heat P | Killerhurtz quickly sped through the barrels before driving into Matilda's target and getting attacked by the house robots. Killerhurtz managed to escape and hit Dead Metal's target, the multiball release and Sergeant Bash's target. Killerhurtz was then was once again attacked by the house robots, leaving it with 235 points. | 235 |
| 4 | King B3 | | Heat I | King B3 drove straight into the barrels, knocking them over, then rammed Sergeant Bash out of the way to score points from Sergeant Bash's target. King B3 then hit the multiball release and drove through the car doors, scoring more points before pushing Matilda out of the way to reach the house robot's target but ran out of time just as it reached Dead Metal's. | 225 |
| =5 | Bigger Brother | | Heat G | Bigger Brother quickly knocked down the barrels, then hit Sergeant Bash's target and activated the multiball release. It tried to reach Dead Metal's target, but couldn't so instead Bigger Brother drove through the car doors, hit Matilda's target and knocked down the remaining barrels. | 180 |
| =5 | Diotoir | | Heat L | Diotoir hit the barrels first knocking a few down, before hitting Sergeant Bash's target and was immediately set alight by Bash. After that, Diotoir drove into the multiball release, but got stuck. After being freed by Dead Metal, Diotoir hit the house robot's target and drove through the car doors. Diotoir ended its run on fire and with a bowling ball stuck to it. | 180 |
| =7 | Hypno-Disc | | Heat B | Hypno-Disc smashed down a few barrels, before dodging Sergeant Bash to score points. It then knocked down the other set of barrels. It then tried to drive over the ramp, but as Sir Killalot pushed the ramp, Hypno-Disc couldn't get over it. Hypno-Disc struck the multiball release, before Dead Metal tried to grab hold of it to prevent it hitting the 75 point target. | 135 |
| =7 | Firestorm 2 | | Heat N | Firestorm smashed into the barrels, knocking them down, but couldn't get to Sergeant Bash's target. Then, after being attacked by Dead metal, Firestorm hit the multiball release, then Dead Metal's target and the car doors, but couldn't get underneath Matilda to reach its target. | 135 |
| 9 | 101 | | Heat A | 101 raced towards the barrels and knocked a few over, before trying to take on Sergeant Bash. It couldn't, and so it tried to go over the ramp. It didn't go over the ramp completely, so it didn't score any points. It tried to take on Killalot, before pressing the multi-ball release. It then attempted to get through the car door, but kept into the side of it rather than through it. 101 then managed to hit Dead Metal's target just before its run finished, and so earned 125 points. | 125 |
| =10 | Razer | | Heat J | Razer started promisingly, quickly scoring points from the barrels, Matilda's target and the car doors but suddenly abandoned its run to attack Sir Killalot, leading to a score of 95 points. | 95 |
| =10 | Inverterbrat | | Heat O | Inverterbrat drove at the barrels first, knocking them down, then pushed the sphere around and drove through the car doors before hitting Matilda's target. However it then did nothing else and only scored a total of 95. | 95 |
| =12 | Stinger | | Heat D | Stinger knocked down a few Barrels, but was forced into the pit by Dead Metal. It drove out, before hitting Sergeant Bash's target. It then scored points from the multiball. | 75 |
| =12 | Banshee | | Heat K | Banshee very slowly went towards the barrels, knocking them over and continued to hit Sergeant Bash's target. Then went on to activating the multiball release. After that the robot was attacked by Sir Killalot before it could do anything else. | 75 |
| 14 | S.M.I.D.S.Y. | | Heat H | S.M.I.D.S.Y. immediately drove up and over the bridge, then hit the multiball release, scoring points. It tried to knock down the barrels, but could only manage to drive around them. S.M.I.D.S.Y. suddenly started smoking, but eventually managed to knock the barrels down, it then tried to hit any targets, but was blocked by the house robots. | 70 |
| =15 | Spikasaurus | | Heat C | Spikasaurus knocked down a set of Barrels, but was then attacked by the house robots, it then tried and failed to activate the multiball release and only gained further points from knocking into the car door. It hit Matilda's target, but after cease was called. | 40 |
| =15 | Attila the Drum | | Heat F | Attila drove into Sergeant Bash, trying to get to the target, but couldn't. Instead it Scored points by knocking down the barrels and drove at Sergeant Bash's target again, but still was unable to reach the target. Then Attila knocked down the other set of barrels and accidentally drove into the pit, Killalot freed it but Attila could do no more. | 40 |