The Tag Team Terror of Robot Wars: The Fourth Wars was a special event held during the Christmas Specials of Robot Wars: The Fourth Wars, and the first Tag Team Terror event to be held in Robot Wars. The Tag Team Terror would also be contested in both series of Robot Wars Extreme. These tournaments put two robots together in a team, whereby they fought against other teams to win the championship.
The Tag Team Terror was originally broadcast on December 28, 2000 on BBC Two. The broadcast managed to attract 1.7 million viewers. According to BARB, this meant it ranked joint-twenty fourth in the top thirty highest rated BBC Two broadcasts during 25-31 December 2000, along with Tinker Tailor Soldier Spy.
Format
[
]
Two teams, each with two robots, enter the arena at once. Only one member from each team is allowed to battle at any one time. If a robot wishes to let its team-mate into the action, it is to return to its coloured zone. There, the robots can switch out and tag. Having said that, these rules were very frequently broken.
In this tournament, there were four teams and the tournament was played very much like a Grand Final of the main series, with two eliminator battles, a playoff for third and fourth place and a final.
Competing Teams
[
]
Firestorm 2 & Scorpion (Red)
Firestorm 2
Weight
79.9kg
Dimensions
0.29 x 0.97 x 0.82m
Clearance
0.06m
Power
Electric powered motors
Weapons
Powerful flipping arm
Notes
Took 3 months to build
From: Durham
Team Members: Graham Bone, Alex Mordue & Jenny Parsons
Scorpion
Weight
76.2kg
Dimensions
0.80 x 1.40 x 0.70m
Clearance
0.05m
Power
2 x Wheelchair motors
Weapons
Chainsaw and 2 cutting discs
Notes
Built on dining room table
From: Nutley, East Sussex
Team Members: Geoff Smith & John Bell
Bigger Brother & Plunderbird 4 (Blue)
Bigger Brother
Weight
77.3kg
Dimensions
0.30 x 0.90 x 0.90m
Clearance
0.01m
Power
2 x Electric motors
Weapons
Steel spike
Notes
Monster truck wiper motors
From: Brighton
Team Members: Joseph Watts & Ian Watts
Plunderbird 4
Weight
80kg
Dimensions
0.40 x 0.65 x 0.93m
Clearance
0.02m
Power
2 x Electric motors
Weapons
Slicer Dicer (crushing arm)
Notes
Aeroplane aluminium shell
From: Alton, Hampshire
Team Members: Mike Onslow & Bryan Kilburn
Inverterbrat & X-Terminator 2 (Red)
Inverterbrat
Weight
79.3kg
Dimensions
1.40 x 0.35 x 0.80m
Clearance
0.05m
Power
Wheelchair motor powered
Weapons
Flipper and rotating bludgeoner
Notes
Made from scrapyard parts
From: Woking, Surrey
Team Members: Peter Bignell & Les Wall
X-Terminator 2
Weight
80.1kg
Dimensions
0.50 x 0.80 x 0.60m
Clearance
0.01m
Power
2 x 750W industrial motors
Weapons
Scoop bucket and axe or lifting arm
Notes
Shell is aluminium
From: Hereford
Team Members: Marlon Pritchard, Simon Baldwin & Paul Lewis
King B3 & 101 (Blue)
King B3
Weight
77.3kg
Dimensions
0.25 x 1.00 x 0.80m
Clearance
0.05m
Power
Electric powered motors
Weapons
Lifting, flipping spikes
Notes
99.9% Simon's own money
From: Hornchurch
Team Members: Simon Harrison, Tony Sharp & Grant Hornsby
101
Weight
77.7kg
Dimensions
1.01 x 0.75 x 0.25m
Clearance
0.05m
Power
2 x Industrial motors
Weapons
CO2 powered spike
Notes
Shell is aircraft aluminium
From: Kettering
Team Members: Mike Franklin & Amy Franklin
Round 1
[
]
Firestorm 2 & Scorpion vs Bigger Brother & Plunderbird 4
[
]
Scorpion started out against Bigger Brother. Bigger Brother got straight underneath Scorpion's high ground clearance and flipped it over. Firestorm 2 came in and pushed Scorpion back onto its wheels. Plunderbird 4 then came out of the blue zone and got hold of Scorpion, dragging it around the arena. Firestorm 2 tried to separate the two, by which point the rules were completely abandoned and even the House Robots got into the fight.
"Are they disobeying rules immediately? If you do then the House Robots will penalise you!"
— Jonathan Pearce
Firestorm 2 pushed Plunderbird 4 all the way across the arena into the red zone, where Bigger Brother and Matilda tried to free it. Firestorm 2 retaliated by swerving away and throwing Bigger Brother towards the arena wall, but was not able to flip it over.
"What on earth's going on here, Refbot? Get in and control these robots!"
— Jonathan Pearce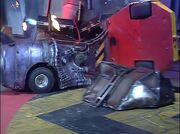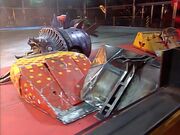 Scorpion then attacked Plunderbird 4, which seemed to cause the veteran to break down. Firestorm 2 then got underneath Plunderbird 4 and flipped it up onto its claw, but not all the way over. Plunderbird 4 fell back down onto Firestorm 2, which tried to flip it once more, but ended up temporarily impaling itself on the arena wall. Firestorm 2 moved away, and then nudged Scorpion back onto its wheels again after it was toppled by Bigger Brother. Firestorm 2 drifted into the CPZ, where Bigger Brother pinned it which allowed Matilda to flip it onto its side.
"Well this is wonderful! Machinations of a machiavellian sort!"
— Jonathan Pearce
Firestorm 2 was able to self-right, but during this period, Bigger Brother flipped Scorpion over and pushed it into Sergeant Bash, who set the fibreglass body ablaze. Bigger Brother spent the last few seconds of the match preventing Firestorm from rescuing its fallen team-mate. The judges were called to make a decision.
Winners: Firestorm 2 & Scorpion
Inverterbrat & X-Terminator 2 vs King B3 & 101
[
]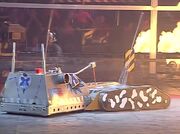 Inverterbrat started off against King B3 in this match, and after a small scuffle, something broke off one of the robots. Both robots then tagged their team-mates and X-Terminator 2 and 101 took over. The two met head to head and 101 started to push against X-Terminator 2. X-Terminator 2 tried to use its axe, but was unable to cause any damage.
"Well, they're abiding by the rules... remarkably!"
— Jonathan Pearce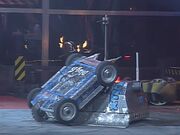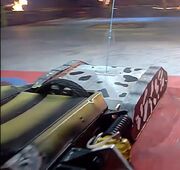 Eventually, Inverterbrat and King B3 decided they couldn't wait any longer and came out to assist their team-mates. X-Terminator 2 axed King B3, which then slammed X-Terminator 2 into the red zone, whilst 101 did the same to Inverterbrat. 101 then pushed Inverterbrat into the CPZ while X-Terminator 2 and King B3 fought again.
"Rules, what rules? Refbot: dismiss him, sack him, he has no control over these robots!"
— Jonathan Pearce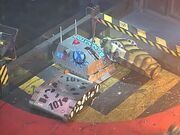 101 got caught by Dead Metal temporarily, before escaping and shoving X-Terminator 2 into Inverterbrat in the CPZ. X-Terminator 2 moved away, but was ganged up on by both King B3 and 101. By now, it had become clear that Inverterbrat had been immobilised in the corner, leaving X-Terminator 2 to fight alone. Eventually, King B3 and 101 started having quick slams on each other. Time ran out, and the judges were called upon, but with the blue team being up one team member, it was an easy decision.
"Well the judges have made their announcement. And with Inverterbrat immobilised, X-Terminator didn't really stand the chance. The judges have gone for King B3 and 101!"
— Craig Charles makes the announcement of the winners of the battle
Winners: King B3 & 101
Playoff
[
]
Inverterbrat & X-Terminator 2 vs Bigger Brother & Plunderbird 4
[
]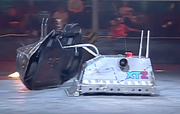 Both teams had problems before entering the arena, with neither Inverterbrat or Plunderbird 4 working properly. This left the other two robots to start the playoff. X-Terminator 2 had switched its axe for its lifting arm and used it to overturn Bigger Brother, but Bigger Brother quickly self-righted and flipped up X-Terminator 2. It pushed X-Terminator into Plunderbird 4, but it quickly became apparent that its team-mate wasn't working at all.
"Meanwhile, Plunderbird 4: well we've had the hype, we've had the rap, but their team, to me, seems to be taking a nap!"
— Jonathan Pearce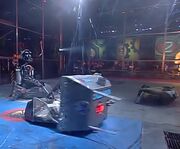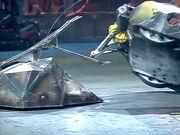 Instead, it left X-Terminator 2 on its side, but X-Terminator 2 quickly self-righted using its side spikes. It then tagged Inverterbrat. It attempted to attack Bigger Brother, but neither of its weapons were working properly, and it was flipped up, but not over, several times by its opponent.
"Terrific playoff, here, for the wooden ratchet - the wooden spoon of Robot Wars in other words!"
— Jonathan Pearce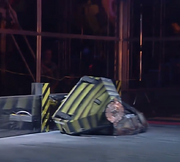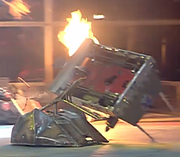 Eventually, Bigger Brother pushed Inverterbrat back into the red zone, whereby X-Terminator 2 rushed out to take on Bigger Brother again. Bigger Brother flipped X-Terminator 2 over again, breaking off one of its support bars in the process, but X-Terminator 2 was able to right itself again, before lifting up Bigger Brother, the arm getting caught underneath its chassis. Eventually, it let go. Bigger Brother flipped X-Terminator 2 over once again, but X-Terminator 2 righted and hooked Bigger Brother again.
"Once again, X-Terminator have managed to just prise a grip, but Bigger Brother away once more..."
— Jonathan Pearce
Just then, the pit started to descend. Plunderbird 4 had now been pushed into the middle of the arena, but it was clearly immobile. X-Terminator 2 and Bigger Brother tried once again to attack each other, when suddenly X-Terminator 2 drove away to build up another attack, and just before cease was called, straight into the pit of oblivion: the team had failed to noticed that it had opened.
"I can't believe it! X-Terminator have driven straight into the pit! Right on the word 'cease', under pressure from Bigger Brother and down they went!"
— Jonathan Pearce as X-Terminator 2 drives straight into the pit
It also became apparent that Inverterbrat was no longer mobile, and Bigger Brother was the only robot still alive. Therefore, the blue team secured victory.
Craig Charles: "Talk me through your contribution."
Mike Onslow: "It was passive..our strategy was to just play dead and let him [Bigger Brother] get on with it."
— Post-battle, after which Craig Charles bursts out laughing
Winners: Bigger Brother & Plunderbird 4
Final
[
]
Firestorm 2 & Scorpion vs King B3 & 101
[
]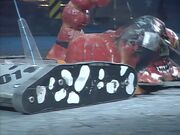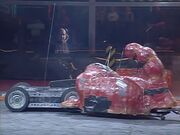 Both Firestorm 2 and Scorpion had suffered damage from the last round, and Firestorm 2 in particular had a lot of trouble getting going. Scorpion (still burnt and wearing a plaster over its "eye") started off against King B3, which used its disc, causing sparks. The action drifted towards the red zone, but Scorpion didn't tag Firestorm 2. King B3 then pushed Scorpion into the arena flame jets, but Scorpion managed to escape before it could be burnt again. King B3 continued to attack Scorpion, slamming it multiple times and scratching it with its disc. King B3 then retreated to the blue zone, so 101 came out and started attacking Scorpion. Firestorm 2 came out and lingered next to 101 and Scorpion before moving away. King B3 then came out and attacked Firestorm 2. Scorpion was clutched by Dead Metal, while the other three robots scuffled in the red zone.
"And all of a sudden we've got all four robots on the arena floor! Yes! This is what we want! Scorpion may have gone blind and they've shown a blind eye to rules and regulations! It's gone mad in Robot Wars: Tag Team Terror!"
— Jonathan Pearce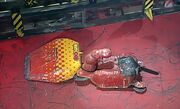 It was now apparent that Firestorm was still suffering from problems, as it struggled for movement, even when King B3 and 101 both rammed it. However, King B3 then drove onto Firestorm's wedge and was flipped onto the top of 101, which took the opportunity to slam its team-mate and rival into the arena wall - Firestorm 2 broke down after this and was not seen again.
"I think the Tag Team Terror has been won by 101 and King B3...and now we have what I thought we'd have, right from the first activate! We've got 101 against King B3, this is a massive grudge!"
— Jonathan Pearce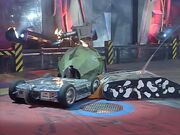 King B3 retaliated and pushed 101 back, before then pushing the wounded and limping Scorpion back towards the immobilised Firestorm 2. With both of their opponents no longer working properly, King B3 and 101 finally turned on each other for real, pushing each other all around the arena. Dead Metal and Sergeant Bash finally managed to separate them, damaging them in the process.
Tag Team Terror Champions: King B3 & 101
"If your partner's not scared of circular saws, team up and go mental, on Robot Wars!"
— Craig Charles signs off
Trivia
[
]
The first Tag Team Terror match was the third time that 101 and King Buxton were in the arena at the same time, although this time they were teammates.
References
[
]