The Featherweight Championship of Robot Wars: The Second Wars was one of the single-battle events held during the Grudge Matches special of Robot Wars: The Second Wars. The inaugural Featherweight Championship, the tournament was contested by just four robots, which were required to weigh 11.4kg or less, making them the lightest and smallest competitors to fight in the main Robot Wars Arena.
The Series 2 Featherweight Championship consisted of a single four-way melee, which, as with the other lower weight category events, was only partially shown as a short recap during the aforementioned Grudge Matches special.
Robots Competing
Edit
Anarchy
Statistics not displayed
From: Unknown
Team Members: Unknown
Armadillo
Weight
Unknown
Dimensions
Unknown
Power
Unknown
Weapons
Lifting tail
From: Romford
Team Members: Adam Clarke, David Dempster
Demolisher
Weight
2.9kg
Dimensions
0.60 x 0.36 x 0.17m
Speed
40mph
Turning Circle
0m
Ground Clearance
5mm
Power
Electric motor
Weapons
Aluminium spikes and wedge
From: London
Team Members: Sam Rudgard, Gary Speed-Macey, Bill Rudgard
The Ripper
Weight
7kg
Dimensions
Unknown
Power
2 x 24V Wheelchair Motors
Weapons
Pickaxe
From: Yorkshire
Team Members: Anthony Mills, Donald Mills, Jackie Holland
Featherweight Championship
Edit
Anarchy vs Armadillo vs Demolisher vs The Ripper
Edit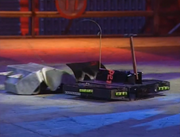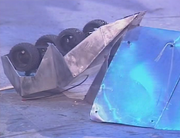 Due to its high speed, Demolisher immediately proved the quickest and most active robot at the start. However, due to uncharged batteries, The Ripper was unable to move more than a few centimetres, before it stopped moving altogether. Demolisher came in to hit the immobilised The Ripper before it was attacked by
Matilda
. Anarchy then approached the momentarily stationary Demolisher, but before Anarchy could attack, Demolisher rammed into it at speed, immobilising Anarchy. Demolisher then chased after Armadillo, while Matilda proceeded to attack Anarchy.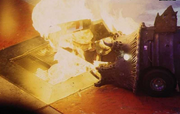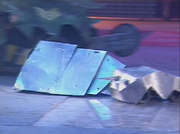 In its over-exuberance, Demolisher ran straight up Armadillo's sloped side, turning itself over and lying on the latter's wedge. Sergeant Bash nudged the inverted Demolisher with his ramming blade, knocking it back onto its wheels. Demolisher sped away to prepare for another attack, and spent the remainder of the battle ramming into and shoving Armadillo around the arena. 'Cease' was eventually called, and the battle went to a judges' decision. The judges ruled in favour of Demolisher, making the former First Wars heat finalist the first official Robot Wars Featherweight Champion.
"Demolisher: Our Featherweight Champions!"
— Jonathan Pearce, at the end of the fight
Featherweight Champion: Demolisher
Community content is available under
CC-BY-SA
unless otherwise noted.