"Mary Shelley once wrote about a Dr Frankenstein, a doctor who dreamed of creating the perfect man; a man with the strength of ten good blacksmiths, and he put the toilet seat down after using it. Dr Frankenstein raided the graveyard for body parts, and put enough electricity up his jackpoint to light the Blackpool illuminations. But alas, Dr Frankenstein's monster had two major flaws: one, he looked like a badly sewn-together dead person, and two, he still didn't leave the seat down! Two hundred years later, and people are still trying to animate lifeless objects with electricity. We call it Robot Wars..."
— Craig Charles' introduction
Heat F of Robot Wars: The Second Wars was the sixth of twelve heats which determined the Semi-Finalists of Robot Wars: The Second Wars. The episode featuring Heat F was originally broadcast on December 11, 1998 on BBC Two. The broadcast managed to attract 5.72 million viewers, an increase of 250,000 viewers when compared with the previous episode. According to BARB, this meant it ranked third in the top thirty highest rated BBC 2 broadcasts during 7-13 December, behind only The Simpsons and Have I Got News For You.
Competing Robots
Edit
Newcomers
Edit
Disruptor
Weight
82.1kg
Dimensions
0.9 x 0.79 x 1.09m
Speed
6mph
Turning Circle
0m
Ground Clearance
0-40mm
Power
1 x battery (38A)
Weapons
9' circular saw
Notes
Movable arm driven by 25cc petrol engine
From: Newport
Team Members: Anthony Lockwood, Masayo Kobayashi & Wayne Martin
Panic Attack
Weight
81.8kg
Dimensions
1.25 x 0.7 x 0.2m
Speed
9mph
Turning Circle
0m
Ground Clearance
25mm
Power
2 x 12V batteries
Weapons
Electric lifting spikes
Notes
Spider graphics by a Year 7 pupil
From: Cwmbran, Wales
Team Members: Kim Davies, Kevin Pritchard & Lee Wicombe
Ron
Weight
78.0kg
Dimensions
0.85 x 0.6 x 0.4m
Speed
9mph
Turning Circle
0m
Ground Clearance
8mm
Power
20 x 1.2V batteries
Weapons
Drills, cutters and 30cm saw
Notes
Batteries salvaged from a fighter aircraft
From: Cranfield University
Team Members: Colin Offer, John Economou & Chris Ransom
The Parthian Shot
Weight
79.6kg
Dimensions
1.65 x 0.8 x 0.45m
Speed
15mph
Turning Circle
0m
Ground Clearance
25mm
Power
3 x batteries (1 x 25A, 2 x 7A)
Weapons
Ball and chain/spikes
Notes
Weapon powered by 125W car motor
From: Dunstable in Hertfordshire
Team Members: Chris Hale, Neil Savage & William McLafferty
Whirling Dervish
Weight
79.7kg
Dimensions
0.8 x 0.8 x 0.425m
Speed
5mph
Turning Circle
0m
Ground Clearance
50mm
Power
2 x 12V batteries
Weapons
Large rotating bandsaw blade/chain
Notes
Inside out road tyre
From: Farnborough
Team Members: Dave Allsopp, Malcolm Smith & Peter Gibson
Corporal Punishment
Weight
76.1kg
Dimensions
1.35 x 0.78 x 0.45m
Speed
15mph
Turning Circle
0m
Ground Clearance
0mm
Power
4 x 12V batteries
Weapons
Lifting scoop/prongs
Notes
Previously entered a featherweight called Vector of Armageddon
From: Romford
Team Members: Adam Clark
Left route: Sir Killalot and two pits.

Centre route: Ramrig, spikes, See-saw and Shunt
Right route: Ramrig, Pendulum, flame pit and Dead Metal
Competing order: 1. Panic Attack 2. Corporal Punishment 3. Ron 4. The Parthian Shot 5. Disruptor 6. Whirling Dervish

Ranking
Competing Robot
Report
Distance
1

Corporal Punishment
After Adam Clark's previous creation had been knocked out by a ramp he said that his team 'don't do ramps' and went understandably for the ram rig. Despite its large width it was able to get down the ram rig but was held up briefly by the pendulum, which gave Dead Metal time to come in and push Corporal Punishment back to the ram rig, but it escaped and had a clean run to the end zone.
Completed
2

Ron
Ron went for the central route, and was lifted up by the spikes, but Dead Metal pushed the ramp as Ron approached it. Ron drove off the side of the obstacle, and was attacked by Dead Metal. Shunt axed it repeatedly, and Ron lost battery power.
11.6m
3

Panic Attack
Panic Attack went towards the middle route, but was lifted up by the spikes. It drove over the ramp, but Sir Killalot drove over the obstacle as well, meaning that when Panic Attack drove off it, it landed on top of Dead Metal. Shunt axed Panic Attack's armour repeatedly, causing damage to it, and broke off a panel with his axe.

"It's all very well being called Panic Attack, but you shouldn't panic when you're halfway across that see-saw"
— Philippa Forrester to the Panic Attack team after their robot's gauntlet run.

10.8m
4

Whirling Dervish
Whirling Dervish went for the central route, and after being attacked by the spikes, it drove towards the ramp, only to have steering problems, and drive off the side of the obstacle. Sir Killalot picked it up and carried it over the ramp. As Whirling Dervish had got around the same distance as Disruptor when it was lifted up by Killalot and would surely have been placed last if Sir Killalot had carried it the other way. Shunt axed Whirling Dervish at the end of its run. There was talk of a stewards' inquiry but as The Parthian Shot had been timed out it was irrelevant.
9.5m
5

Disruptor
Disruptor went for the middle route, but Dead Metal pushed the ramp away. Disruptor was stuck on the ramp, and it was overturned by Sir Killalot. Had The Parthian Shot not been timed out, it is generally considered that it almost certainly would have been eliminated.
5.5m
6

The Parthian Shot
The robot wouldn't work when the team arrived at the studio. With only Whirling Dervish left to run the Gauntlet ahead of it, the problem had been identified. After Whirling Dervish had run, The Parthian Shot wasn't in the starting gate and it was timed out. The team had just got their robot working when they were told they had been timed out.
Disqualified
Eliminated: The Parthian Shot
Trial (Sumo)
Edit
Competing order: 1. Panic Attack 2. Whirling Dervish 3. Corporal Punishment 4. Disruptor 5. Ron

Ranking
Competing Robot
Report
Result
1

Corporal Punishment
Instead of trying to dodge the House Robot, Corporal Punishment went straight in against Shunt. After a lot of wheel spin Corporal Punishment was able to push Shunt towards the edge of the ring where Shunt spun itself off.
Victorious
2

Panic Attack
Panic Attack spun round the ring before Shunt got its scoop underneath it and almost pushed it out the ring. Panic Attack turned away from Shunt, and managed to trick it with skilful driving, causing Shunt to reverse straight off the ring.
Victorious
3

Disruptor
Disruptor's wedge shape got under Shunt, before the house robot pushed it in circles. Disruptor wedged underneath Shunt once more at the end to survive.
Survived
4

Whirling Dervish
The team seemed to decide that the best form of defence was attack and spun its bars of metal into Shunt. it nearly drove off, but stayed on the ring until Shunt shoved it over the edge with his plough.
20.27 seconds
5

Ron
The Ron team had asserted in the pits that Sumo was their best event and they didn't need to work out tactics, which was quickly disproven when one push from Shunt was all it took to send Ron out, resulting in a comedic and ironic end for the red machine.
4.60 seconds
Eliminated: Ron
Semi-Finals
Edit
Whirling Dervish vs. Panic Attack
Edit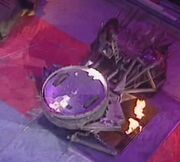 The fight started and Whirling Dervish tried to hit Panic Attack with its weapon, but minimal effect was made on Panic Attack. Panic Attack then managed to get underneath its opponent, eventually flipping it over, and Whirling Dervish was placed over the flames by Dead Metal, before the house robots attacked it. Panic Attack attacked Sergeant Bash, managing to break off the House Robot's saw.
"The Whirling Dervish team have virtually re-tyred, immobilised."
— Jonathan Pearce
Winner: Panic Attack
Disruptor vs. Corporal Punishment
Edit
Corporal Punishment went for its opponent in the same way it had in the sumo. Its early aggression in ramming Disruptor resulted in Corporal Punishment bending one of its prongs on impact with Disruptor making it difficult for it to go forwards. Disruptor pushed it into the PPZ where it couldn't escape due to the damage to its front scoop. By the time Corporal Punishment was able to reverse out it was too late for it to make a comeback and the Judges went for Disruptor.
Winner: Disruptor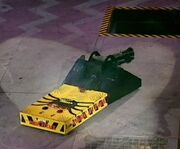 Panic Attack started this fight by getting its spikes underneath Disruptor, but Disruptor wedged underneath Panic Attack. Despite this, Panic Attack was still able to push Disruptor around using the 4-wheel drive to push Disruptor into the pit.
"The end is nigh and comes for Disruptor"
— Jonathan Pearce after Disruptor is pitted
Heat Winner: Panic Attack
"If you need a potion that hair restores, you're too old, for Robot Wars!"
— Craig Charles' sign-off
The Parthian Shot became the second robot in as many heats to withdraw from competition due to electronic failures. Much to the frustration of the team, their disqualification came at the exact moment that they got their machine working.
The heat final was between Panic Attack and Disruptor, two Welsh machines, making it the only heat final in the UK Championships in which neither robot was English.
Community content is available under
CC-BY-SA
unless otherwise noted.