Heat G of Robot Wars: The Second Wars was the seventh of twelve heats which determined the Semi-Finalists of Robot Wars: The Second Wars. The episode featuring Heat G was originally broadcast on December 18, 1998 on BBC Two.
Competing Robots
Newcomers
Killerhurtz
Weight
77.8kg
Dimensions
1.15 x 0.8 x 0.4m
Speed
15mph
Turning Circle
1m
Ground Clearance
10mm
Power
8 x 20V batteries
Weapons
Pneumatic axe
Notes
Axe is custom built, weighs 7lb and generates 800kg of force
From: Oxford
Team Members: John Reid, Dominic Parkinson & Rebecca Reaston-Brown
Limpet
Weight
79.6kg
Dimensions
1.0 x 0.75 x 0.28m
Speed
4mph
Turning Circle
0m
Ground Clearance
25mm
Power
2 x 12V wheelchair batteries
Weapons
Wedge shape and 6' saw
Notes
Tank tracks made from motorcycle chains & cost only £28 to build
From: Hinckley
Team Members: John Denny & John Freeman
Onslaught
Weight
76.1kg
Dimensions
0.9 x 0.56 x 0.31m
Speed
7mph
Turning Circle
2m
Ground Clearance
5mm
Power
2 x 12V batteries
Weapons
Scoop and mild steel spikes
Notes
Mechanical speed controller built by team and motor from forklift truck
From: Bedford
Team Members: Alan Wood, David Wood & Peter Holland
R.O.C.S.
Weight
79.8kg
Dimensions
0.8 x 0.77 x 0.63m
Speed
6mph
Turning Circle
3m
Ground Clearance
12.5mm
Power
1 x 12V battery
Weapons
Forklift
Notes
Weapon salvaged from car jack and shell painted by Colin's wife, Jackie
From: Hurworth in Darlington
Team Members: Colin Sievers & Karl Sievers
Veterans
Nemesis
Weight
74.5kg
Dimensions
1.3 x 1.23 x 0.55m
Speed
6mph
Turning Circle
0m
Ground Clearance
50mm
Power
2 x 12V batteries, 1 x 6V battery
Weapons
Pneumatic spike with static spikes and blades
Notes
Famous for being covered in flammable fur
From: Dublin, Ireland
Team Members: Peter Redmond, Joe Gavin, William Murphy & John Cunnane
Roadblock (seeded 1st)
Weight
80.9kg
Dimensions
1.6 x 1.1 x 0.45m
Speed
5mph
Turning Circle
0m
Ground Clearance
5mm
Power
4 x 12V batteries
Weapons
12' tungsten tipped circular saw
Notes
Reigning Robot Wars Champion, seeded number one
From: Bodmin Community College
Team Members: Hender Blewitt, Chris Kinsey & Peter Kinsey
The Gauntlet
Left route: The Sentinel, two pits and Dead Metal.

Centre route: Ramrig, see-saw, spikes and Sir Killalot
Right route: Ramrig, flame pit, and Sergeant Bash
Competing order: 1. Roadblock 2. Onslaught 3. Nemesis 4. R.O.C.S. 5. Limpet 6. Killerhurtz

Ranking
Competing Robot
Report
Distance
1
Roadblock
Its large width meant the Roadblock team could only take on the newly unveiled Sentinel. After being pinned to the wall by The Sentinel briefly, Roadblock got away but its large width almost caused it to drive into the pit. It escaped and drove away into the end zone.
Completed
2
Nemesis
Nemesis went for the ram rig (presumably because the flame pit and Sergeant Bash both featured in this route). After negotiating the ram rig with little difficulty it drove past Sergeant Bash and despite being blocked by Sir Killalot, Nemesis managed to find a gap and squeezed through to complete the course.
Completed
3

Limpet
The team had stuck part of a baguette on the back of the robot to be toasted by the flamethrower of Sergeant Bash. Unfortunately it didn't get that far as it was ambushed by Sir Killalot after it had gone over the ramp and Killalot cut through one of Limpet's tracks.
10.8m
4

Killerhurtz
Its incredible speed took it past the Sentinel and into the end zone in the blink of an eye but it had rammed into Dead Metal and despite causing damage to the House Robot, Dead Metal forced it back off the line and into the pit.
10.6m
5

Onslaught
Onslaught was quicker and smaller than Roadblock, and had less difficulty evading the Sentinel but it was having a problem with its tyres, which began to peel off, leaving it with very little grip. Towards the end of the course, Dead Metal caught hold of it, and pushed it back into The Sentinel's path. As The Sentinel turned back again, it hooked onto Onslaught, before sweeping it into the pit.
10.5m
6

R.O.C.S.
Despite its width it was able to get through the ramrig quite easily, but in the time it took, the House Robots had all moved across to block the route and it couldn't break through. Sir Killalot lifted it up and onto its side over the flame pit. In most heats the distance R.O.C.S. travelled would have been enough to qualify, but sadly the distance was not enough in this case.
8.8m
Eliminated: R.O.C.S.
Trial (Skittles)
Competing order: 1. Roadblock 2. Onslaught 3. Nemesis 4. Killerhurtz 5. Limpet

Ranking
Competing Robot
Report
Result
1
Killerhurtz
Immediately dived straight into the barrels and almost took out enough to go through on its first attack. Killerhurtz were even looking to get all the skittles down when it suddenly got stuck in reverse gear and shot backwards out of the triangle where the house robots could attack it.
64 barrels
2

Onslaught
Its scoop made it well suited to skittles and the team were so confident they had a go at Sergeant Bash before knocking any barrels over. Its speed made it extremely efficient and after the team felt they had done enough they went for another pop at Bash.
57 barrels
3

Nemesis
Its shape made pushing over barrels difficult but it managed to make it into the middle of the triangle and spun round, using its blades and spikes to knock over barrels.
38 barrels
4

Roadblock
Its scoop came in useful for tunnelling into the triangle although in some cases it only succeeded in pushing the barrels out the triangle and not over. Nevertheless it was making good progress when Killalot came in and pinned them until the end of the round, putting the reigning champions in danger of elimination.
34 barrels
5

Limpet
Despite having the chance to eliminate the reigning champions, Limpet was incredibly slow to get off the mark and without a lot of power the team struggled to make much of an impact against the barrels.
23 barrels
Eliminated: Limpet
Arena
Semi-Finals
Roadblock (1) vs. Killerhurtz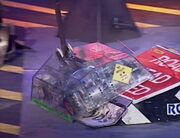 Hoping to utilise its speed as an attacking advantage, Killerhurtz shot straight at Roadblock, putting a hole in the front scoop and bending their chassis, but doing little otherwise. The impact also broke the drive pins connecting Killerhurtz' gearbox to the rear wheels, leaving it immobilised. Roadblock used its scoop and wedge to get underneath Killerhurtz from the side and push into the PPZ, where it followed up by attacking it with its improved circular saw. With Killerhurtz no longer mobile, the House Robots moved in to attack it, Shunt taking a hit from the Killerhurtz axe resulting in a bent scoop, before Dead Metal eventually finished it off by grabbing hold of it with its pincers, before pushing it into the pit.
Winner: Roadblock
Nemesis vs. Onslaught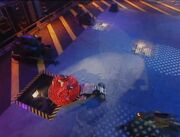 "The wedge on the front of Onslaught could be decisive here..."
— Jonathan Pearce
Before the battle, the Nemesis team mounted a kebab between Nemesis' wheel arches, hoping that it would be cooked when its fur caught fire. Unfortunately, this was not to be - Onslaught's shovel and four-wheel drive made it simple for it to push the flat-edged, two wheel-driven Nemesis around the arena. During the fight, Onslaught was able to run rings around Nemesis with its speed, but briefly drove itself into the PPZ, from which it escaped. Towards the end, Nemesis seemed to have stopped moving next to the pit, allowing Onslaught to push the Irish machine into it.
Winner: Onslaught
Final
Roadblock (1) vs. Onslaught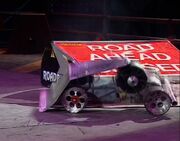 Roadblock approached Onslaught but Onslught wasn't moving. Roadblock pushed Onslaught onto an arena spike but there was still no movement from it. Onslaught started smoking and Dead Metal and Shunt attacked Onslaught while Roadblock took on Sergeant Bash. Dead Metal snapped Roadblock's strimmer shaft with its claws in the dying seconds of the fight, but it didn't matter as Onslaught hadn't moved at all, meaning the defending Champion was through to the Semi-Finals.
Craig Charles: "What, you wanted a right good rumble but you didn't get one?"
Hender Blewitt: "That's right, that's right. We had to put up with Shunt instead"
— Post-match talk
Heat Winner: Roadblock
"I'll show you my robot, you show me yours, the biggest one wins, on Robot Wars!"
— Craig Charles' sign-off