"We live in a disunited Kingdom. Just look at England and Scotland: they're almost divorced; arguing over who gets to keep the oil and who gets the 'Donald, Where's Your Trousers' CD. And Wales: they want to be independent. They want to split from the Mainland and float off towards the Bahamas. If the country gets any more disunited, you'll need a VISA to get into Yorkshire. But on Robot Wars, it doesn't matter where you're from: we're all united; it's just the robots than wanna kill each other. And who are we to call the peace?!"
— Craig Charles' introduction
Heat L of Robot Wars: The Second Wars was the twelfth and final heat which determined the Semi-Finalists of Robot Wars: The Second Wars. This episode was originally broadcast on February 12, 1999 on BBC Two. The broadcast managed to attract 5.72 million viewers, a decrease of 460,000 viewers when compared with the previous episode. According to BARB, this meant it ranked first in the top thirty highest rated BBC 2 broadcasts during 8-14 February, for the second consecutive week.
Competing Robots
Newcomers
Angel of Death
Weight
77.8kg
Dimensions
1.1 x 0.9 x 0.22m
Speed
4mph
Turning Circle
0m
Ground Clearance
2mm
Power
2 x 12V batteries
Weapons
Front and rear circular saws
Notes
Built over 2-3 months. Cost £250. Powered by Volvo windscreen wipers
From: Bristol
Team Members: Dan McGrath & Nathan Green
Flirty Skirty
Weight
79.5kg
Dimensions
1.05 x 1.05 x 0.5m
Speed
2mph
Turning Circle
0m
Ground Clearance
3mm
Power
2 x 12V batteries
Weapons
Pneumatic lifting skirts and spikes
Notes
Circuit boards designed by Stafford College. HGV lorry air tanks
From: Baswick in Staffordshire
Team Members: Richard Peter, Victor Peter & Albert Peter
Haardvark
Weight
79.8kg
Dimensions
1.5 x 0.85 x 0.4m
Speed
12mph
Turning Circle
0m
Ground Clearance
10mm
Power
2 x 12V batteries
Weapons
Lifting forks and circular saw on arm (removed to meet weight restrictions)
Notes
Chassis strengthened with strip steel and aluminium beams
From: Cannock in Staffordshire
Team Members: Owen Barwick, Liz Harrison & Mike Evans
Havoc
Weight
77.3kg
Dimensions
1.3 x 0.72 x 0.4m
Speed
6mph
Turning Circle
0m
Ground Clearance
50mm
Power
2 x 12V batteries
Weapons
Zinc mace and lifting jack
Notes
Weapons salvaged from a car jack and powered by windscreen wiper
From: Burnley
Team Members: Kevin Shirtcliffe, John Robinson & Philip Robinson
Tender Caress
Weight
78.7kg
Dimensions
1.2 x 0.8 x 0.4m
Speed
15mph
Turning Circle
0.6m
Ground Clearance
38mm
Power
2 x 12V batteries
Weapons
Spikes, circular saw and 1000RPM angle grinder
Notes
Custom built electronics. Aluminium shell with stainless steel mesh
From: Redford in Surrey
Team Members: Phil Thomas, Rik Allen, Andrew Berridge & Duncan McPherson
Vercingetorix
Weight
77.9kg
Dimensions
1.2 x 0.72 x 0.38m
Speed
9mph
Turning Circle
0m
Ground Clearance
3-25mm (Variable)
Power
2 x 12V batteries
Weapons
Pneumatic flipper and side rams
Notes
Adjustable outer shell for ground clearance. 24V wheelchair motors
From: Isle of Wight
Team Members: Ian Gear, Alistair Curtis-Horsefall & Nigel Radestock
Gauntlet
Competitor runs
Left route: The Sentinel, Dead Metal and two pits

Centre route: Spikes, see-saw, and Sir Killalot
Right route: Ramrig, flame pit, pendulum and Sergeant Bash
Competing order: 1. Haardvark 2. Vercingetorix 3. Tender Caress 4. Havoc 5. Flirty Skirty 6. Angel of Death

Ranking
Competing Robot
Report
Distance
1

Haardvark
Haardvark's speed and manoeuvrability helped it to easily clear The Sentinel, but Dead Metal was also blocking the route, and quickly backed Haardvark into the pit.
10.6m
2

Flirty Skirty
With a top speed of just 2mph, Flirty Skirty made slow progress through the early part of the gauntlet, encountering problems on the spikes. Flirty Skirty almost passed The Sentinel on its first attempt, but was stopped just inches away from passing The Sentinel. The Sentinel then inadvertently pushed Flirty Skirty past, but trapped Flirty Skirty between itself and the pit. Sir Killalot then picked up Flirty Skirty and pitted it.
10.4m
3

Havoc
Havoc's initial run lasted seconds, after a loose wire caused one motor to not function. Luckily, this problem was located and solved in time for another run to be permitted. Havoc chose to attack the Sentinel's route, but, after nearly clearing the Sentinel, ran into Dead Metal, who span it around. Havoc attempted to pass the Sentinel again, but now the broken down Dead Metal was in the way, and time had run out.
8.2m
4

Vercingetorix
Vercingetorix approached The Sentinel and was quickly pinned in by the Sentinel. One of the Sentinel's spikes had broken, however, so Vercingetorix escaped, however this was short lived as Dead Metal once again stopped any progress being made, and caused minor damage to the top of Vercingetorix.
5.1m
5

Tender Caress
After a bumbling start, Tender Caress opted for the ramrig route, where it became stuck on the side of the ramrig. Tender Caress was eventually freed, but by this time Dead Metal had moved into position and attacked Tender Caress from behind, with Sergeant Bash blocking the exit. According to the team, their robot had caused substantial damage to spikes on the ramrig itself during its run.
5.0m
6

Angel of Death
Its low ground clearance and lack of power immediately gave it problems as it steered onto the ram rig and was unable to break free. The House Robots moved in but couldn't damage it due to its low centre of gravity.
2.9m
Eliminated: Angel of Death
Trial (Sumo)
Competing order: 1. Tender Caress 2. Flirty Skirty 3. Vercingetorix 4. Havoc 5. Haardvark

Ranking
Competing Robot
Report
Result
1

Vercingetorix
The two robots met in the centre of the arena, and then jockeyed around each other for position. Dead Metal eventually got around the sides and pushed Vercingetorix to the edge of the arena, choosing to attack with the disc than release its grip, so somewhat luckily Vercingetorix survived until the end.
Survived
2

Haardvark
Even before its sumo run began, Haardvark was in problems, a wiring glitch limiting movement only to forwards and backwards. Luckily in such a trial as the sumo, this was no real hindrance. Haardvark initially made some strong pushes, very nearly forcing Dead Metal off the podium, however Dead Metal lured them by loitering near the edge, spun around and pushed Haardvark towards the edge, before finally pushing Haardvark off in a suicide leap.

"Kamikaze from the Sumo Warrior!"
— Jonathan Pearce as Dead Metal falls off the podium with Haardvark

17.60 seconds
3

Havoc
The team initially dodged Dead Metal, but a lapse in concentration allowed Dead Metal to attack and push Havoc almost totally off the ring within five seconds. Luckily for Havoc, Dead Metal was unable to gain sufficient traction to push Havoc off the ring, and so took another charge, this time succeeding in disposing of Havoc.
14.15 seconds
4

Flirty Skirty
The team had attached spikes to the skirts prior to going in, which allowed them to dig into the sumo ring floor. Nevertheless, Dead Metal pushed Flirty Skirty all the way to the edge of the ring, and took a run up for a second charge. Luckily, Dead Metal slowed part way through the charge, allowing enough time to elapse for Flirty Skirty to survive; however this did not stop Dead Metal disposing of Flirty Skirty very quickly.
10.63 seconds
5

Tender Caress
Despite the team's confidence before the Sumo, Dead Metal rammed it once, which trapped it on the edge and hit it again, sending it out of the sumo ring.
6.03 seconds
Eliminated: Tender Caress
Arena
Semi-Finals
Haardvark vs. Vercingetorix
The two robots came together, Haardvark pushing against Vercingetorix, who appeared to have slowed. After this initial shove, there was no life from Vercingetorix, and it was repeatedly slammed by Haardvark. Haardvark then pushed Vercingetorix into the PPZ, where it was axed by Shunt. With the help of Sir Killalot, Shunt pushed Vercingetorix onto the flame pit, before Sir Killalot plucked up the lifeless Vercingetorix and pitted it.
"Dulce et decorum est pro patria mori- How sweet it is to die for your fatherland. And that's what's going to happen, it looks to me, for Vercingetorix."
— Jonathan Pearce does Latin
Winner: Haardvark
Havoc vs. Flirty Skirty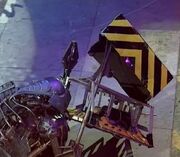 Havoc immediately collided with the much slower Flirty Skirty, and then attempted to use the lifting ram, but to no avail. Havoc then pushed Flirty Skirty once more, this time into the PPZ, where Killalot trapped Flirty Skirty, and then began to dismember the shell.
"Good gad Sir! You have disrobed Flirty Skirty! You cad Sir Killalot! It is not done in Robot Wars to leave a young lady so exposed!"
— Sir Killalot is reprimanded by Jonathan Pearce
Killalot lifted Flirty Skirty, and then removed the shell, exposing the mechanics. Eventually the shell fell off altogether and Killalot dragged the remains over to the flame pit, arriving just as cease was called.
Winner: Havoc
Final
Haardvark vs. Havoc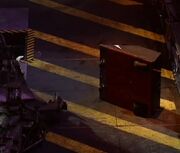 The two robots spun around each other once, before colliding twice. Haardvark pushed Havoc towards the PPZ, but Havoc deflected the attack, and as a result Haardvark found itself in the PPZ, and under attack from Matilda. Spinning away, Haardvark again shoved Havoc, eventually pushing it into Shunt in the PPZ. After axing it for a while, Shunt overturned Havoc, leaving Haardvark as the Heat Winners.
"I'm amazed we got this far!"
— Liz Harrison on making the Semi-Finals
Heat Winner: Haardvark
"TV censors can put in their horns, but they can't touch us, we're Robot Wars!"
— Craig Charles' sign-off
Trivia
Every robot in this Heat used a pair of 12V batteries as the powering system.
This was the only Heat of Series 2, and indeed the only UK Series Heat outside Series 1, to comprise entirely of newcomers.
No robot in this Heat ever achieved additional success. Angel of Death and Tender Caress did not appear on the show after this, and the four that returned all fell in Round 1 in the next wars. Beyond that, only Team Vercingetorix was seen on the show again, with only three battle victories to their name.
This Heat was one of two episodes containing The Gauntlet where no competitor completed it, the other being Heat I of the Second Wars.
Community content is available under
CC-BY-SA
unless otherwise noted.