The Inferno Insurrection was a special battle, held purely for entertainment purposes during the Grudge Match Special of Robot Wars: The Second Wars. Nemesis, a robot famous for having its fur set on fire in the First Wars, as well as a stock robot, Ramrombit were sprayed with the flammable substance, paraffin to facilitate Sergeant Bash setting them on fire.
Inferno Insurrection
Sergeant Bash vs Nemesis & Ramrombit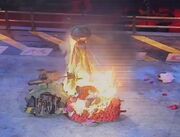 This match featured Sergeant Bash and two flammable robots which were sprayed with paraffin before the event. The robots were Nemesis and Ramrombit, a sacrificial robot designed for this match and driven by George Francis.
Nemesis, garbed in a chef's hat and sporting kebabs, started the battle by darting behind Sergeant Bash, and was in fact the second robot to be caught, with Ramrombit the first to be set on fire, soon followed by Nemesis, who lost the chef's hat after a sharp turn. After a while, a small explosion came from Nemesis, probably from an area particularly well doused in paraffin.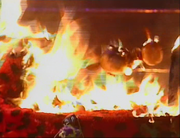 "I hope you like your kebab well cooked!"
— Jonathan Pearce, as Nemesis explodes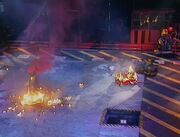 Both robots felt the need to go in on the attack, pushing against Sergeant Bash, whilst Ramrombit sparked. Ramrombit, bits of its cape lining the arena, started spewing red smoke towards the end. As this was an exhibition fight, no winner was announced.
"Mmm. That looks like the tastiest barbecue I've ever seen"
— Philippa Forrester spots the kebab
Winner: None announced