"Now with Sergeant Bash around, you'd be pretty stupid to cover your robot in fur. Either that, or be an arsonist with a lust for pyrotechnical destruction. Our next contenders don't look stupid, so make your own minds up, as we fire up the robots and get stuck in!"
— Craig Charles introduces the Inferno Insurrection
The Inferno Insurrection was a one-off battle shown during the Grudge Matches episode of Robot Wars: The Second Wars. It was an exhibition battle held purely to entertain the audience, consisting of the fur-clad Nemesis and the almost sacrificial stock robot Ramrombit being set alight by the House Robot, Sergeant Bash. Before the start, Nemesis and Ramrombit were both doused in paraffin to make them easier to catch fire.
Competing Robots
Edit
Sergeant Bash
Weight
120kg
Dimensions
1.40m x 0.90m x 0.90m
Power
Four batteries running in parallel
Weapons
Propane-fuelled flamethrower, circular saw
Strengths
Weaknesses
Nemesis
Weight
74.5kg
Dimensions
1.3 x 1.23 x 0.55m
Speed
6mph
Turning Circle
0m
Ground Clearance
50mm
Power
2 x 12V batteries, 1 x 6V battery
Weapons
Pneumatic spike with static spikes and blades
Notes
Famous for being covered in flammable fur
From: Dublin, Ireland
Team Members: Peter Redmond, Joe Gavin, William Murphy & John Cunnane
Ramrombit
Weight
75.3kg
Dimensions
Power
From: Ipswich
Team Members: George Francis
Inferno Insurrection
Edit
Sergeant Bash vs Nemesis & Ramrombit
Edit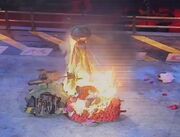 This match featured
Sergeant Bash
and two flammable robots which were sprayed with paraffin before the event. The robots were
Nemesis
and
Ramrombit
, a sacrificial robot designed for this match and driven by George Francis.
"Would you look at that?! I can't believe it, Nemesis!"
— Jonathan Pearce notices the kebab and chef's hat on Nemesis before the fight begins
Nemesis, garbed in a chef's hat and sporting kebabs, started the battle by darting behind Sergeant Bash, and was in fact the second robot to be caught, with Ramrombit the first to be set on fire, soon followed by Nemesis, who lost the chef's hat after a sharp turn. After a while, a small explosion came from Nemesis, probably from an area particularly well doused in paraffin.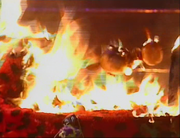 "I hope you like your kebab well cooked! I don't think this is gonna last long. For goodness' sake, don't try this at home, any of you; these are trained roboteers - would you believe it?!"
— Jonathan Pearce, as Nemesis explodes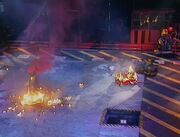 Both robots felt the need to go in on the attack, pushing against Sergeant Bash, whilst Ramrombit sparked. Ramrombit, bits of its cape lining the arena, started spewing red smoke towards the end. As this was an exhibition fight, no winner was announced.
"Mmm. That looks like the tastiest barbecue I've ever seen"
— Philippa Forrester spots the kebab
Winner: None announced
. This episode marked the last appearance of Nemesis, before it was reinstated as a reserve in the International League tournament of series 3.
Community content is available under
CC-BY-SA
unless otherwise noted.