"Robot Wars has launched into cyberspace. Roboteers invading the internet, beating up computer viruses. The thing is, four veterans from Robot Wars all think their website is best. There's only one way we sort an argument like that out on Robot Wars – by letting them kick the hell out of each other! Let's get stuck in."
The Internet Insurrection was a one-off battle shown during the Grudge Matches episode of Robot Wars: The Second Wars. The battle was a four-way melee between four teams who claimed to have the best website at the time.
Competing Robots
Edit
Bodyhammer
Weight
77.0kg
Dimensions
0.8 x 0.8 x 0.65m
Speed
15mph
Turning Circle
0m
Ground Clearance
5mm
Power
1 x 24V battery
Weapons
6' circular saw
Notes
Robin and Andrew work in the nuclear power industry
From: Gloucester
Team Members: Robin Herrick, David Gribble & Andrew Dayton-Lovett
Corporal Punishment
Weight
76.1kg
Dimensions
1.35 x 0.78 x 0.45m
Speed
15mph
Turning Circle
0m
Ground Clearance
0mm
Power
4 x 12V batteries
Weapons
Lifting scoop/prongs
Notes
Previously entered a featherweight called Vector of Armageddon
From: Romford
Team Members: Adam Clark
Griffon
Weight
79.4kg
Dimensions
1.3 x 0.7 x 0.2m
Speed
19mph
Turning Circle
1m
Ground Clearance
13mm
Power
2 x 12V batteries
Weapons
Lifting arm
Notes
Weapon powered by linear actuators
From: The University of Reading
Team Members: Oliver Steeples & Ben Steeples
Killerhurtz
Weight
77.8kg
Dimensions
1.15 x 0.8 x 0.4m
Speed
15mph
Turning Circle
1m
Ground Clearance
10mm
Power
8 x 20V batteries
Weapons
Pneumatic axe
Notes
Axe is custom built, weighs 7lb and generates 800kg of force
From: Oxford
Team Members: John Reid, Dominic Parkinson & Rebecca Reaston-Brown
Internet Insurrection
Edit
Griffon vs Killerhurtz vs Bodyhammer vs Corporal Punishment
Edit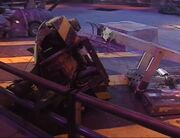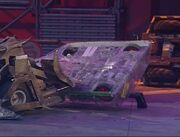 Corporal Punishment made the first early charge on Griffon, pushing it towards the PPZ. Meanwhile, Killerhurtz attacked Matilda, breaking the chain on her chainsaw, but was then pressured by Sergeant Bash as it lay statuesque in the PPZ, but Griffon came to its rescue, getting in underneath the Sergeant and then overturning the House Robot, much to the delight of all of the teams. Meanwhile, Corporal Punishment rammed Matilda, while Killerhurtz was dragged away by Shunt and overturned, and Bodyhammer beached Matilda on its steep wedge, but was freed by Dead Metal.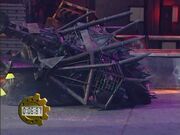 Shunt continued with the punishment of Killerhurtz, re-righting it, but leaving the immobile machine on the flame pit. Griffon then attacked Shunt, but failed to lift it, while Bodyhammer was under attack from Dead Metal, who grabbed it, but let it escape, and came back for another ram on the House Robot. Meanwhile, Corporal Punishment had become immobilised, as it was trapped under Sergeant Bash. Griffon then tried to overturn Dead Metal, but the House Robot trapped it on a spike, forcing Griffon to retreat. Matilda then lifted Griffon up, and fired her spark shooter. As cease was called, Matilda pushed Griffon into Bodyhammer, who had wedged itself underneath Dead Metal, immobilising both robots.
"All I wanted to do this time is take over a house robot. Sorry blokes!"
— Oliver Steeples to the House Robots
Winner: Griffon
This battle was the first occasion where all of the competing robots ignored each other and only attacked the House Robots.
During the battle, Griffon became the first competitor to turn Sergeant Bash over with a lifting or flipping weapon of any kind.
Community content is available under
CC-BY-SA
unless otherwise noted.