The Lightweight Championship of Robot Wars: The Second Wars was an event which took place during the filming of Robot Wars: The Second Wars. Consisting of a single six-way melee between robots weighing 22.7kg or under, a short recap was broadcast as part of the end-of-series Grudge Matches special, along with other lower weight category events featured in the aforementioned episode. This Lightweight Championship was the first of two to be shown as part of the UK Robot Wars.
Robots Competing
Edit
Rosebud
Weight
Unknown
Dimensions
Unknown
Power
Unknown
Weapons
Circular Saw, Wedge, and Spikes
From: Unknown
Team Members: Eric James, Michael Corbett
Damacles
Weight
20kg
Dimensions
Unknown
Speed
Described by team as "slow"
Turning Circle
Unknown
Ground Clearance
Unknown
Power
Windscreen wiper motors
Weapons
Cutting disc on spring-loaded arm
From: Hampton
Team Members: Dominic Horner, Paul Montero, Peter Mosley
Slippery Strana
Weight
21.6kg
Dimensions
Unknown
Speed
Approximately 6.7mph
Turning Circle
Unknown
Ground Clearance
Unknown
Power
7.2V Bosch Cordless Drills at 12V
Weapons
Spikes
From: Bristol
Team Members: Colin Pearson, Charlie Dale-Staples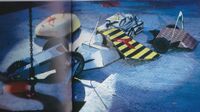 Shadow Fiend
Statistics not displayed
From: Unknown
Team Members: Unknown
Spartacus
Weight
21kg
Dimensions
Unknown
Speed
2mph
Turning Circle
Unknown
Ground Clearance
Unknown
Power
7Ah 12v Batteries
Weapons
Crusher
From: Carmarthen, South Wales
Team Members: Alan James, Hayden James, Tom James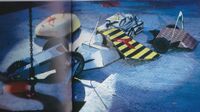 Unidentified competitor
Statistics not displayed
From: Unknown
Team Members: Unknown
Lightweight Championship
Edit
Rosebud vs Damacles vs Slippery Strana vs Shadow Fiend vs Spartacus vs Unidentified robot
Edit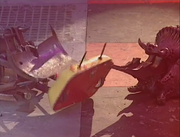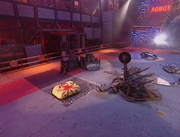 All of the competitors started fairly sluggishly, with them all ponderously approaching the centre of the arena. Spartacus was able to wage an attack on Slippery Strana, damaging its shell. After this, to liven up the proceedings, the house robots came into the battle and began attacking the competitors. Although the house robots did little more than push the lightweights around, Damacles and Spartacus immediately stopped. Dead Metal then started bashing Spartacus, almost in an attempt to get it moving, however, it came to no avail. Slippery Strana then ran straight into Rosebud, but both robots then appeared to lose one of their drives, as a result, Rosebud was only able to spin in tight circles, however Slippery Strana, upon retreating, ran straight into house robot Shunt. Shunt repeatedly axed down on Slippery Strana, not causing much damage to the latter's shell, until Matilda came in, who then used her tusks to flip Slippery Strana onto Shunt's scoop, who then flipped Slippery Strana back onto its wheels. Slippery Strana then hurried away, retreating into the distance. Cease was eventually called, and as Rosebud, Slippery Strana and Shadow Fiend were still technically mobile, the battle went to a Judges' decision.
"All 5 robots obediently stopped, and we waited patiently for a Judges' decision. And we waited some more. And some more. Then, to help the Judges finalise their scoring, the 'voice from above' asked all roboteers to move around the arena a little. Charlie took this opportunity to spin another pirouette and to zip a couple of times - very visibly - across the arena. One of our competitors seemed to take offence at this and Charlie found himself in a dangerous post-battle push-and-shove, which mercifully didn't last long."
— Silppery Strana website[1]
To aid with their decision, the Judges requested that all of the remaining competitors display their mobility, which Slippery Strana responded to by spinning around and speeding across the arena a few times. This was enough for Slippery Strana to win the decision and become the first official Robot Wars Lightweight Champion, although its victory was met with a brief post-battle scuffle in the Pits.
Lightweight Champion: Slippery Strana
The Series 2 Lightweight Championship marked the only appearance of every robot competing in the battle, as the Lightweight Championship for the following series was cancelled.
References
Edit
Community content is available under
CC-BY-SA
unless otherwise noted.