The Middleweight Championship of Robot Wars: The Second Wars
was a side event which was partially broadcast in the
Grudge Matches special
of
Robot Wars: The Second Wars
. The first of four
Robot Wars
Middleweight Championships
- initially dedicated to robots weighing 45.4kg or under - it consisted of a single three-way melee, which was shown as a brief recap in the aforementioned special.
Competing Robots
Edit
Doodlebug
Weight
Unknown
Dimensions
Unknown
Power
Unknown
Weapons
Clamping Spikes
From: Unknown
Team Members: Unknown
Hard Cheese
Weight
42kg
Dimensions
1.04m x 0.58m x 0.30m
Power
2 x 36V Wheelchair Motors
Weapons
Large Spikes
From: Liverpool in Merseyside
Team Members: Nigel Kerr, Stephen Pearson, Andrew Norton, Alan Stein
Wharthog
Weight
24.2kg
Dimensions
1.10m x 0.70m x 0.35m
Speed
8mph
Turning Circle
2m
Ground Clearance
5mm
Power
24W wheelchair control unit
Weapons
2 large spikes
From: Biggleswade in Bedfordshire
Team Members: Oliver Brown, Nick Brown & Tom Anthony
Middleweight Championship
Edit
Doodlebug vs Hard Cheese vs Wharthog
Edit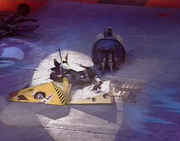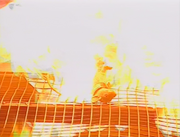 The three machines converged in the middle of the arena, and after just a few light bashes from the other two competitors, Doodlebug suddenly broke down. Hard Cheese then caught Wharthog from the rear, and started to shove it away from the corpse of Doodlebug, just as house robot Matilda closed in to deal with Doodlebug. Wharthog turned around again, but Hard Cheese didn't give up its attacks on the experienced machine. Eventually, the shunts from Hard Cheese rendered Wharthog immobile too, and Hard Cheese was the last robot standing. Afterwards, house robot Dead Metal came out of the PPZ, and attacked Hard Cheese, making Verminator fall off the wedge of Hard Cheese, onto the arena floor. House robot Shunt then placed Verminator over the flame pit, before cease was finally called.
Middleweight Champion: Hard Cheese
Community content is available under
CC-BY-SA
unless otherwise noted.