"It's time to get deadly serious, with the first of our Robot Wars Semi-Finals. Now, Washington Irving once said: "it is the natural principal of war, to do as much damage to your opponent, with the least damage to yourself". Clever man! But while it's easy to take the mick out of someone who states the blindingly obvious, it'd good advice to our contenders. We've had six rounds of battles to get to this semi-final, and the robots who failed to harm their enemies are now rusting in a scrap heap in Surbiton. Only the six most brutal have made it through to this."
— Craig Charles' introduction
Semi-Final 1 of Robot Wars: The Second Wars was the first of two Semi-Finals to determine which two of six heat winners would proceed to the Grand Final of Robot Wars: The Second Wars. As usual, a Gauntlet would eliminate one robot, while the Trial (Pinball) would eliminate another. The remaining robots would pair off and fight to determine which two robots moved on to the Grand Final.
The episode featuring Semi-Final 1 was originally broadcast on February 19, 1999 on BBC Two. It managed to attract 6.01 million viewers, an increase of 290,000 viewers when compared with the previous episode. According to BARB, it fell to second in the top thirty highest rated BBC 2 broadcasts during 15-21 February, behind Red Dwarf.
Competing robots
Edit
Newcomers
Edit
Behemoth (winner of Heat D)
Weight
67.7kg
Dimensions
0.95 x 0.5 x 0.55m
Speed
5mph
Turning Circle
0m
Ground Clearance
15mm
Power
2 x 12V batteries
Weapons
1000kg front lifting shovel
Notes
Weapon powered by 'sodastream' CO2 cylinder
From: Hemel Hempstead
Team Members: Anthony Pritchard, Michael Pritchard & Edward Pritchard
Mace (winner of Heat B)
Weight
79.4kg
Dimensions
1.3 x 0.8 x 0.4m
Speed
6mph
Turning Circle
0m
Ground Clearance
15mm
Power
2 x 12V batteries
Weapons
2000rpm flail and lifting arm
Notes
Can lift over 115kg
From: St. Leonards-on-Sea
Team Members: Shane Howard & Brian Fountain
Panic Attack (winner of Heat F)
Weight
81.8kg
Dimensions
1.25 x 0.7 x 0.2m
Speed
9mph
Turning Circle
0m
Ground Clearance
25mm
Power
2 x 12V batteries
Weapons
Electric lifting spikes
Notes
Spider graphics by a Year 7 pupil
From: Cwmbran, Wales
Team Members: Kim Davies, Kevin Pritchard & Lee Wicombe
Napalm (winner of Heat A)
Weight
84.1kg
Dimensions
2.00 x 1.00 x 1.25m
Speed
15mph
Turning Circle
0m
Ground Clearance
5mm
Power
2 x 12V Batteries
Weapons
Stainless Steel Rear Mandibles & 16" Chainsaw
Notes
Previously Entered Robot Wars with Detonator
From: Dartford Girls Grammar School
Team Members: David Crosby, Claire Greenaway, Rebecca Glenn
Mortis (seeded 2nd, winner of Heat C)
Weight
78.3kg
Dimensions
1.3 x 0.75 x 0.39m
Speed
9mph
Turning Circle
0m
Ground Clearance
50mm
Power
8 x 12V batteries (high discharge)
Weapons
Tempered tanto blade
Notes
Welded alloy chassis with kevlar/titanium laminated shell
From: Cambridge
Team Members: Rob Knight, Arthur Chilcott & Ben Impey
Killertron (seeded 4th, winner of Heat E)
Weight
75.0kg
Dimensions
1.45 x 0.7 x 0.6m
Speed
15mph
Turning Circle
0m
Ground Clearance
100mm
Power
2 x 12V batteries
Weapons
Pick axe
Notes
A veteran of Robot Wars - but no longer tickled pink!
From: Bromley in Kent
Team Members: Richard Broad, Abdul Degia & Ian Degia
Left route: The Sentinel, Matilda and two pits.

Centre route: See-saw, The Sentinel, spikes, static ramp, pit and Shunt
Right route: Ramrig, Sphere, flame pit, and Sergeant Bash
Competing order: 1. Napalm 2. Behemoth 3. Mortis 4. Mace 5. Killertron 6. Panic Attack

Ranking
Competing Robot
Report
Distance
1

Napalm
Napalm easily went over the moving ramp and only had a small delay from Shunt before it made it to the end zone, but not without Matilda flipping it onto its side.
Completed
2

Killertron
Killertron had a very slow start, but got over the moving ramp. It was blocked by Shunt and Matilda, but just managed to find a way through.
Completed
3

Mortis
Mortis went up the moving ramp, but in trying to drive around Shunt, drove onto the arena fence and fell over. As the house robots closed in, it was able to use its axe, with a bit of leverage from the House Robots, to push itself onto its side. Shunt and Matilda continued to attack it, but their attacks only helped to right Mortis, again by providing leverage. Mortis crossed the line, then attacked Matilda.
Completed
4

Behemoth
Behemoth went over the moving ramp, but Shunt was already in place to block it. It was attacked by Shunt and Matilda before being overturned by the former.
7.5m
5=

Mace
Mace contemplated taking on the static ramp, but decided against it because The Sentinel was blocking the way. It traversed the moving ramp, only to be blocked by Shunt and pushed into the pit.
6.9m
5=

Panic Attack
In comparison to all the other robots, Panic Attack went for the ramrig. It started a good charge, only to get snagged on one of the spikes, where it got stuck. In the dying seconds, Matilda nudged it free, allowing it to gain vital distance, before it got stuck again.
6.9m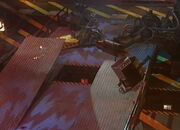 Due to the tie between Panic Attack and Mace, the two robots had a race-off by running the Gauntlet again, at the same time.
Each robot ran down the middle route, with Panic Attack using the moving ramp and Mace using the static ramp. Panic Attack had the faster start, but both robots made their respective ramps together. Panic Attack went over easily, and managed to push back against the House Robots as they came in to block. Mace, however, was bullied constantly by The Sentinel and, after nearly being overturned, was pushed into the pit.
Eliminated: Mace
Trial (Pinball)
Edit
Competing order: 1. Panic Attack 2. Napalm 3. Behemoth 4. Mortis 5. Killertron

Ranking
Competing Robot
Report
Result
1

Panic Attack
Panic Attack managed to knock down almost all four sets of barrels and bricks, getting a barrel caught on its lifting forks and shattering a brick in the process, and were also able to score 15 points by going over the ramp. The House Robots were only just able to prevent it from scoring from the targets.
320 points
2

Killertron
Killertron managed to knock over one set of bricks, but had trouble getting past them to the barrels. It managed to knock over a few, before Sir Killalot came in and caused damage with its claw. Killertron tried to fight back using its axe and, in the dying seconds, knocked some more bricks over.
135 points
3

Mortis
This run featured one of the most controversial moments in Robot Wars history, with Mortis taking the Pinball Trial twice. On its first run, briefly shown in the Grudge Matches episode, Mortis sped out of its starting position, only to become immobilised by an arena spike which damaged one of its tracks. Under normal circumstances, Mortis would have been eliminated with no points; however, the producers decided to give it a second run, despite Rob Knight, Mortis' driver and team captain, believing that this would be unfair to the other competing teams.[1]

In its second run, the only one of the two shown in this Semi-Final, Mortis had a very slow and ponderous start, under the controls of the inexperienced Ben Impey. It spent a long time attacking, but not crossing, the ramp and was penned in by Sir Killalot. After tussling with both Sir Killalot and Dead Metal, Mortis broke free and finally knocked over a set of barrels and bricks. It drove into the railings and resumed its attacks on Dead Metal, with Sir Killalot proceeding to reverse into the pit just before 'cease' was called. Mortis scored at least 75 points with this run; however, the results table listed it as having scored 100 points.

100 points
4

Behemoth
Behemoth made slow progress in reaching a set of bricks and barrels, although it did contemplate pushing the sphere. It managed to knock over most of the barrels and bricks, before Sir Killalot picked it up and dropped it in the pit.
95 points
5

Napalm
Napalm was able to get one set of bricks over, but got itself stuck on one and couldn't knock over any barrels because of this. It managed to break free and knock over some barrels, then tried to go over the ramp, but it fell off and got stuck. Sir Killalot came in, picked up Napalm and held it over the flame pit.

Napalm's progression was adversely affected by the circumstances surrounding Mortis's runs; prior to the latter's re-run, it would have been able to qualify for the Arena stage as a result of Mortis not scoring any points. Following Mortis' re-run, where it was officially quoted to have 'scored' 100 points, Napalm was eliminated, leaving the Dartford Girls Grammar team visibly upset.

65 points
Eliminated: Napalm
Mortis (2) vs Panic Attack
Edit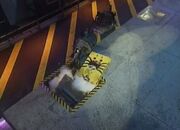 Due to the incident from the Pinball trial, the Mortis team were no longer in the competitive spirit, which ultimately lead to a poor performance. On the initial onslaught Mortis struck the top of Panic Attack with the axe once. Panic Attack then whizzed round, avoiding the axe of Mortis, though it seemed to have a problem with bringing the axe the whole way down. Mortis itself (still driven by Ben Impey) not wanting to properly pursue Panic Attack, was both deliberately turning on the spot, and driving round aimlessly. This allowed Panic Attack to get on one side of Mortis and pushed it into Matilda who lifted it up with her tusks. With Mortis's tracks off the ground, Panic Attack and Matilda pushed it straight into the pit.
"Almost flipped- oh goodness me, what a surprise! Mortis have gone out!"
— Jonathan Pearce makes no secret of Mortis' favourite status.
Winner: Panic Attack
Killertron (4) vs Behemoth
Edit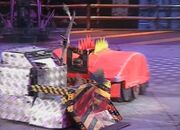 Both robots moved steadily towards each other. Behemoth attempted to lift Killertron but was unsuccessful. Killertron got round to the side of Behemoth and smashed part of Behemoth's outer shell with its axe.
"Killertron well on top here- and pulling, and pushing and rocking and rolling, and toppling!"
— Jonathan Pearce as Behemoth is flipped.
Killertron repeatedly attacked Behemoth with its axe and then dragged Behemoth onto its side, leaving it unable to self-right. Cease was perhaps called a bit prematurely in this battle, as Killertron accidentally righted Behemoth seconds after.
Winner: Killertron
"If you get excited by sight-seeing tours, you've probably exploded, watching Robot Wars!"
— Craig Charles' sign-off
References
Edit
↑ Correspondence between Rob Knight and User:VulcansHowl, 20th February 2019.
Community content is available under
CC-BY-SA
unless otherwise noted.