The Axe Attack was a one-off Special Event held during Robot Wars: The Seventh Wars. Broadcast in Heat F, it was a melee battle between three competitor robots armed with Overhead weapons, as its name suggested.
Competing robots
Edit
Hydra
Weight
99kg
Dimensions
0.50 x 1.12 x 0.82m
Power
2 x 750W electric motors
Weapons
Pneumatic flipper & axe
Strengths
Effective axe
Weaknesses
High ground clearance
From: East Hagbourne, Oxfordshire
Team Members: Dennis Leadbeater & Andrew Leadbeater
Iron-Awe 2.1
Weight
98kg
Dimensions
0.65 x 1.38 x 0.79m
Power
2 x 800W electric motors
Weapons
Axe & flipper
Strengths
Very powerful axe
Weaknesses
Easy to flip
From: Thorney, Cambridgeshire
Team Members: Gilbert Grimm, Robert Grimm & Ian Bilboe
Kat 3
Weight
98kg
Dimensions
1.16 x 1.25 x 0.82m
Power
2 x 1000W electric motors
Weapons
Pneumatic axe
Strengths
Strong armour
Weaknesses
Driver
From: Addlestone, Surrey
Team Members: Keith Williams, Georje Williams & Julie-Ann Williams
Axe Attack
Edit
Iron-Awe 2.1 vs Hydra vs Kat 3
Edit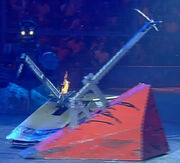 Hydra was the first to attack, getting underneath Iron-Awe 2.1 but missing with an axe attack. The three robots engaged in battle, but most of the early attacks with the axes missed their targets. Hydra rammed Iron-Awe 2.1 into the arena wall twice in quick succession, while Kat 3 stopped moving and appeared to be immobilised.
"Kat 3 - not too sure is moving at all, to be honest."
— Jonathan Pearce
As Iron-Awe 2.1 attacked the defeated Kat 3, Hydra got underneath and turned it over onto its side with the axe. It then carried Iron-Awe 2.1 and drove it into the arena wall and Shunt's CPZ, where Iron-Awe 2.1 managed to escape after an axe blow from the House Robot. The two robots then decided to attack Kat 3, but it was clearly already immobilised and was counted out by Refbot.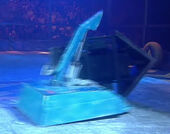 "Looks as if it is between Iron-Awe and Hydra now because Kat 3, there, is being checked by the Refbot, and counted down and counted out."
— Jonathan Pearce
Hydra and Iron-Awe 2.1 then tussled outside of Shunt's CPZ, but the House Robot came in nevertheless with another attack on Iron-Awe 2.1. Meanwhile, Cassius Chrome had drifted out of its CPZ, and this saw both Iron-Awe 2.1 and Hydra switch their attentions to the House Robots, with Iron-Awe 2.1 trying in vain to flip Cassius Chrome, while Hydra managed to throw Shunt onto its side after a short tussle.
"And a good shove on Shunt leaves the House Robot overturned!"
— Jonathan Pearce as Hydra throws Shunt over
Both robots then attacked Cassius Chrome, with Hydra slamming it into the arena wall, before Hydra also reversed Iron-Awe 2.1 back across the arena and into a CPZ. Iron-Awe 2.1 and Cassius Chrome then became locked together, with Hydra's help needed to separate the two.
"For me, Hydra has been the best in this battle of the axes."
— Jonathan Pearce
As both robots continued to attack the House Robot, Refbot activated the pit release button and Hydra drove onto the pit just as it began to descend, which left Iron-Awe 2.1 as the winner.
"OH! And Hydra caught as the pit started to descend! How unlucky is that? And it'll leave Iron-Awe the winner of the battle of the axes."
— Jonathan Pearce
Axe Attack Champion: Iron-Awe 2.1
Community content is available under
CC-BY-SA
unless otherwise noted.