The Battle of the Spinners (also referred to as Spin City) was a Special Event broadcast in Heat C of Robot Wars: The Seventh Wars. One of three weapons-themed events shown throughout the series, it consisted of a one-off three-way melee between competitor robots armed with heavy rotating weapons.
Competing robots
Edit
Barber-Ous 2'n a Bit
Weight
99kg
Dimensions
0.51 x 0.75 x 1.15m
Power
250W bicycle HUB motors
Weapons
Spinning drum
Strengths
It's made of plastic
Weaknesses
It's made of plastic
From: Horsham, West Sussex
Team Members: Simon Rafferty, Christopher Watts & Guy Radford
Infernal Contraption
Weight
97kg
Dimensions
0.42m x 0.70 x 0.84m
Power
3 x 750W electric motors
Weapons
Rotating drum
Strengths
Vicious weapon
Weaknesses
Random control
From: Washingborough, Lincolnshire
Team Members: Jonathan Pillai, Gary Ewer & Ray Thompson
Shredder Evolution
Weight
100kg
Dimensions
0.34 x 0.84 x 1.01m
Power
24V electric motors
Weapons
Twin counter rotating discs
Strengths
Solid build
Weaknesses
Hasn't got any
From: Leamington Spa, Warwickshire
Team Members: Paul Hunt, Samuel Jones & Chris Organ
Battle of the Spinners
Edit
Infernal Contraption vs Barber-Ous 2'n a Bit vs Shredder Evolution
Edit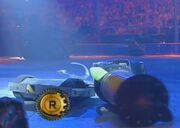 Infernal Contraption immediately attacked Barber-Ous 2'n a Bit, but caused no damage. Shredder Evolution then joined in on the action and made contact with the front of Infernal Contraption, sending it toppling over. All three robots tussled, with Shredder Evolution registering a notable blow, ripping off a protective rim from one Infernal Contraption's wheel.
"There's a fair bit of metal flying around out there on the arena floor, I can tell you!"
— Jonathan Pearce
Shredder Evolution then attacked Infernal Contraption and sent it flying into the arena wall, before Barber-Ous 2'n a Bit came in from behind on Shredder Evolution and threw its rear end up into the air, ripping off its protective left wheel bracket in the process. Shredder Evolution and Barber-Ous 2'n a Bit both moved away to continue their own personal duel, while Infernal Contraption found itself stuck in Mr. Psycho's CPZ.
"Infernal Contraption on the back-foot. Does a spinner have a foot? Don't think so..."
— Jonathan Pearce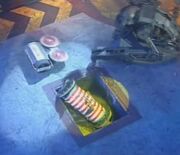 After Barber-Ous 2'n a Bit flicked Shredder Evolution up twice in a row, Shredder Evolution decided to activate the pit release button. The three robots then became locked in battle in and around the CPZ, with Barber-Ous 2'n a Bit suffering a hammer blow from the House Robot. As Barber-Ous 2'n a Bit made its way away from danger, Mr. Psycho had also crept out of his CPZ and managed to sweep Barber-Ous 2'n a Bit into the pit with his claw.
"A close shave for Barber-Ous 2'n a Bit. Close.. sh.. never mind... It's out on the arena floor and into the pit!"
— Jonathan Pearce as Barber-Ous 2'n a Bit tries to escape from Mr. Psycho before being knocked down into the pit
Meanwhile, Infernal Contraption finally made its way out of the CPZ, but one of its wheels had become damaged and it was spinning around in a circle. Shredder Evolution had also become damaged, as its discs had stopped working, and it also seemed to have lost some of its manoeuvrability, but it was still able to force Infernal Contraption into the CPZ.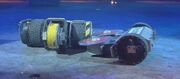 Shredder Evolution limped away, and Refbot decided to come in and count out Infernal Contraption. Mr. Psycho then picked up Infernal Contraption, before roasting it on the flame pit and dropping it down into the pit of oblivion.
"Barber-Ous pitted, Infernal Contraption absolutely battered. The winner of Spin City: the Battle of the Spinners - it has to be Shredder!"
— Craig Charles
Battle of the Spinners Champion: Shredder Evolution
As this battle was aired during Heat C of Series 7, it marked the first appearances of all three competing robots in that series despite actually being filmed long afterwards.
All three participants fell in the first round of the main competition.
Although dedicated to heavy rotating weapons, this battle did not feature any competitors with a full-body spinner, a single horizontal/vertical flywheel or a bar spinner.
Community content is available under
CC-BY-SA
unless otherwise noted.