"Scraps of metal, to some they're just rubbish. To others, they're the beginning of a new life. Through technology, imagination and the dream of victory, is born a robot, but not just any robot...these are robot warriors! These homegrown fighting machines are going head to blade, to fist, smashing their way towards victory. It's supreme technology, transformed into sublime fighting machines! The ultimate warriors are preparing for the ultimate battle, who will rise to the glorious victory? And who will take home a pile of rubble? Find out next, on Robot Wars!"
— Jonathan Pearce's introduction
"They tried to stop us! They tried to put an end to the destruction! But were we gonna let 'em? (No!) Exactly. So we're back, with Robot Wars: The Seventh Wars and this year the stakes have been raised! The robots are now competing for a cash pot of, get this: Over £20,000! Yes, come on! Means they'll be more determined, more destructive and more downright deadly than ever!"
— Craig Charles' introduction
Heat A of Robot Wars: The Seventh Wars was the first of sixteen heats which determined the Semi-Finalists of Robot Wars: The Seventh Wars. The episode featuring Heat A was originally broadcast on November 2, 2003 on Five.
M2
Weight
99kg
Dimensions
0.46 x 1.00 x 0.65m
Power
2 x Electric motors
Weapons
Flipper
Strengths
Fast & agile
Weaknesses
Nervous driver
From: Totton, Hampshire
Team Members: Jackie Cooper & Paul Cooper
Twister
Weight
99kg
Dimensions
0.30 x 0.73 x 1.14m
Power
24V electric motor
Weapons
Spinning triangle
Strengths
Powerful weapon
Weaknesses
Vulnerable armour
From: Bosschenhoofd, The Netherlands
Team Members: Sjaak Koning, Frans Vink & Graham Lawrence
Brutus Maximus
Weight
99kg
Dimensions
0.50 x 1.70 x 0.83m
Power
2 x 750W electric motors
Weapons
Triple rotating discs
Strengths
4 Wheel drive
Weaknesses
Wooden construction
From: Deanery, Leeds
Team Members: Joe Laustina & Jim Laustina
Pussycat (seeded 9th)
Weight
100kg
Dimensions
0.55 x 0.91 x 0.72m
Power
3 x 750W electric motors
Weapons
Rotating blade
Strengths
Invertible
Weaknesses
Only has 9 lives
From: Redditch, Worcestershire
Team Members: Stuart Barnwell, Amanda Barnwell & Roger Barnwell
Roobarb
Weight
100kg
Dimensions
0.75 x 1.12 x 0.69m
Power
140W electric motor
Weapons
Pneumatic flipper
Strengths
Speed & power
Weaknesses
High ground clearance
From: Bedfont, Middlesex
Team Members: Josh Pinto, Lee Simpson & Mark McIntyre
Shell Shock
Weight
83kg
Dimensions
0.65 x 0.62 x 0.73m
Power
24V electric motors
Weapons
Axe & disc cutter
Strengths
Manoeuvrability
Weaknesses
Weak outer shell
From: Leighton Buzzard, Bedfordshire
Team Members: John Lewis & Richard Lewis
Tiberius 3
Weight
100kg
Dimensions
0.83 x 1.05 x 0.75m
Power
Electric motors
Weapons
Crushing beak
Strengths
Good control
Weaknesses
Slow srimech
From: Hove, East Sussex
Team Members: Sam Smith, Carl Lawson & Craig Lawson
Vader
Weight
96kg
Dimensions
0.60 x 1.02 x 0.97m
Power
2 x 800W electric motors
Weapons
Vertical spinning disc
Strengths
Speed of weapon
Weaknesses
No srimech
From: Colchester, Essex
Team Members: Simon Latham & Philip Calthorpe
M2 vs Tiberius 3 vs Shell Shock vs Vader
[
edit
|
edit source
]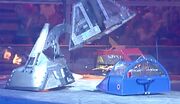 When Activate was sounded, all four robots drove towards each other, with M2 getting the first attack by flipping Vader up into the air. Vader began spinning up its flywheel, which made contact with M2 as it was driving away, but this caused no significant damage.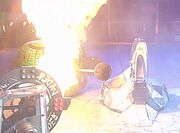 Tiberius 3 tried to focus its attacks on Shell Shock, but M2 consistently got in the way. Vader hit Shell Shock with its flywheel before Shell Shock started pushing Tiberius 3 towards the arena side wall. M2 got underneath Vader and flipping it up again, and into the angle grinder. Vader drove away from the angle grinder, before aligning itself for an attack on M2 again. However, rather than being able to attack M2, Tiberius 3 nudged Vader, allowing M2 to get underneath Vader and flip it again.
"This already an intriguing Robot Wars tactical battle between flippers and spinners and crushing beaks."
— Jonathan Pearce
Upon landing, Vader only turned left and right before it stopped moving completely. Immediately after Vader stopped moving, M2 got under the side of Shell Shock and turned it onto its side. Tiberius 3 nudged Vader before driving into Shell Shock, having not used its weapon at all in the entire battle.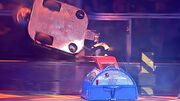 At this point, it was evident that both Vader and Shell Shock had been defeated. M2 desired to flip Vader out of the arena, but misaligned and flipped at thin air, before reversing away, pushing Shell Shock backwards in the process. Tiberius 3 got out of the way, as M2 rotated Shell Shock by pushing its protruding weapon. Having turned Shell Shock around, M2 got underneath Shell Shock and flipped it towards the arena wall, before flipping it again, this time completely out of the arena.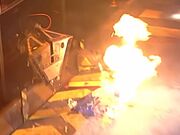 Directly after this, M2 aligned itself with the immobile Vader, and flipped it, also causing it to topple over the arena wall. This made M2 the first robot to flip two robots out of the arena in the same battle in the main competition.
"And that's Shell Shock gone! The first machine in Robot Wars: The Seventh Wars out of the arena, and shell shocked, and they've gone too, Vader! And the flipper rules supreme of M2."
— Jonathan Pearce as M2 throws two robots out in quick succession
Qualified: M2 & Tiberius 3
Pussycat (9) vs Roobarb vs Twister vs Brutus Maximus
[
edit
|
edit source
]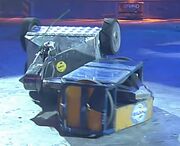 Roobarb and Pussycat immediately attacked Twister, with Roobarb attempting to flip the Dutch machine. Brutus Maximus then pushed Roobarb into the arena wall, before backing into the spinning weapon of Twister and taking damage. Then, after backing into Roobarb, Brutus Maximus's spinning discs fell of the machine, but that didn't stop it from pushing Roobarb into the arena wall once again.
"I think Brutus Maximus here is losing pieces, as we were told it might, as the battle is waged. It is littering the warzone arena, and the house robots will not like that, they do not like cleaning up after them."
— Jonathan Pearce as Brutus Maximus begins to fall apart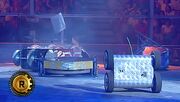 Meanwhile, Pussycat was attacking all of its opponents, but doing very little damage. Roobarb was then able to flip both Twister and Brutus Maximus, but both robots were invertible and carried on going.
"There's nuts and bolts and chains and goodness knows what out there at the moment."
— Jonathan Pearce
Pussycat finally pressed the pit release button and all four machines engaged in combat against the arena wall. Roobarb pushed Brutus Maximus towards the pit, but just missed pushing it in. Then, after another attack by Roobarb, Brutus Maximus lost one of its wheels and stopped moving at the edge of the arena.
"Three wheels on their wagon, and they ain't rolling along, let's be honest. They need the cavalry."
— Jonathan Pearce as Brutus Maximus loses a wheel
Brutus Maximus was counted out a few seconds before the end of the battle, but the remaining three were all still mobile and the judges went for Pussycat and Roobarb.
Qualified: Roobarb & Pussycat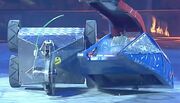 Pussycat got in with a quick lunge on M2, clipping it with the blade. M2 responded quickly, getting underneath Pussycat and flipping it around the arena three times in a row. Pussycat slashed away at M2 again, but M2 flipped it aside. Both robots then moved for position, with Pussycat consistently scratching the side of M2 but causing little visible damage as M2 struggled to get into position to flip Pussycat.
"Pussycat is causing very little damage with the blades, and all the work here is being done by M2."
— Jonathan Pearce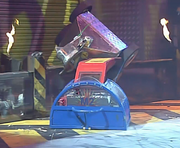 Pussycat then rode up the front of M2, which allowed M2 to throw Pussycat twice in quick succession. Pussycat attacked the back of M2, which then turned and bundled Pussycat towards the arena wall. M2 attempted to flip Pussycat out of the arena, but was unsuccessful.
"And Pussycat really in trouble here, the number 9 seeds!"
— Jonathan Pearce as M2 attempts to thrust Pussycat out of the arena
M2 then flipped Pussycat into Refbot, which caused it to land on its side, but it was able to recover. However, after yet another attack by M2, Pussycat became stuck on its side but just managed to recover before the end of the battle.
In actuality, Pussycat had caused major damage to M2 late on, severing halfway through M2's safety link, almost leading to the immobilisation of M2. This lead to a very close Judges' decision, which was, after a long time deciding, given to M2.
Winner: M2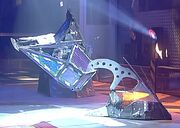 Roobarb immediately tried to flip Tiberius 3, but was unable to get underneath its opponent. Tiberius 3 then chased Roobarb and grabbed hold of the back of Roobarb with its crushing beak, piercing through the armour of its opponent. Tiberius 3 then lifted Roobarb into the air and held the machine aloft while the Roobarb team tried to escape.
"Roobarb, at the moment, being hoisted, and I don't think he'll be dumping Roobarb into a bowl of custard. It'll be down into the pit of doom and gloom or out of the arena any moment now."
— Jonathan Pearce as Tiberius 3 hoists Roobarb
However, Roobarb's attempts to escape were in vain as it had clearly stopped working and was unable to put up a fight. Tiberius 3 eventually released Roobarb and activated the pit release button, before pushing Roobarb into the pit of oblivion.
"Roobarb and custard, Roobarb done and dusted."
— Jonathan Pearce after Roobarb is pitted
Winner: Tiberius 3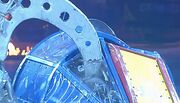 Both robots started quickly, but were initially unable to lauch an attack on each other. M2 missed with two flips, before Tiberius 3 was able to grab hold of M2 and pierced through its armour with ease. M2's polycarbonate armour seemed to melt away, as Tiberius 3 maintained and tightened its grip.
"And Tiberius 3 has got to grips with M2! Oh, look at that! It's almost as if it's melting it away. That is vicious!"
— Jonathan Pearce as Tiberius 3 pierces the shell of M2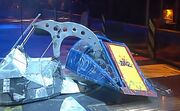 Tiberius 3 carried M2 around the arena and pushed it into the pit release button. However, M2 was putting up a struggle and Tiberius 3 was unable to direct it towards the pit. Instead, both robots ended up in the CPZ and were attacked by Growler, who tried to pull M2 away but Tiberius 3 was still hanging onto its opponent. Sir Killalot came in and pushed the robots into the arena wall, which allowed M2 to escape from its opponent's grasp and it scampered away across the arena.
"Well, has this heat final turned on that, I wonder?"
— Jonathan Pearce as M2 escapes from Tiberius 3's clutches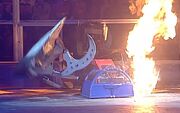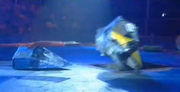 Tiberius 3 tried to chase after its opponent, but M2 turned and flipped Tiberius 3 over. M2 then threw Tiberius 3 against the arena wall and tried to flip it out of the arena, but only succeeded in flipping it back onto its wheels. However, M2 quickly flipped Tiberius 3 back over and then threw it into the pit of oblivion.
"And they're out, Tiberius 3! What an amazing heat final! They were absolutely in control, but from masterful control to mayhem, and defeat by M2."
— Jonathan Pearce as Tiberius 3 is pitted
Heat Winner: M2
"Well, the moral of the story is, if you stick in your claws, it's best to leave them there, on Robot Wars."
— Craig Charles signs off
Between Round 1 and Round 2 of each heat (except Heat I), a 'Special Event' was shown. For Heat A, it was the first World Championship Qualifier between Mechaniac of Austria and Supernova of Sri Lanka.
Winner: Supernova
"Heat A" as shown on TV was actually Heat E of the original line-up. As a result of this, this was the first time since Series 3 that the reigning champion did not appear in the first episode.
This heat also saw the return of Pussycat in the main competition, having been absent from Series 6.
M2 became the first robot to perform two Out of the Arenas in a single battle in the main competition.
During the first World Championship Qualifier, Cassius Chrome was introduced.
Community content is available under
CC-BY-SA
unless otherwise noted.