"Through the mists of mayhem, fog, and blind fury, questions will be asked as we seek the eye of the survivor! Who will be the last man standing in Heat C of Robot Wars? Who has the boast with the most? So let's narrow the angles, let's close in tight to find the mightiest of the might!"
— Jonathan Pearce's introduction
Heat C of Robot Wars: The Seventh Wars was the third of sixteen heats which determined the Semi-Finalists of Robot Wars: The Seventh Wars. The episode featuring Heat C was originally broadcast on November 16, 2003 on Five.
"Oh yes. Welcome to Robot Wars: The Seventh Wars. Which tonight, features a winner of last year's Most Promising Newcomer Award: Dantomkia! And having stormed its way to the semi-finals of The Sixth Wars, it's established itself as the hottest new contender for this year's competition. So, who thinks Dantomkia is gonna to do the business?!"
— Craig Charles
Competing robots
[
]
Newcomers
[
]
Tomahawk
Weight
97kg
Dimensions
0.51 x 1.12 x 0.76m
Power
750W electric motor
Weapons
Pneumatic axe
Strengths
Fast self righter
Weaknesses
New-tracked design
From: Hartmoor, Birmingham
Team Members: Paul Kendrick & Stuart Barnwell
Veterans
[
]
Dantomkia (seeded 5th)
Weight
96kg
Dimensions
0.36 x 1.18 x 0.83m
Power
2 x 750W electric motors
Weapons
CO2 flipper
Strengths
Reliability
Weaknesses
Nervous driver
From: Chertsey, Surrey
Team Members: Michael Lambert, Daniel Lambert & Steven Gadsby
King B Powerworks
Weight
97kg
Dimensions
0.28 x 1.01 x 0.78m
Power
2 x 1500W electric motors
Weapons
Spinning disc & spikes
Strengths
Fast and tough
Weaknesses
High ground clearance
From: Portchester, Hampshire
Team Members: Simon Harrison & Grant Hornsby
Hassocks Hog 2
Weight
97kg
Dimensions
0.84 x 1.15 x 1.50m
Power
2 x 12V 630W motors
Weapons
Pneumatic flipper
Strengths
Fast lifting flipper
Weaknesses
Untried in battle
From: Hassocks, West Sussex
Team Members: Noel Poncelet, Jonathan Poncelet & Robert Poncelet
Rick
Weight
97kg
Dimensions
0.31 x 0.85 x 0.80m
Power
372W electric motors
Weapons
Flipper & spinning blade
Strengths
Front flip
Weaknesses
Exposed rear wheels
From: Southampton, Hampshire
Team Members: Francis Gallagher, Ian Aldridge & Kevin Gallagher
IG-88
Weight
99kg
Dimensions
0.65 x 0.70 x 1.16m
Power
2 x 750W electric motors
Weapons
Spinning axe
Strengths
Agility, size & shape
Weaknesses
Thin armour
From: Clacton-on-Sea, Essex
Team Members: Paul Rose, Anton Grounds & Phillip Calthorpe
Scorpion
Weight
97kg
Dimensions
0.30 x 1.20 x 1.00m
Power
2 x 800W electric motors
Weapons
Spinning disc
Strengths
Strong armour
Weaknesses
None, just the driver
From: Bardon, Surrey
Team Members: Geoff Smith, John Bell & Sarah Bell
The Stag
Weight
99kg
Dimensions
0.26 x 1.20 x 0.93m
Power
2 x 800W electric motors
Weapons
Hydraulic pincers
Strengths
Manoeuvrability
Weaknesses
Exposed wheels
From: Newcastle, Staffordshire
Team Members: Terry Martin, David Martin & Mark Pepper
Round 1
[
]
"Coming up in our opening first round battle, the return of number five seeds Dantomkia in the yellow. Plenty of peril from the House Robots. Will the seeds take others for a ride? And whose hopes will burn out? Our second battle has a stag beetling about, plenty of hate from IG-88 and the usual damage, style, control and aggression."
— Jonathan Pearce
King B Powerworks vs Hassocks Hog 2 vs Dantomkia (5) vs Rick
[
]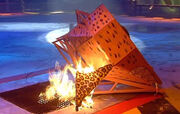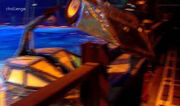 Dantomkia quickly got underneath Hassocks Hog 2 and flipped it over next to the flame pit. Dantomkia then flipped over Rick and pushed it towards the arena wall before attempting to throw it out of the arena, but the attempt was unsuccessful. Dantomkia tried again and was again unsuccessful, before flipping over King B Powerworks. Meanwhile, Hassocks Hog 2 was burning on the flame pit and was counted out of the battle. Dantomkia continued to attack its remaining opponents, flipping King B Powerworks again and attempting once again to flip Rick out of the arena. The attempt was unsuccessful, but Rick was left upside-down and unable to self-right. It was able to move around upside-down though, and flipped Dantomkia, who self-righted instantaneously.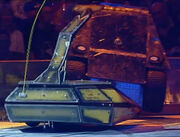 "Back to the sty, young Hassocks Hog!"
— Jonathan Pearce
As Hassocks Hog 2 was dropped out of the arena by Mr. Psycho, Dantomkia pushed Rick into the arena wall and King B Powerworks came in to help attack Rick before cease was called.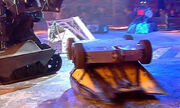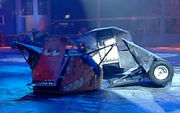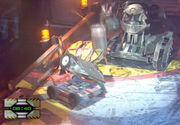 "Rick I think will be the other decision because, to me, Dantomkia and King B Powerworks looked too strong."
— Jonathan Pearce's prediction on the judges' decision
Rick was eliminated along with the immobilised Hassocks Hog 2 on a judges' decision - however, this was a split decision where Dantomkia unanimously progressed, but only two Judges voted for King B Powerworks over Rick.
"The judges have been making up their minds, and not very well! We've got a split decision! Yes, the judges in their infinite wisdom, have gone for Dantomkia and King B!"
— Craig Charles
Qualified: Dantomkia & King B Powerworks
IG-88 vs Scorpion vs Tomahawk vs The Stag
[
]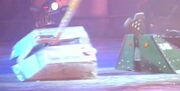 At the start of the fight, Scorpion and The Stag went to attack Tomahawk, but Scorpion suffered the consequences as straight after landing a hit with its disc, Tomahawk retracted its axe onto the disc of Scorpion, jamming and breaking the spinner for the rest of the match. IG-88 then attacked Tomahawk, its spinning axe sending Tomahawk slightly into the air on impact. After two or three attacks by IG-88, Tomahawk stopped moving and was out of the battle. Meanwhile, Scorpion and The Stag were locked in battle until The Stag drove into IG-88's spinning axe and was sent into the air. The Stag then opened the pit, before coming under attack from IG-88 and taking damage. The Stag then started to push IG-88 across the arena but IG-88 escaped and began to chase The Stag, which backed away and drove into the pit in the process. Meanwhile, Tomahawk was counted out and attacked by the House Robots.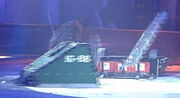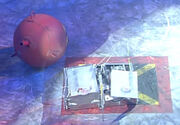 "...Tomahawk was plainly awful, and The Stag was suicidal."
— Jonathan Pearce
With both robots now through to the next round, IG-88 launched an attack on Scorpion and sent a panel flying off Scorpion's bodywork, exposing its batteries. To end the battle, Tomahawk was placed on the Drop Zone and an ocean buoy was dropped onto it, knocking off one of its armour panels.
"Stag gets hunted down and pushed into the pit of oblivion. And oh boy. Tomahawk gets a buoy dropped on it. IG-88, the new kids on the block, they go through along with Scorpion!"
— Craig Charles
Qualified: IG-88 & Scorpion
Round 2
[
]
"So there we have confirmation. Through to Round 2, IG-88 and Scorpion. And this is how they line up. The Scorpion will meet Dantomkia and IG-88 will fight King B Powerworks."
— Jonathan Pearce
Dantomkia (5) vs Scorpion
[
]
Scorpion attempted an attack on Dantomkia, landing a large gash in the side. Dantomkia then got underneath Scorpion, pushed it towards the arena wall, and tried to flip it out, but was unsuccessful. However, Scorpion had become stuck on its side against the arena wall and Dantomkia got underneath and flipped it up on top of the arena wall, but it dropped back down again.
"And Scorpion, very nearly, had stopped having any interest in the twenty grand top prize."
— Jonathan Pearce as Scorpion teeters on the top of the arena wall
Scorpion remained stuck against the arena wall until Shunt pushed it free and it scampered away. However, Dantomkia got underneath again and pushed Scorpion up against another wall, where it was nudged free by Sergeant Bash. Dantomkia flipped Scorpion again, but then Scorpion pushed Dantomkia into an angle grinder. Dantomkia escaped, flipped Scorpion over again and then pushed it up against another arena wall, before finally throwing it out of the arena.
Winner: Dantomkia
King B Powerworks vs IG-88
[
]
"A race against time for Dantomkia. Next up, IG-88 against King B for the right to meet them in the heat final."
— Jonathan Pearce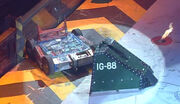 The battle started slowly with King B Powerworks avoiding IG-88, before finally launching an attack, which sent it flying off the spinning arm of IG-88.
"And it was rocking and realing. Did that rocking create any damage to the electronics?"
— Jonathan Pearce after IG-88's blow on King B Powerworks
After this impact, King B Powerworks stopped moving against the arena wall and IG-88 was able to attack. Smoke started to pour out of King B Powerworks and it was counted out and attacked by Shunt, before being crumpled by Sergeant Bash.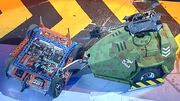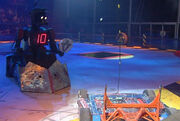 "Listen to that - a crumpling and rending sound. A buckling and bending sound. A ripping and tearing sound. The only silence, is in the emptiness of the hopes of King B Powerworks."
— Jonathan Pearce as Sergeant Bash crushes down on King B Powerworks
Finally, King B Powerworks was thrown across the arena by the floor flipper and pitted by Shunt.
Winner: IG-88
Final
[
]
"So. It's determination or extermination as we let the heat final begin!"
— Craig Charles
Dantomkia (5) vs IG-88
[
]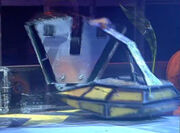 IG-88 immediately tried to launch an attack, but Dantomkia got straight underneath its opponent, pushed it towards the arena wall, and flipped it out of the arena on the very first attack. It was one of the shortest battles in Robot Wars history, with the battle concluding a mere eight seconds (eleven seconds according to Craig Charles) after the battle started, at the time the shortest battle ever.
"Dantomkia, trying to dodge that flailing axe of IG-88 - OH, it's all over! They dodged it, they thrust it, they squeezed it, they flipped it! They've won it!"
— Jonathan Pearce summarises the short lived battle
Heat Winner: Dantomkia
"They can flip a robot higher than fifteen floors, is it Dantomkia's year, on Robot Wars?"
— Craig Charles' sign-off
Special Event
[
]
Main article: Robot Wars: The Seventh Wars/Battle of the Spinners
Between Round 1 and Round 2 of each heat (except Heat I), a 'Special Event' was shown. For Heat C, it was the 'Battle of the Spinners' in which three robots with spinning weapons competed in a single battle.
Infernal Contraption vs Barber-Ous 2'n a Bit vs Shredder Evolution
Battle of the Spinners Champion: Shredder Evolution
Trivia
[
]
For the first time in the Seventh Wars, the seeded robot won the heat.
Both Rick and King B Powerworks returned for the main competition for the first time since the Fifth Wars, after missing the Sixth Wars.
Dantomkia's win over IG-88 lasted eight seconds, breaking the previous Shortest Battle Record set by Cerberus against Griffon in Series 3. It is ranked second in Shortest Battles in UK Robot Wars.
Dantomkia and King B Powerworks would meet again later in the series in the All-Stars second melee and two more times in their heat in Series 8.
The second melee was the second time Team Vader and The Stag met in the first round of the main competition, with the former going through again.
Stuart Barnwell, captain of Pussycat, joined Tomahawk's team in this heat.
This was the second of two episodes where Scorpion made it past the first round, once again with King Buxton in the same episode as it.
After the second melee, Craig Charles said The Stag was pushed into the pit when it actually drove into the pit.
The clips of Hassocks Hog 2, Dantomkia, Rick and IG-88 entering the arena for their first round melees were reused after their interviews when their statistics boards were shown. Moreover, IG-88's arena shot changed when its statistics board was shown.
IG-88 was referred to as a new kid on the block despite its team captain being from Team Vader.
As with Heat C of Series 6, Jonathan Pearce said Dantomkia "could go all the way" after it won the heat final but it did not do so.
This was one of only two heats in the Seventh Wars to feature a recap prior to the heat final, the other being Heat F.

It is possible that the recap was only included to fill the runtime due to the heat final being so short.