"Am I geared up for this one, 'cause tonight, the new King of the Spinners is back, oh yes, once Hypno-Disc spun supreme, but with two spinning discs, and having caused utter carnage last year, 13 Black is now the one to fear, so, let's go Disco!"
— Craig Charles
Heat D of Robot Wars: The Seventh Wars was the fourth of sixteen heats which determined the Semi-Finalists of Robot Wars: The Seventh Wars. The episode featuring Heat D was originally broadcast on November 23, 2003 on Five.
Competing robots
Edit
Newcomers
Edit
Gravity
Weight
99kg
Dimensions
0.43 x 1.20 x 0.75m
Power
2 x 750W electric motors
Weapons
Flipper
Strengths
Strong construction
Weaknesses
Weak armour
From: Leeuwarden, The Netherlands
Team Members: WJ Dijkstra, Alex Ruschen & Jeroen van Lieverloo
Herbinator
Weight
96kg
Dimensions
0.56 x 1.15 x 1.10m
Power
2 x 750W electric motors
Weapons
Flipper arm
Strengths
Speed
Weaknesses
Weak armour
From: Huddersfield, West Yorkshire
Team Members: Jeremy Cuss, Ross Bennett & Gavin Whittaker
Hodaf The Bad
Weight
96kg
Dimensions
0.60 x 1.40 x 1.00m
Power
2 x 750W electric motors
Weapons
Flipper & spinning disc
Strengths
Weaponry
Weaknesses
Poor ground clearance
From: Barnsley, South Yorkshire
Team Members: John Nicholson, Tyrone Ellis & John Dixon
Lightning
Weight
96kg
Dimensions
0.47 x 1.33 x 1.20m
Power
2 x 750W electric motors
Weapons
2 x Flippers
Strengths
Agility
Weaknesses
Inexperience in combat
From: Hornchurch, Essex
Team Members: Laurie Calvert, Richard De Smedt & Albert Schuller
13 Black (seeded 7th)
Weight
100kg
Dimensions
0.45 x 1.88 x 0.88m
Power
2 x 750W electric motors
Weapons
2 x Spinning discs
Strengths
High damage capability
Weaknesses
Self righting
From: Hinckley, Leicestershire
Team Members: John Denny, Richard Morris & Tasha Denny
Hydra
Weight
99kg
Dimensions
0.50 x 1.12 x 0.82m
Power
2 x 750W electric motors
Weapons
Pneumatic flipper & axe
Strengths
Effective axe
Weaknesses
High ground clearance
From: East Hagbourne, Oxfordshire
Team Members: Dennis Leadbeater & Andrew Leadbeater
The Alien
Weight
99kg
Dimensions
0.64 x 0.97 x 0.95m
Power
24V 1000W electric motors
Weapons
Spinning weapon
Strengths
Mobility and speed
Weaknesses
Pneumatic tyres
From: Cannock, Staffordshire
Team Members: Karl Asplin, Christine Asplin & David Turner
Thor
Weight
99kg
Dimensions
0.70 x 1.68 x 0.80m
Power
2 x Electric motors
Weapons
Big hammer
Strengths
Powerful weapon
Weaknesses
Team captain
From: Akola, Northamptonshire
Team Members: Jason Marston & Lee Cornish
13 Black (7) vs Lightning vs The Alien vs Herbinator
Edit
Both Herbinator and Lightning headed after 13 Black, where they all collided resulting in Herbinator spinning around. As Lightning reversed away 13 Black slammed again into Herbinator, before the latter was quickly scooped up and flipped over onto its side against the arena wall by Lightning, where Herbinator couldn't self-right. Meanwhile, The Alien attacked 13 Black with its hammer, causing the seeds to spin away into Lightning who also attacked it by shoving it away and into The Alien. 13 Black got away, but was intercepted by The Alien and hit by its hammer again. After another blow from The Alien, and then bouncing off into Lightning, 13 Black began to let off smoke and took further damage from The Alien again, and was thrust to one side, but then scurried away, but its discs appeared to stop spinning.
"Oohhh! Is 13 Black smoking?!"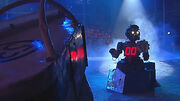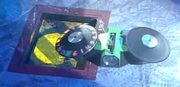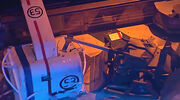 However, after this attack, The Alien's safety link fell out, rendering it immobile. At this point, Herbinator was being counted out of the battle by the Refbot, but tried to use its flipper to fall back onto its wheels, to no avail. Lightning pressed the pit release four times, eventually causing the pit to descend and 13 Black very nearly drove straight in, but backed away in time, at the same time Lightning tried to push 13 Black into the pit, but it just survived. Shunt then righted Herbinator, whilst creating holes in its wedge with its axe. 13 Black tried to escape Lightning, but was brought to the arena wall, where one of its discs damaged the wall, 13 Black was then flipped onto its side by Lightning, and left.
"This is the fourth time they've fought in Robot Wars, and they've not fought a good fight"
— Jonathan Pearce on 13 Black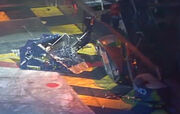 The srimech on 13 Black wasn't working, so it was unable to move. However, The Alien had long since been immobilised and was being counted out by Refbot, just as Herbinator had got away from Shunt. Herbinator was then engaging in battle with Lightning, but it was already out of the battle. All that remained was for The Alien to be flipped by the arena flipper and placed in the dropzone, where an ocean buoy was dropped on it, before cease was called.
"13 Black scrapes through by the skin of its teeth."
Qualified: Lightning & 13 Black
Thor vs Hydra vs Gravity vs Hodaf The Bad
Edit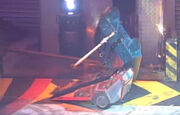 Gravity immediately drove underneath Hydra and threw it into the air. Meanwhile, Thor was attacking the very slow Hodaf The Bad with its hammer weapon. Hydra attempted to attack Gravity, before turning its attention to Hodaf The Bad, flipping it over against the arena wall, but Hodaf The Bad was able to self-right. As Thor and Hodaf The Bad engaged in combat, Gravity threw Hydra across the arena again. Hydra attempted to flip Gravity with its lifting arm, but Gravity got underneath and nearly threw Hydra out of the arena. Instead, Hydra landed on the arena wall, destroying it, and back inside the arena. Hydra self righted but landed back on Gravity's flipper who threw it out of the arena causing it to land heavily on top of the camera, which in turn jerked it way out of its position.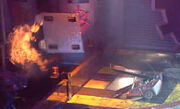 "Gravity's after Hydra, though, you can tell, can't you? Has it against the arena wall! Oh, goodness me! Has destroyed the sidewall! Now, what's gonna happen here? We're fighting off for the moment- They're out! They've gone! Hydra gone, but to me, the arena is unsafe! Cease should be called...and is. Thank goodness. There was the shove, look. Crash, bash, smash. That's gone. Arena now unsafe. So was Hydra, look at the power of the flip. Oi! That's our camera! Well good riddance, Hydra! Plenty of pocket money will be needed to mend that."
— Jonathan Pearce as Gravity and Hydra destroy the arena wall and the camera and Hydra goes out of the arena.
Gravity's team did not hear the original 'cease', and continued their assault, launching Thor over Refbot and embedding Thor's hammer in Refbot before 'cease' was called for a second time[1]. The battle was judged up to the point when 'cease' was first called, and Thor and Gravity went through over Hodaf the Bad.
Qualified: Gravity & Thor
13 Black (7) vs Gravity
Edit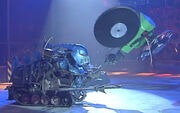 Gravity immediately got underneath 13 Black and threw it straight up into the air, landing upside-down.
"And there goes the flipper of Gravity, and the number 7 seeds are overturned, and 13 Black in major peril now."
— Jonathan Pearce as Gravity immediately tosses 13 Black over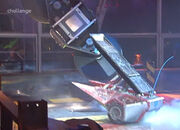 Gravity then pushed 13 Black into a CPZ, where it was picked up and carried around the arena by Sir Killalot. Having been righted by Sir Killalot, 13 Black tried to escape from Gravity, but Gravity got underneath again and flipped 13 Black against the arena side wall, and its spinning disc and unique shape forced the seeded machine to bounce out of the arena.
"Unlucky for some, unlucky for you, John Denny, 13 Black gone!"
— Jonathan Pearce
Winner: Gravity
Lightning vs Thor
Edit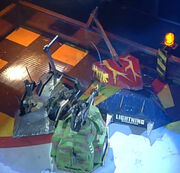 Thor tried to attack Lightning with its hammer throughout the first stages of the fight, but Lightning was able to predict these attacks, and back out of the way each time. Lightning was having trouble trying to get underneath Thor, and as such was unable to use its flipping weapons. Lightning eventually managed to get underneath Thor, but was unable to flip it over. Lightning twice pushed Thor into CPZs, where it was attacked by Shunt and Sgt. Bash, but it escaped on both occasions.
"I wonder if Thor needed to get this won early. The longer it goes on, for me, Lighting looks the stronger."
— Jonathan Pearce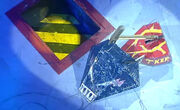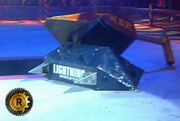 Lightning then activated the pit release button and the two robots became locked together, with Thor's hammer slowly coming down on Lightning, causing minor damage. Refbot came in and separated the two robots, then Lightning got underneath Thor and used its side-mounted flipper to tip Thor into the pit.
"I think Lightning's finished. They're not moving are they, Refbot? Go and check. OH, they are! Well, well, well. That was the old rope-a-drope, Muhammad Ali trick, and now Lighting can push Thor down the pit! And completely turns the battle on its head! Kidology from the Lightning team, and Thor has gone!"
— Jonathan Pearce as Lightning frees itself and tips Thor into the pit
Winner: Lightning
"So. Who'll reign supreme, and who'll get creamed? This is the heat final!"
— Craig Charles
Gravity vs Lightning
Edit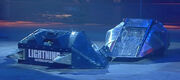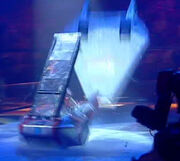 Lightning had unfortunately entered the battle with a flat tire, leaving it with a great disadvantage. Lightning was driving to the right on an attempt to move forwards, so Gravity was first to get underneath its opponent, where it threw Lightning into the air, and it landed upside-down. Lightning quickly self-righted. Lightning proceeded to drive underneath Gravity, but didn't flip it. The two robots became locked together and engaged in a pushing contest, before Gravity eventually broke free and threw Lightning into the air once more. This attack caused a wire attached to one of Lightning's motors to come loose. Unfortunately for Lightning, this disabled Lightning's operational tire, after its other tire had already stopped working. This left Lightning completely immobile, so Gravity threw it across the arena twice more before it was counted out by Refbot.
"I'll go one further from my earlier statement. This is not just the best robot out of Holland, but out of the whole continent, I think, to fight in Robot Wars so far."
— Jonathan Pearce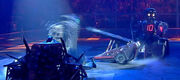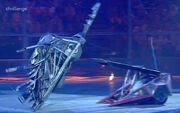 Then, as Shunt was preparing to attack the immobilised Lightning, Gravity flipped Shunt over onto its side.
"Gravity, side-by-side with Lightning. Gravity watches as Lightning is counted down, watches and listens, AS DOES SHUNT! OH, AND SHUNT HAS PAID THE PRICE! Lost concentration, Gravity flipped it! House robots won't like it...and Gravity's after Dead Metal, he wants to take them all on! Shunt turning turtle, and suffering damage there, look. Bits and pieces tumbling away."
— Jonathan Pearce as Lightning gets counted out by the Refbot and Gravity flips Shunt.
Gravity then attempted to flip
Dead Metal
, eventually succeeding after a few unsuccessful attempts. The battle ended with Refbot showing Gravity a red card.
"Absolutely awesome. Roboteers, beware. There is a new kid on the block. Lightning struck twice. It couldn't strike a third time. Gravity are through to the series semi-finals!"
— Craig Charles
Heat Winner: Gravity
"Gravity defies all of Newton's laws, 'cause when it goes up, it comes down in pieces, on Robot Wars!"
— Craig Charles' sign-off
Special Event
Edit
Between Round 1 and Round 2 of each heat (except Heat I), a 'Special Event' was shown. For Heat D, it was a World Championship Qualifier between two American robots, Spartacus and Flippa.
Winner: Spartacus
This heat marked the first time that an international robot had reached the Semi-Finals of a UK domestic championship.
The second first-round melee had to be stopped early after one of Gravity's flips on Hydra damaged the Arena Wall. This marked the first of three occasions in Series 7 where a battle was stopped due to the arena being damaged, and the only occasion in that series where the battle did not resume following repairs.
Gravity became the first robot to flip Dead Metal, during the Heat Final. After its subsequent attacks, it became the first competitor to receive a red card from Refbot, although Gravity had already won the battle and was not penalised for its attacks.
Heat D was the only heat of the Seventh Wars where two newcomers made the Heat Final, and the first heat since Series 3 in which this occurred.
Lightning's statistics board incorrectly displayed its specifications from the time of Robot Wars Extreme: Series 2.
In the second melee, in the scene where Stuart McDonald said "Roboteers stand by", the robots from the first melee were shown in the arena.
This heat marked the last appearance of 13 Black, and the final appearance of Team 13 prior to their entry into Series 9.
This episode was released on DVD with Jetix Magazine issue 6.
This was the fourth consecutive heat in Series 7 to feature a robot that had side skirts (if Terrorhurtz's brief appearance in Heat B is included).
References
Edit
Community content is available under
CC-BY-SA
unless otherwise noted.