"From four corners they come, through flame and fear! Flipping, fast, formidable, it's Heat F! Welcome to Robot Wars where even kings can lose their heads! ... Hear no evil?!? See no evil?!? You must be joking!"
— Jonathan Pearce's introduction
Heat F of Robot Wars: The Seventh Wars was the sixth of sixteen Heats which determined the Semi-Finalists of Robot Wars: The Seventh Wars. The episode featuring Heat F was originally broadcast on December 6, 2003 on Five.
"Yes. Welcome to Robot Wars, where we're fighting our Seventh Wars. And it's not surprising when you realise how huge to the sport of roboteering has become. There are now ten thousand robot teams building robots in the UK alone and one hundred thousand roboteers applying for the rules worldwide. And as for you all important fight fans [the audience], well, you just keep coming back!"
— Craig Charles' introduction
Competing robots
[
]
Newcomers
[
]
Tsunami
Weight
99kg
Dimensions
0.43 x 0.82 x 0.70m
Power
2 x 750W electric motors
Weapons
Full pressure flipper
Strengths
Self righting
Weaknesses
Limited CO2
From: Laaber, Germany
Team Members: Eric Ehrensberger & Jochen Wittman
Scarey-Go-Round
Weight
100kg
Dimensions
0.56 x 0.93 x 0.93m
Power
Electric motor
Weapons
Spinning vehicles
Strengths
Spinning weapon
Weaknesses
Driving
From: Whitwick, Leicestershire
Team Members: Peter Thornton, Simon Manning & Ricky Rendell
Veterans
[
]
X-Terminator (seeded 11th)
Weight
98kg
Dimensions
0.80 x 1.12 x 0.97m
Power
4.5KW electric motor
Weapons
Vertical spinning disc
Strengths
Extremely destructive
Weaknesses
Does not like flippers
From: Belmont, Herefordshire
Team Members: Marlon Pritchard & Simon Baldwin
Major Tom 3
Weight
100kg
Dimensions
0.30 x 1.30 x 0.77m
Power
300W electric motors
Weapons
Double clamping spike
Strengths
Low gearing & pushing power
Weaknesses
Not fast
From: Minster, Isle of Sheppey
Team Members: Henry Ryan, Arthur Robinson & Scott Kippen
Diabolus
Weight
94kg
Dimensions
0.20 x 1.00 x 0.90m
Power
750W electric motors
Weapons
2 x 18" spinning discs
Strengths
Speed & invertible
Weaknesses
Weak side body armour
From: Minster on the Isle of Sheppey
Team Members: Graham Huish, Noel Partington & John Kelly
Constrictor
Weight
100kg
Dimensions
0.30 x 1.17 x 0.77m
Power
750W electric motor
Weapons
Pneumatic flipper
Strengths
Innovative weapon
Weaknesses
Difficult to control
From: Torquay, Devon
Team Members: Dominic Rott, Werner Rott & Max Underhill
Fluffy
Weight
100kg
Dimensions
0.20 x 0.68 x 1.00m
Power
3HP electric motor
Weapons
Spinning steel plate
Strengths
Armour and weaponry
Weaknesses
Reliability
From: Enfield, Middlesex
Team Members: Peter Holroyd, Peter Johnson & Richard Johnson
Killer Carrot 2
Weight
100kg
Dimensions
0.65 x 0.90 x 1.00m
Power
24V 800W electric motor
Weapons
Rear hinged flipper
Strengths
Efficiency and chassis
Weaknesses
Vulnerable wheels
From: Turners Hill, West Sussex
Team Members: Rob Englebright, Adam Englebright & Dominic Englebright
Round 1
[
]
X-Terminator (11) vs Tsunami vs Major Tom 3 vs Diabolus
[
]
"Two robots survive this battle to go through to the second round."
— Jonathan Pearce as the battle begins and moments before Major Tom 3 gets its head knocked off by Diabolus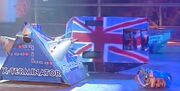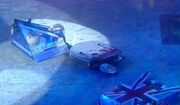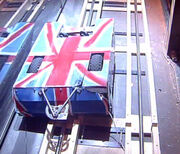 Diabolus immediately slammed into Major Tom 3 which caused its head to fall off. Major Tom 3 was then attacked by X-Terminator who caused damage to its front. X-Terminator then turned to Diabolus, who had just been flipped by Tsunami. The two collided which resulted in one of Diabolus's discs being completely ripped off. Meanwhile, Tsunami pushed Major Tom 3 towards the arena wall and threw it out of the arena. X-Terminator rammed into Diabolus again, this time ripping the whole top armour off and leaving it resting helplessly on the arena wall. Tsunami took the opportunity to get under the obliterated Diabolus and throw it out of the arena as it had just done to Major Tom 3.
"Carnage already in the warzone, and Major Tom out! Gone. Hit by the tidal wave, the Tsunami, and they went. Diabolus in all sorts of problems - look, the roof has caved in on Diabolus' world, and Tsunami gets another flip in! It's all over, two out, two through!"
— Jonathan Pearce as the battle reaches a quick conclusion
Qualified: X-Terminator & Tsunami
Constrictor vs Fluffy vs Killer Carrot 2 vs Scarey-Go-Round
[
]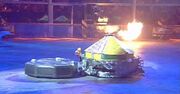 Constrictor and Killer Carrot 2 immediately engaged in battle, but neither was able to get underneath and use its flipper on the other. Meanwhile, Fluffy's spinning blade was ripping pieces off Scarey-Go-Round, littering the arena floor.
"The toys are flying off all over the place - the fairground attachments - the rocket, the car, the tank, the boat."
— Jonathan Pearce as the arena is littered with bits and pieces of Scarey-Go-Round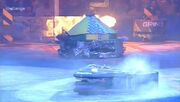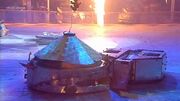 However, Fluffy appeared to lose mobility and began to spin around in circles as Constrictor and Killer Carrot 2 continued to engage in battle. Fluffy stopped moving completely and, as Sergeant Bash came in to attack it, Killer Carrot 2 activated the pit release button. Then, Fluffy suddenly started to move again and rejoined the battle, just as Scarey-Go-Round stopped moving on the flame pit.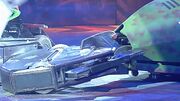 "Well, I don't think X-Terminator or Tsunami will be quaking."
— Jonathan Pearce
All four robots survived to the end of the battle and the judges went for Constrictor and Killer Carrot 2.
Qualified: Constrictor & Killer Carrot 2
Round 2
[
]
"Craig in a minute, we'll have Tsunami against Constrictor but first up, Killer Carrot 2 and X-Terminator and Jayne is down in the pits."
— Jonathan Pearce
Killer Carrot 2 vs X-Terminator (11)
[
]
The robots engaged and X-Terminator pushed Killer Carrot 2 across the arena, but it escaped. Then Killer Carrot 2 came in on the attack, but the spinning disc of X-Terminator turned it over upside-down and it was unable to self-right.
"You'll remember from previous wars, it had a huge axe, but it was not as effective as that spinning disc."
— Jonathan Pearce as X-Terminator topples Killer Carrot
Another attack from X-Terminator turned it back onto its wheels, but it was soon flipped over again by the force of X-Terminator's flywheel. X-Terminator continued to attack and caused damage to the armour of Killer Carrot 2, before eventually turning it onto its wheels again.
"X-Terminator poised. Looking, seeking the pray, chasing."
— Jonathan Pearce
Killer Carrot 2 scampered away and activated the pit release button, but to no avail as X-Terminator caught up with it and sent it flying over the arena wall with its spinning disc.
"The final blow, significant. Killer Carrot 2, lifted up in the air. Look at this. X-Terminator coming in. Bashed from the blade and out they went."
— Jonathan Pearce after X-Terminator throws Killer Carrot 2 out of the arena
Winner: X-Terminator
Constrictor vs Tsunami
[
]
"Will this be the year of the spinner? X-Terminator through to meet either Tsunami or Constrictor."
— Jonathan Pearce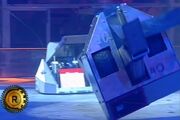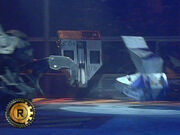 Constrictor immediately tried to get underneath Tsunami but it was the German machine that got underneath and flipped its opponent over. Constrictor self-righted but Tsunami continued to get underneath and flip it over, knocking off a panel of Constrictor's top armour in the process. Constrictor tried unsuccesfully to self-right again, so Tsunami was able to get underneath, push it towards the arena wall and throw it out of the arena.
"Watch out X-Terminator! Very confident team, perhaps the only thing that can stop this machine ... over-confidence?"
— Jonathan Pearce after Tsunami's easy victory
Winner: Tsunami
Final
[
]
X-Terminator (11) vs Tsunami
[
]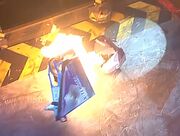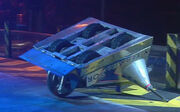 Both robots started very cautiously, but X-Terminator eventually launched an attack on the back of Tsunami. X-Terminator launched another attack, but Tsunami got underneath and flipped it over, which caused X-Terminator to scuttle upside-down across the arena floor on its flywheel. X-Terminator tried to use its self-righting spikes, but the way it was positioned made them completely useless and it remained upside-down.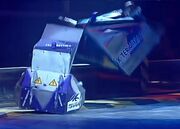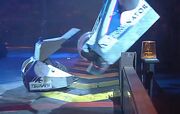 "If they can get a flip in there, X-Terminator could be out of the arena, out of the warzone, out of Robot Wars: The Seventh Wars! They are teetering on the brink of oblivion, the number eleven seeds!"
— Jonathan Pearce as X-Terminator lays against the wall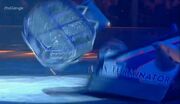 Despite X-Terminator being unable to self-right, Tsunami attempted to flip it out of the arena but was twice unsuccessful, which resulted in X-Terminator getting back onto its wheels. From then on, X-Terminator showed no mercy and launched a number of attacks on Tsunami with its spinning disc, twice rolling it over but Tsunami was able to self-right.
"They're rocking here Tsunami... They're righting."
— Jonathan Pearce as Tsunami is tossed over for a second time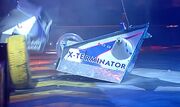 Tsunami was turned over a third time, but did not have enough CO2 left to self-right. X-Terminator attacked again and sent a cloud of smoke flying from Tsunami, and the final attack sent Tsunami flying over the arena wall.
"Tsunami out, it's over. A brilliant effort comes to an end. X-Terminator, heat winners."
— Jonathan Pearce as X-Terminator sends Tsunami over the arena side wall
Heat Winner: X-Terminator
"Lots of robots have circular saws, but we've found the daddy, on Robot Wars!"
— Craig Charles' sign-off
Special Event
[
]
Main article: Robot Wars: The Seventh Wars/Axe Attack
Between Round 1 and Round 2 of each heat (except Heat I), a 'Special Event' was shown. For Heat F, it was the 'Axe Attack', in which three robots with axe weapons competed in a single battle.
Iron-Awe 2.1 vs Hydra vs Kat 3
Axe Attack Champion: Iron-Awe 2.1
Trivia
[
]
All five robots that lost by knockout in this Heat were Thrown Out of the Arena, breaking the record for the most Out of the Arenas in a single episode set during the Extreme 2 Challenge Belt.
Tsunami's appearance in this Heat made it the first German robot to fight in the UK Championship, and by reaching the Heat Final, the most successful.
Tsunami flipped out all three of its defeated opponents, breaking Thermidor 2's and Chaos 2's record of consecutive Out of the Arena flips.
Despite six veterans appearing, only Fluffy was similar to its previous incarnation. X-Terminator, Killer Carrot 2 and Major Tom all featured new designs, while Constrictor and Diabolus were new robots from veteran teams.
Major Tom and Diabolus were placed in the same heat, just as Major Tom and Kliptonite had been in Series 5, setting up a grudge match between the two. However, only one attack was made between the two.
This was the second time X-Terminator made the Semi-Finals while being seeded and the first time since Heat N of the Fourth Wars.
The first round melee between X-Terminator, Major Tom 3, Tsunami and Diabolus, was the quickest battle in Robot Wars history that featured more than three robots. However, at thirty-six seconds, it did not make the Top 30 list of Shortest Battles in UK Robot Wars.
An editing error before the first battle showed Sergeant Bash and Shunt in the same CPZ, through roughly the same shot.
During X-Terminator's interview prior to Round 1, Jayne Middlemiss stated that the team had been competing in Robot Wars since Series 4, when they had actually debuted in Series 3. Simon Baldwin reaffirmed her statement when asked, though this could be because Simon did not appear in Series 3, as he made his first appearance in Series 4.
During the post-Heat Final interview, both Craig Charles and Marlon Pritchard claimed that no other competitor besides X-Terminator used a flywheel to send an opponent out of the arena. Whilst X-Terminator was indeed the first UK heavyweight to perform this, the antweight Combatant and American competitor Cyclone had thrown a robot out of the arena using a flywheel, the latter defeating two opponents this way.
This heat was the last appearance of Major Tom.
This was one of only two heats in the Seventh Wars to feature a recap prior to the heat final, the other being Heat C.

Similar to Heat C, the recap may have only been included to fill the runtime.