"A fickle flick of flame may destroy, in just a blink of eye. As they face gruesome peril, our brave roboteers who face, thrust, grind and flip. Lobster claws, Wedgehog spikes, it's punishing! Welcome to Heat J of Robot Wars!"
— Jonathan Pearce's introduction
Heat J of Robot Wars: The Seventh Wars was the tenth of sixteen heats which determined the Semi-Finalists of Robot Wars: The Seventh Wars. The episode featuring Heat J was originally broadcast on January 4, 2004 on Five.
"Welcome to Robot Wars: The Seventh Wars and if you're sitting in the front row, you better watch out, there's a robot fighting tonight, once flipped Stinger and the mighty Behemoth clean out of the arena in the same fight, so, do you wanna see more, from Thermidor?!"
— Craig Charles
Cobra
Weight
97kg
Dimensions
0.23 x 1.00 x 0.89m
Power
750W electric motors
Weapons
Pneumatic spike
Strengths
Titanium armour
Weaknesses
Inexperienced team
From: Taunton, Somerset
Team Members: Julian Browne & Kevin Stowe
Mobot
Weight
96kg
Dimensions
0.66 x 1.03 x 0.92m
Power
Electric motors
Weapons
Rotating arm
Strengths
Can self-right
Weaknesses
Alloy armour
From: Rackham, West Sussex
Team Members: Matthew Corrall, Matthew Tamen & Peter Allfray
Pinser
Weight
100kg
Dimensions
0.67 x 1.30 x 0.88m
Power
690W electric motor
Weapons
Hydraulic crushing arm
Strengths
Titanium body
Weaknesses
High centre of gravity
From: Aylesbury, Buckinghamshire
Team Members: Steve Davis, Luke Davis & Jake Davis
8645T 2
Weight
100kg
Dimensions
1.35 x 1.20 x 0.92m
Power
2 x 24V electric motors
Weapons
Front flipper & rear axe
Strengths
Powerful weapons
Weaknesses
No srimech
From: Lichfield, Staffordshire
Team Members: John Lear, John Lear Jr. & James Wood
Kronic the Wedgehog
Weight
99kg
Dimensions
0.73 x 1.37 x 0.93m
Power
2 x 750W electric motors
Weapons
CO2 powered flipper
Strengths
2 Self right mechanisms
Weaknesses
No wheel guards
From: Beer, Devon
Team Members: Dave Lang, John Lang & Mike Gardner
Mighty Mouse
Weight
83kg
Dimensions
0.47 x 1.17 x 0.46m
Power
2 x 800W electric motors
Weapons
Rear spinning discs
Strengths
Speed
Weaknesses
Lightweight
From: Clifton, Nottinghamshire
Team Members: Trevor Wright, Matthew Wright & Emily Wright
The Kraken
Weight
100kg
Dimensions
0.50 x 1.20 x 0.80m
Power
1HP electric motor
Weapons
2 x Crushing jaws
Strengths
Destructive weaponry
Weaknesses
Light armour
From: Pinner, Middlesex
Team Members: Guy Pickett & Lloyd Davis
Thermidor 2 (seeded 14th)
Weight
95kg
Dimensions
0.34 x 1.07 x 1.08m
Power
2 x 750W electric motors
Weapons
CO2 powered flipper
Strengths
Quick & strong
Weaknesses
Limited gas supply
From: Norwich
Team Members: David Harding & Ian Harvey
"Craig, it'll be a whole lot of shaking going on with eight more rock 'n' rolling robots aiming to be number one in the bot parade. Thermidor's flipper. Beast's spindly thing. Mobot thronging and Mighty Mouse squeaking. Thermidor the one to watch. Then, Kronic the Wedgehog we've seen before. I wonder if it'll be improved this time. Pinser is new. Cobra snakebite and The Kraken, a black hearted fiend."
— Jonathan Pearce
Mighty Mouse vs Mobot vs Thermidor 2 (14) vs 8645T 2
[
edit
|
edit source
]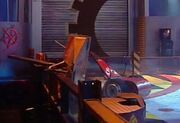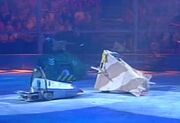 Mighty Mouse and Thermidor 2 collided, before Mighty Mouse scurried away into the distance, leaving Thermidor 2 to pursue 8645T 2, where the seed carried it to the arena wall and flipped it up, with 8645T 2 resting on its axe head, though it quickly flicked itself back onto its wheels. 8645T 2 then came back into the arena centre to try and flip Mobot, but not managing to get any purchase on it. Thermidor 2 then went after Mighty Mouse again, with Mighty Mouse choosing to dive into Dead Metal's CPZ rather than take on Thermidor 2. Mighty Mouse then tried to escape the CPZ, but was caught by Dead Metal's pincers, and eventually got away, losing one of its ears in the process. Thermidor 2 then came back on the attack of 8645T 2, scooping it up, carrying it over to the arena wall again and flipping it over, this time on its side against the arena wall. Mighty Mouse then attacked Mobot, bashing into its side at speed, but then retreating again. After a few flips trying to right itself, 8645T 2 was then off the arena wall but on its back, thus unable to self-right. During its attempts, it vented all its gas and rendered the robot immobile.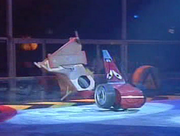 Meanwhile, Thermidor 2 had caught Mobot in the middle of the arena, and then pushed it over to the arena edge and flipped it out of the arena. A short while afterwards, Thermidor 2 caught Mighty Mouse side-on and flicked Mighty Mouse onto its back, in the CPZ, in an attempt to try and flip Mighty Mouse out of the arena as well. Mighty Mouse's roll-bar wasn't able to right it as it was up against the arena wall, leaving Thermidor 2 as the only robot still mobile. With two robots immobile, Refbot chose to count out 8645T 2.
"Now, was the Beast immobilised before Mighty Mouse was slammed? I'm not too sure. Is Mighty Mouse out of this? The Beast is being counted down, we have seen the power of the number fourteen seeds Thermidor. They know they're through to the second round, and the Beast counted out."
— Jonathan Pearce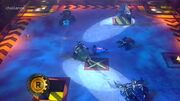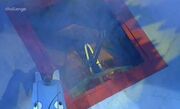 When the count finished, Dead Metal righted Mighty Mouse, which seemed to lose most of its mobility. Thermidor 2 then righted 8645T 2 and put it in Dead Metal's pincers. 8645T 2 managed to escape Dead Metal and shot across the arena, before the arena flipper activated and threw 8645T 2 the length of the arena. At this point Mighty Mouse had made it to the centre of the arena, but was immobilised as it went over the dropzone. With no weapons active, 8645T 2 attempted to pit the immobile Mighty Mouse in a futile attempt to remain in the competition, but drove in itself. Thermidor 2 went and pitted Mighty Mouse anyway, but the latter had qualified regardless.
"Oh, go on Mighty Mouse, get down there too!"
— Jonathan Pearce as Mighty Mouse is pitted
Qualified: Mighty Mouse & Thermidor 2
Pinser vs Cobra vs The Kraken vs Kronic the Wedgehog
[
edit
|
edit source
]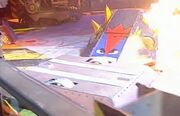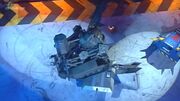 Kronic immediately flipped Cobra, before circling around for another attempt. It then assailed Pinser, who pierced through the front flipper, carrying it onto the flame pit. The Kraken then attacked, separating the two. The Kraken then attacked Cobra, and was joined by Pinser. Pinser took a better grip, but was forced to cross the flame pit. As it pulled Cobra aside, Pinser stopped moving. Both Kronic and The Kraken rammed Cobra while Mr Psycho drove right over Cobra. It became evident that both robots were immobile and that Pinser was locked in a death grip. Cobra had been officially counted out and Mr Psycho struck it several times with his hammer.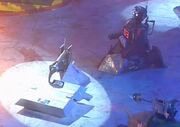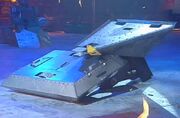 "That's one hammer blow, Mr Psycho managed to hit himself in the head. Ladies and gentlemen, he's not the brainiest, he's not the brightest. Pinser, neither are you. GET OUT OF THE WAY!"
— Jonathan Pearce
Pinser was pushed alongside Cobra towards the floor flipper by Mr Psycho. Both robots were flipped into the air but remained in their death grip as they were pushed into the Drop Zone where a television set was dropped on them.
"Mr Psycho shows no mercy. Kraken and Kronic the Wedgehog, they go through!"
— Craig Charles
Qualified: The Kraken & Kronic the Wedgehog
"Craig. Let's reconfirm the draw. Mighty Mouse will meet Kronic the Wedgehog in a moment, but first up, Thermidor 2 and The Kraken and Jayne's with them in the pits."
— Jonathan Pearce
Thermidor 2 (14) vs The Kraken
[
edit
|
edit source
]
"May the best robot win, lads."
— Jayne Middlemiss to both teams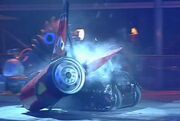 Thermidor 2 flipped The Kraken immediately, leaving it on its side. It then shunted The Kraken into the CPZ and flipped it again, leaving its beak bent.
"And I think one of The Kraken's beaks, the jaws, is bent. It is, look."
— Jonathan Pearce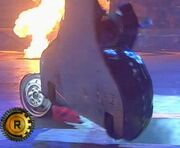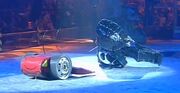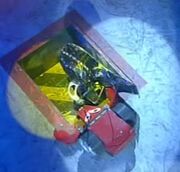 It righted The Kraken, before making several attempts to throw The Kraken from the arena. Thermidor 2 activated the pit and made an attempt to flip The Kraken down the pit, but ended up throwing it over the pit and causing it to land on its wheels, fleeing.
"It tried for the big expansive thrust down the pit, and it didn't quite come off for them."
— Jonathan Pearce
Thermidor 2 caught it, and it became evident that The Kraken's beak was completely folded over. After several more flips, Thermidor 2 lined up The Kraken, and shoved it into the pit.
"Improved from the last wars, they needed to improve, and they could be worthy contenders for the title."
— Jonathan Pearce on Thermidor 2
Winner: Thermidor 2
Mighty Mouse vs Kronic the Wedgehog
[
edit
|
edit source
]
"Thermidor 2 predictively through to the Heat J Final and there, they will meet either Mighty Mouse or Kronic the Wedgehog."
— Jonathan Pearce
If Kronic the Wedgehog won this battle, it would enter a grudge match with Thermidor 2.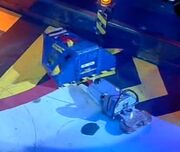 Mighty Mouse and Kronic the Wedgehog collided, causing most of Kronic the Wedgehog's spikes to fall off. Kronic then caught the fleeing Mighty Mouse and threw it over twice in quick succession. Mighty Mouse fled once more, and managed to dodge nearly every attack from Kronic the Wedgehog and Growler. Mighty Mouse then hit the pit release and pushed it clean off the wall.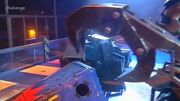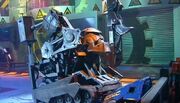 "Mighty Mouse, this is a mighty performance in terms of driving skill, they're dodging everything out there, Kronic can't catch them!"
— Jonathan Pearce
However, in a sudden turn of events, Kronic the Wedgehog hit the side wall, and Mighty Mouse rammed it into Growler's CPZ, where it was wedged against the wall and immobilised. It was counted out and attacked by Mr. Psycho, with the huge house robot driving up Kronic the Wedgehog's wedge just as cease was called.
"Bits of Kronic the Wedgehog all over the war zone floor. Mighty Mouse, they're through to the heat final!"
— Craig Charles
Winner: Mighty Mouse
"And it is a real David against Goliath clash, Craig. Thermidor the seeds against the underdogs Mighty Mouse."
— Jonathan Pearce
Mighty Mouse vs Thermidor 2 (14)
[
edit
|
edit source
]
"Two robots, but only one can go through to the series semi-finals. It's all or nothing at all. This is the heat final!"
— Craig Charles
Mighty Mouse rammed Thermidor 2 and in return, the lobster flipped the mouse, but neither took damage from the others attack. Once again, Mighty Mouse fled, with Thermidor 2 catching it and flipping it several times. Mighty Mouse fled around, not making an offensive move, but managing to evade every attack made by Thermidor 2 and the house robots.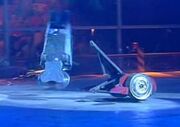 "You can't play hide and seek in the warzone! Boo, let's play peek-a-boo, oh run away, here I am, I've gone, over here!"
— Jonathan Pearce as Mighty Mouse continues to scuttle around the arena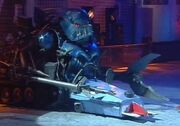 Thermidor 2 caught Mighty Mouse at last and flipped it into the side wall, but Mighty Mouse managed to slip off and escape. At this point, Mighty Mouse was caught in the CPZ and lost its sideways movement, only managing to move back and forwards.
"If this goes to the judges, can you imagine the mark for aggression for Mighty Mouse? Can we do minuses? I'm not too sure."
— Jonathan Pearce
The valiant Mighty Mouse managed to escape and hold on for the judges' decision, the only one in the heat. The predictable results came through - Mighty Mouse lost the bout and Thermidor 2 proceeded into the semi-finals for the first time since Series 4.
"A million points to Mighty Mouse for effort."
— Jonathan Pearce
Heat Winner: Thermidor 2
"We've had a right royal rumble, and Thermidor's, in the Series Semi-Finals, of Robot Wars!"
— Craig Charles' sign-off
Between Round 1 and Round 2 of each heat (except Heat I), a 'Special Event' was shown. For Heat J, it was a World Championship qualifier between New Zealand and Belgium.
Winner: Hard
Community content is available under
CC-BY-SA
unless otherwise noted.