Armament! This Robot Wars article is in need of rewriting to bring it up to a higher standard. You can help Robot Wars Wiki by rewriting it.
"Welcome to Robot Wars: The Sixth Wars Heat 7. Will the winds of fortune blow fair for Tornado, the number twelve seeds? Never a zephyr, always a hurricane force. Newcomers like Edge Hog are promising great things and violence. The House Robots will test that theory. And in the mashing melees, we'll scrunch and munch metal. As the scales of justice tip this way and that. A new legends of born and old. Mighty Thor from Viking Valhalla, or our own hound of hell, Growler. Mad dogs and robot men are out in the arena fun and about to be undone. Let's drag you into our world. We'll gnash our teeth. You can let off steam. You can stamp your feet along the walkers and the talkers and argue your case in Robot Wars: The Sixth Wars!"
— Jonathan Pearce's introduction
Heat G of Robot Wars: The Sixth Wars was the seventh of twelve heats which determined the Semi-Finalists of Robot Wars: The Sixth Wars. The episode featuring Heat G was first broadcast on September 24, 2002 on BBC Choice and repeated on January 3, 2003 on BBC Two.
Edge Hog
Weight
100kg
Dimensions
0.84 x 1.19 x 0.80m
Power
2 x 750W electric motors
Weapons
Axe
Strengths
Devastating axe
Weaknesses
Poor handling
From: Macclesfield in Cheshire
Team Members: Stephen Egerton & Chris Priest
Inshredable
Weight
100kg
Dimensions
0.70 x 1.30 x 1.00m
Power
2 x Golf buggy motors
Weapons
Spinning disc
Strengths
Strong chassis
Weaknesses
Exposed tyres
From: Uxbridge in Middlesex
Team Members: Peter Willmott, Martin Campbell & Kristopher Brooks
Revolution 2
Weight
100kg
Dimensions
0.63 x 1.12 x 1.06m
Power
6 x 500W electric motors
Weapons
Flywheel
Strengths
Destructive weapon
Weaknesses
Poor protection
From: East Kilbride in Scotland
Team Members: Roger Webb & Gordon Anderson
Thor
Weight
100kg
Dimensions
0.59 x 1.95 x 1.16m
Power
2 x 800W electric motors
Weapons
Claws and hammer
Strengths
Destructive weaponry
Weaknesses
Poor armour
From: Kingsthorpe in Northampton
Team Members: Jason Marston & Lee Cornish
Anarchy
Weight
167kg
Dimensions
0.77 x 1.22 x 1.17m
Power
2 x 800W electric motors
Weapons
Axe and flipper
Strengths
Powerful weapons
Weaknesses
Slow mover
From: Kettering in Northhamptonshire
Team Members: Mike Franklin, Amy Franklin & Steve Bickle
Judge Shred 2½
Weight
96kg
Dimensions
0.40 x 1.26 x 0.97m
Power
2 x 750W electric motors
Weapons
Flipper
Strengths
Srimech & manouverability
Weaknesses
Reliability
From: Ellistown in Leicester
Team Members: Alan Blakeman, Paul Blakeman & Dave Cluely
Terror-Bull
Weight
97kg
Dimensions
0.40 x 1.25 x 0.68m
Power
750W motor
Weapons
Spiked horns
Strengths
Robust construction
Weaknesses
Poor ground clearance
From: Ilkley in West Yorkshire
Team Members: John Fearnley & Ben Fearnley
Tornado (seeded 12th)
Weight
98kg
Dimensions
0.41 x 1.93 x 1.38m
Power
2 x 750W electric motors
Weapons
Interchangeable
Strengths
Interchangeable weaponry
Weaknesses
Unreliable
From: Sawtry in Cambridgeshire
Team Members: Andrew Marchant, David Gamble & Bryan Moss
Tornado (12) vs Inshredable vs Edge Hog vs Terror-Bull[edit | edit source]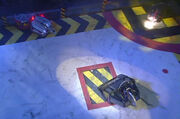 Edge Hog started by axing Terror-Bull, and was then pushed by Tornado. Edge Hog missed Tornado with the axe, which then pushed Inshredable. Tornado attacked Edge Hog, but to no real significance, so it attacked Terror-Bull again, while Inshredable attempted to use its disc on Edge Hog. Tornado then pushed Edge Hog and Inshredable into Matilda's CPZ, and then focused its attacks on Terror-Bull, while Edge Hog took an attack from Matilda's flywheel and then pressed the pit release.
"A little bit of experience missing there from the Inshredable team, they got themselves into a nasty position."
— Jonathan Pearce as Inshredable is temporarily pinned in Matilda's CPZ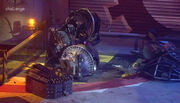 Inshredable then barely escaped the opening pit, while the other robots stood and watched as Tornado attacked Inshredable. Edge Hog seemed to have caught itself on the pit release as Tornado once again pushed Inshredable. Terror-Bull started to lift Inshredable, while Edge Hog was being counted out. Inshredable was then nearly thrown out of the arena by Matilda's flywheel, and was then sawed by Dead Metal, however in an ending upset, Tornado pushed Terror-Bull down the pit. Although the Tornado team thought Inshredable was immbolised, Inshredable then got away from the house robots and proved its mobility.
"...looks to me as if Tornado, AND TERROR-BULL WILL BE THE TWO TO GO THROUGH, BUT TERROR-BULL SUDDENLY PITTED! what a turn up that is because I thought Inshredable were out but they're just moving at the end and Terror-Bull have been pitted and beaten!"
— Jonathan Pearce as Tornado pits Terror-Bull, giving Inshredable a lucky break to continue its campaign
Qualified: Tornado & Inshredable
Thor vs Revolution 2 vs Judge Shred 2½ vs Anarchy[edit | edit source]
"So Tornado and Inshredable safely through. Some surprise though that Terror-Bull were the ones to fall along with the disappointing Edge Hog."
— Jonathan Pearce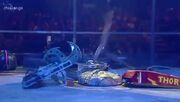 Revolution 2 started with an opening slam on Judge Shred 2½. Thor and Anarchy then missed each other. Judge Shred 2½ then lifted Anarchy, but was axed. Anarchy and Judge Shred then repeated actions, before Thor landed three huge blows on Judge Shred 2½, along with Revolution also hitting Judge Shred 2½. Thor once again hit Judge Shred 2½ three times, taking a flip. Anarchy was on the flame pit, but evaded and flipped Judge Shred 2½, before pushing and axing Revolution 2, and then lifting it. Thor landed another great hit on Judge Shred 2½, as did Revolution 2. Judge Shred 2½ and Revolution 2 were then locked together and Dead Metal came in and sawed Revolution 2. Anarchy then flipped Judge Shred 2½ against the arena side wall, which self-righted only to be hammered by Thor.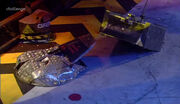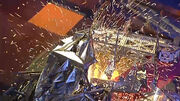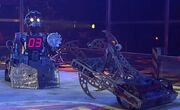 "It's the first time we've seen a walker in the history of Robot Wars so balanced."
— Jonathan Pearce praises the aesthetically impressive Anarchy
Anarchy flipped Revolution 2 afterwards which pinned itself on the arena floor, where it was freed by Thor which then hammered Anarchy. Revolution 2 was deemed immobile at this point so it was counted out. At this point, Judge Shred made its best effort to recover points, lifting Thor, flicking Anarchy, and finishing the battle holding Thor aloft. Cease was then called, and the judges then decided the rest of the fight, awarding qualification to Thor and Anarchy.
Qualified: Anarchy & Thor
Tornado started by pushing Thor around and into the angle grinder, and further around the arena, while Thor's attacks missed repeatedly. Tornado then pushed Thor into the pit release, activating the pit, as a side panel came off of Thor.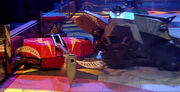 Growler then attacked Tornado illegally by ramming it. Thor nearly backed into the pit, revealing the damage the pincers had sustained.
"What were they made out of? I think they're made out of that aluminium foil you put around the chicken, in the oven. They're about to be roasted, Thor."
— Jonathan Pearce on Thor's pincers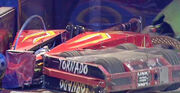 Growler then grabbed Thor after Tornado pushed it into the CPZ. Upon release, Tornado pushed Thor again, and Sergeant Bash drove partially over the pit. After many more attacks from Tornado, Sgt Bash grabbed Thor's hammer. After ramming Thor several more times, the judges put Tornado through.
Winner: Tornado
"So Tornado through to the Heat Final for a second time in Robot Wars. We say goodbye to Thor. Next up, Anarchy and Inshredable."
— Jonathan Pearce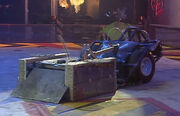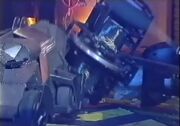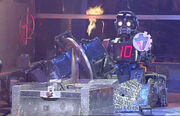 Inshredable started off by fleeing from Anarchy, but Anarchy caught up with Inshredable and axed it several times. Anarchy flipped Inshredable twice, following with a weaker flip against Sergeant Bash who then grabbed Inshredable who was flipped again. Anarchy then flipped Inshredable against the arena wall, where Growler almost pushed it over the wall.
"They've done well to get to this stage, but they've met a very good, and mean machine here, in Anarchy."
— Jonathan Pearce on Inshredable
Inshredable was then pushed off the arena wall by the house robots and axed by Anarchy, but it had already broken down. Anarchy then flipped Inshredable towards the Refbot twice, knocking off the Refcam as Inshredable was counted out. Growler then grabbed Inshredable, put it on the flame pit and pitted it.
"Well. We don't need the judges for that one. Inshredable go out. Anarchy go marching on!"
— Craig Charles
Winner: Anarchy
"So Anarchy have survived Judge Shred 2½ and Inshredable as well and go onto the heat final, where they will meet the number twelve seeds Tornado."
— Jonathan Pearce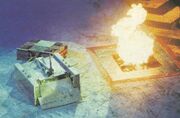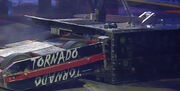 For this fight Tornado was equipped with its static spike, having previously used the disc in both previous battles. It started by pushing Anarchy around and ramming it with the spike. Anarchy meanwhile tried to fight back by flipping Tornado several times. However, it mistimed a fourth attempt at a flip, and Tornado jammed the spike inside Anarchy's flipper. Anarchy pushed back until Tornado's wheels began to smoke and it had to move away. Tornado then activated the pit release again. Anarchy came back to flip Tornado, but its innards were once again stabbed after mistiming the flip.
"Tornado, I think, are the more aggressive and destructive of the two."
— Jonathan Pearce as Tornado attacks Anarchy's innards once more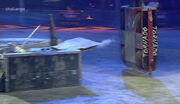 Tornado then pushed Anarchy into a CPZ, and Dead Metal cut into Anarchy using the saw blade. After being pushed around the arena some more, time ran out and went to a judges' decision. The judges decided to eliminate Anarchy and put Tornado through to the series Semi-Finals for the second time.
Heat Winner: Tornado
"Well once again, Tornado has blown through the doors, destroying all in its path, on Robot Wars!"
— Craig Charles' sign-off
This heat marked the first time Tornado used its interchangeable weapons in the main championship.
Anarchy became the most successful walkerbot after it reached the Heat Final.
This heat marked the second, and last, time that a walkerbot made it past the first round, and the only time that one would reach the heat final.
This heat had three robots that would appear in the New Blood Championship in Extreme 2: Thor, Revolution 2 and Edge Hog.

Thor and Edge Hog would appear in the same heat in the Extreme 2 New Blood Championship and meet each other in that episode.

Terror-Bull was twice labelled as a new robot in this heat, whilst its previous appearance in Series 4 was completely ignored.

Tornado's Series 5 appearance was ignored despite it being acknowledged as a semi-finalist in Series 4.

An editing error in the first battle of the heat showed Dead Metal in two different CPZs.
This heat marked the final appearance of Team 101.
Community content is available under
CC-BY-SA
unless otherwise noted.