"Welcome to Robot Wars: The Sixth Wars Heat 9 in our search for semi-finalists and coming up, we've the bizarre and the befuddled. We've the flipped and the tossed. You'll see axe blows raining down as the temperature rises. Hopes can sore, only to crash to depths of doom and gloom. Previous champs Panic Attack are back. So too, Kronic and Terrorhurtz. A battle of Robot Wars vets, wits and will to survive and if the competitors don't get you, the House Robots will. Is Panic Attack good enough to survive all? Or on Robot Wars: The Sixth Wars, will we have the very last laugh?"
— Jonathan Pearce's introduction
Heat I of Robot Wars: The Sixth Wars was the ninth of twelve heats which determined the Semi-Finalists of Robot Wars: The Sixth Wars. The episode featuring Heat I was originally broadcast on September 26, 2002 on BBC Choice and repeated on January 17, 2003 on BBC Two.
A-Kill
Weight
91kg
Dimensions
0.42 x 1.38 x 0.90m
Power
350W electric motor
Weapons
Lifter, spinner & thumper
Strengths
Tough as old boots
Weaknesses
Captain!
From: Chesham in Buckinghamshire
Team Members: Chris Delph, Ryan Delph & Gordon Johnston
Corkscrew
Weight
99kg
Dimensions
0.65 x 0.88 x 0.88m
Power
3 x 750W electric motors
Weapons
6 Blades
Strengths
360 Degree killing zone
Weaknesses
Difficult to control
From: Borders in Scotland
Team Members: John Heatlie, Lewis Heatlie & Lawrence Heatlie
Kronic 2
Weight
99kg
Dimensions
0.65 x 1.30 x 0.98m
Power
2 x 750W electric motors
Weapons
2 Flippers
Strengths
Self-righting mechanism
Weaknesses
No base panel
From: From Beer in Devon
Team Members: Dave Lang, John Lang & Mike Gardener
Panic Attack (seeded 8th)
Weight
96kg
Dimensions
1.30 x 1.10 x 0.90m
Power
2 x 750W electric motors
Weapons
Lifting forks
Strengths
Pushing power
Weaknesses
Slow self-righting
From: Gwent in Wales
Team Members: Kim Davies & Michael Davies
Reptirron the Second
Weight
98kg
Dimensions
0.33 x 0.86 x 0.80m
Power
3 x 750W motors
Weapons
Lifting scoop & disc
Strengths
Strong & durable
Weaknesses
Complicated design
From: Drybrook in Gloucestershire
Team Members: Gordon Townley, Cheryl Townley & Peter Seabourne
R.O.C.S.
Weight
100kg
Dimensions
0.74 x 1.00 x 0.84m
Power
500W electric motor
Weapons
Crushing jaw
Strengths
Very manouverable
Weaknesses
Lack of armour
From: Hurworth in Darlington
Team Members: Colin Sievers, Karl Sievers & Jac Sievers
Sabretooth
Weight
100kg
Dimensions
0.70 x 1.10 x 0.82m
Power
2 x 750W electric motors
Weapons
13" steel cutting disc
Strengths
Fast & agile
Weaknesses
Thin armour
From: Haslemere in Surrey
Team Members: Gabriel Stroud, Robert Pickford & Polly-Parr Stroud
Terrorhurtz
Weight
99kg
Dimensions
0.50 x 1.25 x 1.05m
Power
2 x 1000W electric motors
Weapons
Double-headed axe
Strengths
Strong armour
Weaknesses
Unpredictable
From: Oxford in Oxfordshire
Team Members: John Reid & Dominic Parkinson
"Just to reminder that only the winner of tonight's heat goes through to the series semi-finals. The rest go home for an early oil bath. Let's see how they line up in Round 1 shall we?"
— Jonathan Pearce
Panic Attack (8) vs R.O.C.S. vs Corkscrew vs Kronic 2
[
edit
|
edit source
]
"All these machines have featured in the past history of Robot Wars, they've got lots of experience, pace and weaponry"
— Jonathan Pearce at the start of the battle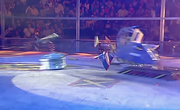 Panic Attack and R.O.C.S. both moved in and attacked Kronic 2. In a joint effort, Panic Attack lifted Kronic from the floor, while R.O.C.S. visibly crushed the top armour of Kronic 2. Corkscrew then zoomed in and tore off one of Panic Attack's skirts. Corkscrew came in again this time on Kronic 2, tearing off and destroying its wheel guard and exposing its tyre. Kronic 2 made a move pressing the pit release and an unfortunate Corkscrew crossed the pit shortly afterwards, failing to get away before it lowered.
"Down goes the pit... and Corkscrew goes with it! Oh, what an end, for a machine that had started brilliantly!"
— Jonathan Pearce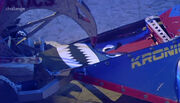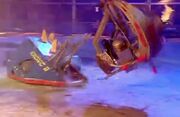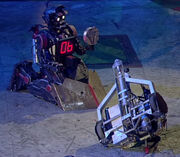 R.O.C.S. buried its jaw into Kronic's flipper, pressing it down, but Kronic managed to wriggle free and fight back, throwing R.O.C.S. on its back. R.O.C.S.'s attempts at self-righting were in vain, especially as hydraulic fluid was dribbling out from it all over the arena floor. R.O.C.S. was counted out by Refbot, putting Kronic 2 and Panic Attack safely through.
"They've hit the rocks, they've gone from competition."
— Jonathan Pearce as R.O.C.S. is counted out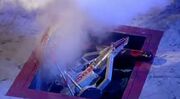 Regardless, while R.O.C.S. was positioned on the floor flipper, Kronic 2 approached Panic Attack and flipped it over. This showed concerns for the seeded machine, as it could not self-right. Regardless, R.O.C.S. was thrown through the air, then pitted by Sir Killalot, with assistance from Kronic 2.
"Corkscrew go spinning out of the competition. R.O.C.S. spring a major oil leak and slide out of the competition! Which leave[s] us with former UK champion Panic Attack and Kronic 2. They go through!"
— Craig Charles
Qualified: Panic Attack & Kronic 2
A-Kill vs Reptirron The Second vs Sabretooth vs Terrorhurtz
[
edit
|
edit source
]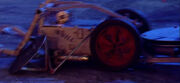 The battle started with both A-Kill and Terrorhurtz both in the centre of the ring reigning down hammer blows on each other while Reptirron The Second was moving slowly and Sabretooth was not really doing much. Terrorhurtz meanwhile knocked off a piece of metal on A-Kill and then headed for Sabretooth, attacking the top of the yellow robot with its axe.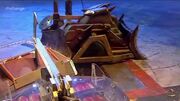 "Terrorhurtz like a metronome out there, counting down the seconds to oblivion for A-Kill and dictating the pace of this mash it, and mix it melee."
— Jonathan Pearce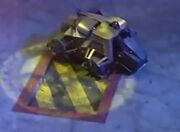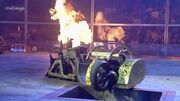 Team Hurtz's robot then sank its axe blade into Reptirron The Second and dragged it over the flame pit. Refbot meanwhile counted out Sabretooth and it was thrown by the arena flipper attacked by Terrorhurtz. Reptirron the Second in the meantime was near the arena wall, not moving, and was also counted out by Refbot. Growler then almost went down the pit but escaped in time and Shunt pitted Sabretooth to finish the battle.
"A-Kill didn't do much, but along with the big-hitting Terrorhurtz, it lives to fight another day."
— Craig Charles
Qualified: A-Kill & Terrorhurtz
Panic Attack (8) vs A-Kill
[
edit
|
edit source
]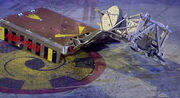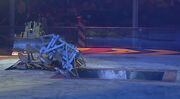 Both robots got off to a very slow start, circling around each other. A-Kill then ran up onto Panic Attack's forks which lifted A-Kill up, pushed it back and then dropped it. A-Kill hammered some ineffective blows on Panic Attack.
"That's not a weapon. I'm sorry! Wh-what is this, on A-Kill? A mighty mace? No. Oh, a heavy horrendous hammer? No, no, no.....oooh, a....stupendous...slicy...cutty thing? No, it's...nothing, boys. Really"
— Jonathan Pearce, ridiculing A-Kill's "thumper"
Panic Attack shoved A-Kill into Shunt and took an axe blow before carrying it towards the pit release button. Panic Attack then proceeded to leave A-Kill on the edge of the pit where it tried its hardest to stay out but the final nudge from Panic Attack was enough to send it down.
Winner: Panic Attack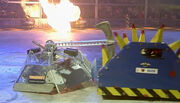 Kronic 2 took an aggressive move at the opening, but couldn't get its flipper underneath the ground clearance of its opponent, and immediately took damage as Terrorhurtz slammed its axe on it numerous times to start off with. Kronic 2 tried to get its flipper under Terrorhurtz but couldn't due to its low ground clearance. Terrorhurtz jammed Kronic 2 against Sergeant Bash but it managed to get away and was chased down by Terrorhurtz.
"Looks a very good machine, here, Terrorhurtz. I think they'll give Panic Attack a run for their money in the Heat Final if they get there - and from the evidence of the opening seconds of this battle, they'll get there."
— Jonathan Pearce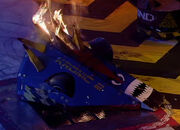 At this point, Terrorhurtz had lost power to its axe, but the damage it had already caused proved to be enough. Kronic 2 found itself on the flame pit where it couldn't get away and had its spikes set on fire. It got away eventually but ended up in the CPZ with Growler. Kronic 2 attacked Growler but couldn't get it over and Kronic 2 kept losing more bits and pieces.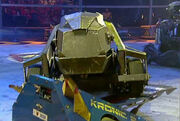 "It's a splendid looking machine, great fun, but it's met its match here in Terrorhurtz."
— Jonathan Pearce on Kronic 2
Terrorhurtz meanwhile rammed Sergeant Bash, causing his back panel to fall off and Kronic 2 was then counted out by Refbot. As cease was called, Growler shoved Kronic 2 back onto the flame pit.
Winner: Terrorhurtz
"So what do we think about this one up here on the crow's nest? Well, Panic Attack, for all its experience and winning background, has looked lackluster to me so far. I know Kim Davies is brilliant at the controls, but what sort of weaponry power does that have nowadays? Terrorhurtz, we've seen it of course do great damage to Kronic 2 early on. If I had to go with my heart, I'd go with Terrorhurtz, but my head says that Panic Attack will have its day. Don't Panic! Go for the attack!"
— Jonathan Pearce's prediction for the battle
Panic Attack (8) vs Terrorhurtz
[
edit
|
edit source
]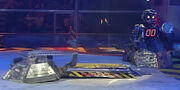 Both robots started quickly but Terrorhurtz was the quicker of the two and came in battering the top panels of Panic Attack with its axe. Panic Attack tried to get away but Terrorhurtz was much too quick and was always the more damaging. Panic Attack struggled to get its forks into position and continued to be pounded by Terrorhurtz.
"Look at this, it's systematic. Oh. They are battering Panic Attack into submission! One blow after another, raining down, and Kim cannot do anything about this whatsoever."
— Jonathan Pearce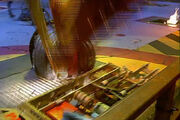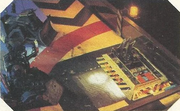 Soon after taking more punishment from Terrorhurtz's axe, Panic Attack's top armour was beginning to split apart and loosen. Terrorhurtz shoved Panic Attack into the CPZ where it took some axe blows from Shunt and then in came Matilda who, with one attack, tore off Panic Attack's top armour exposing the inner workings. The Series 2 champion was counted out by Refbot before being left to Shunt, although Matilda had also broken down after delivering her big hit to Panic Attack.
"Maybe it's time now to completely rebuild Panic Attack. Will he (Kim Davies) have to?"
— Jonathan Pearce as Panic Attack is counted out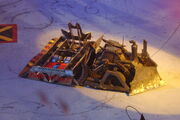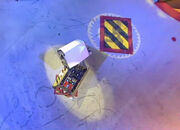 Shunt dragged Panic Attack to the arena flipper where it was thrown through the air. Then, to the amusement of the crowd, Panic Attack was taken to the Drop Zone where it got moving again and tried to get away but it was too late to escape as Shunt pushed it onto the square and the washing machine came down and landed on its exposed electronics.
"What have you got suspended up there? I'm told it's a washing machine. A household washing machine, to come crashing down on you, Kim Davies and Panic Attack... NOOOOOOWWWW!"
— Jonathan Pearce as Panic Attack is put on the Drop Zone and hit by a washing machine
Cease was then called and Terrorhurtz was confirmed as the heat winner for the only time in Team Hurtz's Robot Wars career.
"What a turn up for the books. Panic Attack the eighth seed, they go out. Terrorhurtz are through to the series semi-finals!"
— Craig Charles
Heat Winner: Terrorhurtz
"Pity the man, who has to sweep up the floors, we've made a right old mess, on Robot Wars!"
— Craig Charles' sign-off
A clip of Shunt pushing Sabretooth into the pit was aired during Episode 2 of the Chinese show King of Bots, where the teams behind both robots collaborated to build Tánshè.
The team behind the only newcomers in the heat, Team A-Kill, had previously fought with the middleweight version of A-Kill, meaning there were no true newcomers in this heat.
This was the second occurrence of a previous Grand Champion being knocked out in the heats as Series 2 champion Panic Attack lost in the heat final. The others were Panic Attack also in Heat M of the Seventh Wars, Chaos 2 in Heat C of the Sixth Wars, Razer in the first Heat of Series 8, and Apollo in Heat 5 of Series 9 and Heat 1 of Series 10.
This heat saw Panic Attack fail to reach the Semi-Finals for the first time, keeping in theme with the 8th seed curse.
This heat was the only time Team Hurtz won a heat.
Sabretooth's spinning disc axle broke in the qualifiers, forcing the team to replace the weapon with a motorcycle tyre. Sabretooth bragged a top speed of 70mph, the highest reported in all of Robot Wars.
The second melee was the only battle to feature four robots with a different number of active weapons (zero, one, two, and three).
While describing the damage caused to their robot, the Sabretooth team mistakenly referred to Terrorhurtz as its predecessor Killerhurtz while A-Kill's team captain confused it with Mega Hurts.
Sabretooth would avenge its loss to Terrorhurtz in Heat 1 of Series 9.
Along with Heat C and Heat K, there were no judges' decisions in this episode.
Both heat finalists in this heat caused damage to Sgt Bash at some point and were the only robots from this heat that won a heat at some point.

Both heat finalists in this heat were the last robots to be thrown out of the arena in the original series and the rebooted series respectively. They were also the first and last competitor robots to appear in the select screen in Robot Wars: Advanced Destruction.

This was the only heat of Series 6 where neither of the two heat finalists were interviewed by Philippa Forrester before the final.
Community content is available under
CC-BY-SA
unless otherwise noted.