"Sixteen heats, two semi-finals, and a skip load of demolition later, and we find ourselves here: at the Robot Wars Grand Final! Yes folks, this is the big one. Talk about a buzz; we've got more buzzes than the American space program. And tension; there's more tension here than in Pavarotti's underpants, and that's a lot of tension! Over the last few months, we've seen some of the best amateur engineering in the country, and did we care, did we 'eck! What we came to see was some great fights, and that's exactly what we got. Like, who could forget the time Sir Killalot caught Sgt. Bash playing with his My Little Pony? And the dishwasher in the canteen will never call Shunt a big girl's blouse again, I can tell you! But, no! What we've seen are some of the best bashes, mashes and sheer metal write-off of Robot Wars so far, all leading up to these defining battles."
— Craig Charles' introduction
The Grand Final of Robot Wars: The Third Wars was the final set of battles which determined the Grand Champion of Robot Wars: The Third Wars. It was fought between the four robots that had progressed through their heats and the Semi-Finals. There were two Grand Final Eliminators to decide which robots would make the Grand Final, in which the robots from Semi-Final 1 would face each other, and the robots from Semi-Final 2 would face each other. These eliminators would be followed by a play-off for third and fourth. Finally, the Grand Champion would be determined in the Grand Final.
The episode featuring the Grand Final was originally broadcast on April 21, 2000 on BBC Two. The broadcast managed to attract 4.95 million viewers, a decrease of 400,000 viewers when compared with the previous episode. According to BARB, this meant it ranked third in the top thirty highest rated BBC 2 broadcasts during 17-23 April, behind only Have I Got News for You and Naked Chef.
Competing robots
Edit
Newcomers
Edit
Hypno-Disc (winner of Heat H, qualified from Semi-Final 2)
Weight
78.3kg
Dimensions
0.25 x 1.26 x 0.74m
Clearance
0.02m
Power
2 x 750W Electric Motors
Weapons
600rpm Rotating Disc
Notes
Cost £800
From: Oxford
Team Members: Dave Rose, Derek Rose, Ken Rose
Steg-O-Saw-Us (winner of Heat G, qualified from Semi-Final 2)
Weight
78.1kg
Dimensions
0.50 x 1.20 x 0.71m
Clearance
0.01m
Power
2 x 750W Electric Motors
Weapons
Pneumatic Lifting Tail
Notes
Cost £1,500
From: Southampton
Team Members: Dan King, Peter Rowe, Rob Heasman
Chaos 2 (winner of Heat E, qualified from Semi-Final 1)
Weight
77.4kg
Dimensions
0.38 x 0.92 x 0.72m
Clearance
0.07m
Power
Electric Motors
Weapons
CO2 Powered Flip Up
Notes
Cost £250
From: Ipswich
Team Members: George Francis, Ian Swann, Richard Swann
Fire Storm (winner of Heat O, qualified from Semi-Final 1)
Weight
67.9kg
Dimensions
0.29 x 0.97 x 0.82m
Clearance
0.06m
Power
3 x 12V 9AH Batteries
Weapons
Flipping Arm, Rear Spike
Notes
Main Motor from Lawnmower
From: Durham
Team Members: Graham Bone, Alex Mordue
Jonathan Pearce Series Recap
Edit
"...before we shout "Charge!" - let's relive the road to Armageddon."
— Craig Charles
Before the fights in the Grand Final, Jonathan Pearce took several minutes to showcase an abridged version of Series 3. This would later become a staple of the Grand Final of Series 4, 5 and 6. Not all fights were included, but rather featured Jonathan Pearce giving a lengthy monologue over spliced battle highlights to reveal how the final four robots got to the Grand Final. The fights featured were:
Heat A
Heat B
Heat C
Heat D
Heat E
Heat F
Heat G
Heat H
Heat I
Heat J
Heat K
Heat L
Heat M
Heat N
Heat O
Heat P
Semi-Final 1
Semi-Final 2
Eliminators
Edit
Chaos 2 vs Fire Storm
Edit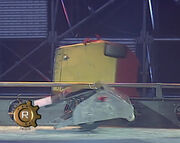 Chaos 2 immediately attempted to get underneath Fire Storm and flip it, but was initially unsuccessful. The second attempt was more successful though, as Chaos 2 got underneath one of the rear wheels of Fire Storm and flipped it over. Chaos 2 then pushed Fire Storm across the arena to the arena wall and, for the first time in Robot Wars history, the robot was flipped straight out of the arena.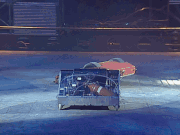 "And Chaos 2-OH-HA-HA-HA-HA-HA, FIREST-HA-HA-HA. What a way to go! I don't think there's any doubt about that, George Francis, what happened to them? Well this was over so quickly, and we've never seen it before. Out of the arena. Out of touch. And out of the final. Chaos 2, delightful. Fire Storm, derailed and deranged."
— Jonathan Pearce after Fire Storm goes over the side wall
Winner: Chaos 2
Hypno-Disc vs Steg-O-Saw-Us
Edit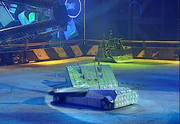 Steg-O-Saw-Us got the first attack in, shunting the rear end of Hypno-Disc as it turned. Hypno-Disc's weapon then clipped Steg-O-Saw-Us' front while it reversed, before driving into the side of Steg-O-Saw-Us, causing no notable damage. Hypno-Disc backed away to get its disc back up to speed, but went too close to Matilda. They got away, and were met by a head on charge from Steg-O-Saw-Us, who overshot their drive and went into both Shunt and Matilda's CPZs, before escaping. Hypno-Disc then caught the side of Steg-O-Saw-Us, slicing a gash into it.
"Look at that power and venomous ability of the spinning disc of the Hypno boys."
— Jonathan Pearce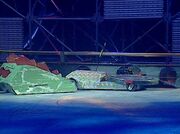 Steg-O-Saw-Us fought back, shunting Hypno-Disc head on again, with part of the side of Steg-O-Saw-Us being scuffed in the process. Steg-O-Saw-Us rammed itself into the arena wall, and then reversed into Hypno-Disc. Steg-O-Saw-Us forced Hypno-Disc back slightly, with two rams in quick succession, before positioning itself behind Hypno-Disc and driving it across the arena and into the arena wall.
"Hypno-Disc's rotating blade has been slowed, and this is a very plucky performance by Steg-O-Saw-Us."
— Jonathan Pearce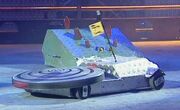 Steg-O-Saw-Us continued to press Hypno-Disc against the arena wall, before Hypno-Disc moved away. Steg-O-Saw-Us attacked the Hypno-Disc flywheel head on twice in a row, with Hypno-Disc then slashing open another wound next to Steg-O-Saw-Us' wheel. Steg-O-Saw-Us started to slow down, with Hypno-Disc coming in for another attack down the side of its opponent. Steg-O-Saw-Us was now on its last legs, and desperately tried to defend itself by flicking its rear end tail, as Hypno-Disc caused more damage to the side of Steg-O-Saw-Us.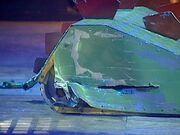 "Have they ground themselves to a halt here, Steg-O-Saw-Us? Has it been immobilised?"
— Jonathan Pearce
Steg-O-Saw-Us finally managed to regain some form of mobility, but could only reverse themselves into the arena wall. One last attack from Hypno-Disc was enough, and cease was called, confirming Hypno-Disc's victory.
Winner: Hypno-Disc
Fire Storm vs Steg-O-Saw-Us
Edit
The defeated robots were due to battle for third place in the series, but Steg-O-Saw-Us could not compete as the team was unable to repair the damage it had taken from Hypno-Disc in the previous battle. Fire Storm was to take third place by default, but the two teams agreed to share the place instead.
Winners (by default): Fire Storm and Steg-O-Saw-Us
Chaos 2 vs Hypno-Disc
Edit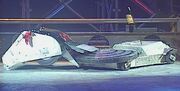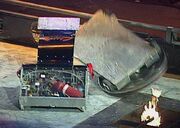 The battle started very slowly and neither robot attempted a proper attack in the early stages. Eventually, Chaos 2 attempted to flip Hypno-Disc but did not get underneath and ended up on top of the disc of Hypno-Disc and stopped it from spinning. Hypno-Disc looked very sluggish throughout the battle, which allowed Chaos 2 to position its flipper underneath the spinning disc and flip Hypno-Disc onto its back.
"Chaos 2 has won the final, flipping Hypno-Disc! The fears have proven true for the Hypno-Disc boys. Chaos 2 came in, got underneath the disc, ironically; flipped up and over, and Chaos 2 are the worthy winners of Robot Wars - the champions. Crowned, and Hypno-Disc lies battered and beaten."
— Jonathan Pearce
With Hypno-Disc unable to self-right, Chaos 2 flipped Matilda and Shunt before the end of the battle.
Craig Charles: "We don't like losers"
Philippa Forrester: "We don't like draws"
Craig Charles: "We've found a winner"
Together: "On Robot Wars."
— Craig and Philippa's sign-off
Third Wars Grand Champion: Chaos 2
Special Event
Edit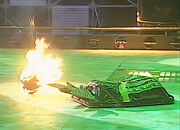 Between the eliminator round and the Grand Final during the final episode, the final of the Robotic Soccer cup took place, featuring the winners of each of the matches earlier on in the series.
Velocirippa vs Evil Weevil vs The General vs Gnasher
Edit
Winner: Evil Weevil
At intervals during the original airing of the televised programme, excerpts of the three nominations for the Battle of the Series were played, as part of a competition for viewers to phone in and vote for their choice, with Jonathan Pearce recapping the prizes available to participants whose choice matched that of the judges. The three battles in order of appearance were Hypno-Disc vs Robogeddon, Chaos 2 vs The Big Cheese and Panic Attack vs X-Terminator. The winning battle, Chaos 2 vs The Big Cheese, was not announced on the televised programme.
During the eliminator between Chaos 2 and Fire Storm, Chaos 2 threw Fire Storm out of the arena, the first time that this had occurred in Robot Wars history. This battle is also ranked equal twentieth in the Shortest Battles in UK Robot Wars.
The second eliminator between Hypno-Disc and Steg-O-Saw-Us also marked the first time that a robot was forced to withdraw from a subsequent battle due to damage sustained in a previous battle. The planned playoff between Steg-O-Saw-Us and Fire Storm did not take place due to the former's withdrawal, with both robots sharing third place as a result.
The Grand Final battle between Chaos 2 and Hypno-Disc marked the second time that the UK Championship was determined by a knockout victory. This outcome would not be repeated again until Series 9.
The Third Wars Grand Final was one of two Grand Finals in which three of the competitors were armed with lifting or flipping weapons. The other was the Series 8 final.
This was the only televised Grand Final in the original series in which none of the competitors had reached the previous series' Grand Final.
All of the Grand Finalists except for Chaos 2 defeated a team captained by a roboteer who had previously won the UK Championship (Evil Weevil, Panic Attack and Beast of Bodmin).

All four Grand Finalists defeated at least one of the previous year's Semi-Finalists en route to the Grand Final. This would be repeated again in Series 5 and 6, though it is the only time to date where all four Grand Finalists were not themselves previous UK Finalists.

Three errors were made in the Jonathan Pearce recap.

A clip of Suicidal Tendencies' battle against Forklift's Revenge was shown after its heat final against Mace 2.
Jonathan Pearce said Gravedigger defeated The Darke Destroyer in Round 2 of Heat F and then Mortis in the Heat Final when it was the other way round.
Lastly, he said Hypno-Disc defeated 101 in Round 1 of Semi-Final 2 and then Evil Weevil in Round 2 when it was the other way round. This was corrected later on in the episode.
Community content is available under
CC-BY-SA
unless otherwise noted.