Armament! This Robot Wars article is in need of rewriting to bring it up to a higher standard. You can help Robot Wars Wiki by rewriting it.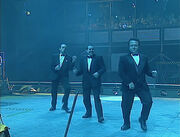 "So far on the wars, Mace 2 battled through to the series semi-final. Ring a ding dinger the death knell for Stinger. Next up was Weeliwako and Suicidal Tendencies also fell. In Heat B, Pitbull was let off its leash, attacking Sumpthing then Technophobic. And even though it was rolled by Behemoth, the opponent was rumbled and tumbled and Pitbull went through. And then last week, Blade cut a dash, sliced and slashed Spike, porked Agent Orange, booted Aggrobot and went through so let's get ready for more robot rumbles!"
— Jonathan Pearce's introduction
Heat D of Robot Wars: The Third Wars was the fourth of sixteen heats which determined the Semi-Finalists of Robot Wars: The Third Wars. The episode featuring Heat D was originally broadcast on December 31, 1999 on BBC Two. The broadcast managed to attract 2.72 million viewers, a decrease of 1.14 million viewers when compared with the previous episode. According to BARB, this meant it ranked fourteenth in the top thirty highest rated BBC 2 broadcasts during 27 December-2 January.
"Now don't tell anyone I told you this, but a few years ago, where a nuclear power station near here; a broken down old microwave and toaster were thrown out to rust. Now no one thought anything about them, until they were exposed to some radioactive waste and mutated into the most hideous appliances ever. Now, together they lived happily and made some beautiful toast, but then the toaster fell in love with a teasmade called Delilah, and then the fighting started. That's how Robot Wars was born. Three years later, and the descendants are about to go to battle again, but this time it's not over a teasmade, it's over a place in our series semi-finals."
— Craig Charles' introduction
Competing Robots
[
]
Newcomers
[
]
Big Brother
Weight
78.0kg
Dimensions
0.42 x 1.0 x 0.82m
Clearance
Variable
Power
2 x Electric Motors
Weapons
Steel Whip & Wrecking Ball
Notes
Cost £400
From: Brighton
Team Members: Ian Watts, Joe Watts & Wayland Twiston-Davies
Bumblebot
Weight
79.6kg
Dimensions
1.27 x 1.0 x 1.27m
Clearance
0.04m
Power
2 x Drive Motors
Weapons
Pneumatic Ram
Notes
Can Run Upside-Down
From: Reading
Team Members: Andy Noyes, Mat Jarvis & Sarah Corps
Flipper
Weight
80.2kg
Dimensions
0.50 x 1.0 x 0.51m
Clearance
0.03m
Power
2 x Starter Motors
Weapons
Compressed Air Axe & Spikes
Notes
Can Right Itself By Flipping
From: Essex
Team Members: Kelvin Duhy, Josephine Duhy & Richard Duhy
Grim Reaper
Weight
80.6kg
Dimensions
0.45 x 1.54 x 0.68m
Clearance
0.06m
Power
2 x Car Motors
Weapons
Air Ram & Spike
Notes
Cost £400
From: Bognor Regis
Team Members: Simon Smith, Luke Smith & Gary Smith
Shell Shock
Weight
56.0kg
Dimensions
0.44 x 0.82 x 0.80m
Clearance
0.05m
Power
2 x Golf Cart Motors
Weapons
Powered Axe
Notes
Sheet Steel Shell
From: Colchester
Team Members: Oliver Young, Paul Logan & Richard Wilson
Sir Chromalot
Weight
78.7kg
Dimensions
0.66 x 0.68m
Clearance
0.0 - 0.01m
Power
6 x Cordless Drill Motors
Weapons
Cobalt Cutter
Notes
Cost £3,000
From: Essex
Team Members: Steve Merrill, Steve Smith & David Whitehead
Ultor
Weight
79.4kg
Dimensions
0.65 x 1.04 x 0.75m
Clearance
0.01-0.03m
Power
2 x Lawnmower Motors
Weapons
Powered Axe Attack
Notes
Cost £1,000
From: Cambridgeshire
Team Members: Roger Golder & Barnaby Golder
Veterans
[
]
Milly-Ann Bug
Weight
75.7kg
Dimensions
0.68 x 1.39 x 0.64m
Clearance
0.01m
Power
4 x Electric Motors
Weapons
Steel Spikes
Notes
Cost £1,000
From: Leeds
Team Members: Geoff Warren, Martin Dawson & Mark Whitworth
Round 1
[
]
"Well. We shall wait and see, Philippa. Sir Chromalot first up, booted and suited to kick out Shell Shock. Big Brother with little Joe. Will it be checkmate for Grim Reaper, a spooky looking robot? Bumblebot and the insect war against Milly-Ann Bug. And then it's Flipper against Ultor, a family of war or heading for Family Fortunes?"
— Jonathan Pearce reading through the line-up for the first round
Sir Chromalot vs Shell Shock
[
]
Sir Chromalot immediately forced Shell Shock onto the spikes, then into Matilda. Matilda pushed Shell Shock away. Sir Chromalot then forced it into Sir Killalot, who threw Shell Shock through the air, breaking the axe.
"The knights combine together. Oh lovely, how posh."
— Jonathan Pearce as Shell Shock is attacked by both Sir Chromalot and Sir Killalot
Sir Chromalot tried to push Shell Shock into the pit, but then stopped moving. It started up again, but the House Robots closed in and shoved it down the pit.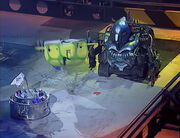 "The House Robots; goodness me, the high rollers are rolled out, but should the House Robots have got involved there?"
— Jonathan Pearce
However, the judges ruled that this was unfair interference, and controversially voted that Sir Chromalot should go through.
"Ooh boo! Hiss! But it's Sir Chromalot who go through controversially. And next up, Big Brother against Grim Reaper."
— Jonathan Pearce
Winner: Sir Chromalot
Big Brother vs Grim Reaper
[
]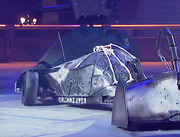 Grim Reaper had the faster start, but Big Brother pushed it into Sgt. Bash and then towards the pit. It then escaped and drove up Big Brother's wedge, leaping into the air. Grim Reaper then charged at Big Brother, slamming it against the arena wall, but one of its wheels fell off in the process.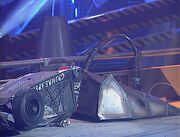 "Grim Reaper has lost a wheel! The wheel's come off! Slamming then, into the back of Big Brother, and the wheel comes spinning off, and no time for a pit change here. That's wheely stupid driving."
— Jonathan Pearce as Grim Reaper's wheel comes off
Big Brother then stopped working and Sir Killalot came in and flipped Grim Reaper over. The judges decided that Big Brother had won.
Winner: Big Brother
"Monster metal mayhem has its mightiest. We have a judges' decision. On damage and aggression, the winner is... Big Brother!"
— Craig Charles announcing the winner
Bumblebot vs Milly-Ann Bug
[
]
"Oh whoa. But not for little Joe. What do they feed him by the way? Big Brother through and next up, Bumblebot and Milly-Ann Bug."
— Jonathan Pearce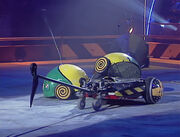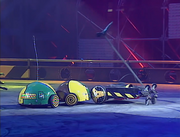 Both robots started by tentatively circling each other side on. Bumblebot fired its axe once, but missed, before chasing the retreating Milly-Ann Bug. Milly-Ann Bug went in front of Bumblebot twice, but Bumblebot failed to fire the axe, which had seemingly stopped working. Milly-Ann Bug then pushed Bumblebot around the arena in a very fast and slippery style.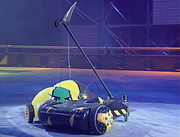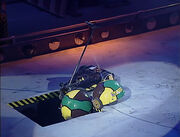 "And at the moment, I'd say, on aggression, and style, and control, Milly-Ann Bug would go through if this goes to a judges [decision] and the axe would fall on Bumblebot."
— Jonathan Pearce
After multiple slams, Milly-Ann Bug finally caught Bumblebot broad side on and frantically shoved it towards the pit, but overstepped the mark and fell in itself.
Winner: Bumblebot
Flipper vs Ultor
[
]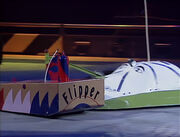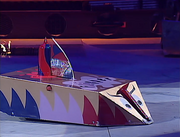 Both robots had a gentle start. Ultor hit Flipper with the axe once and then Flipper came to a stop shortly after. Ultor was then bounced by an arena spike, but didn't flip over.
"Was Flipper immobilised? If it is, then the House Robots can come in here."
— Jonathan Pearce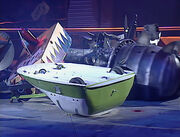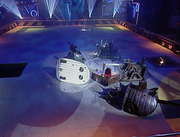 The House Robots closed in and Shunt dug it's axe into Flipper several times, then flipped it. Ultor axed Matilda a few times. Dead Metal sliced into Flipper's side, nearly ripping off a chunk of armour. Ultor got flipped by the arena spike, but had already won.
Winner: Ultor
Round 2
[
]
Sir Chromalot vs Big Brother
[
]
Before the battle, the Sir Chromalot boys performed a little dance on the arena floor, to the amusement of Jonathan Pearce. Big Brother tried to make use of its mace early on, but caused minimal damage to Sir Chromalot.
"The morning star, flailing away there."
— Jonathan Pearce on Big Brother's weapon
Sir Chromalot shoved Big Brother into Shunt's CPZ, who escaped, but not before suffering an axe blow from Shunt. After a brief period of circling each other, Big Brother slid underneath Sir Chromalot and flipped it over with the wedge.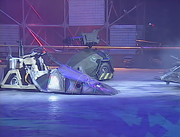 "And Sir Chromalot's up, and rolled over!"
— Jonathan Pearce
The House Robots came in: Shunt and Dead Metal both caused damage to Sir Chromalot. Dead Metal finally dropped Sir Chromalot into the pit.
Winner: Big Brother
Bumblebot vs Ultor
[
]
"Didn't really know, did little Joe? And he's through. Well done Big Brother. And next up, Bumblebot against Ultor."
— Jonathan Pearce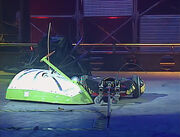 Ultor drove underneath Bumblebot, whose axe seemed to be immobile. Ultor pushed it a bit towards Sgt. Bash. Bumblebot got away, but then its axe tumbled lifelessly to the ground.
"Very cagey, early on."
— Jonathan Pearce as both robots get off to a slow start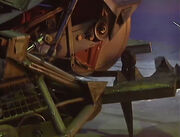 Ultor shoved it into Dead Metal, who sliced off the axe head. Bumblebot was left with a long, useless pole sticking out the front. Ultor pushed it towards the pit, but the pole prevented it from fully going in.
"I don't even know if they're gonna go down the pit with that thing sticking out of the end of it. Killalot steers it away...no. Is that in the pit? I'm not too sure. It's sort of... just leaning in; I don't think they're gonna come out of it, though."
— A hysterical Jonathan Pearce as Ultor attempts to pit Bumblebot
Sir Killalot lifted it out of the pit, before Shunt came in and shoved it back down.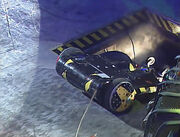 "Is there a little bit of buzz about the Bumblebot yet? Fly away, fly away, live to fight another day - I doubt it."
— Jonathan Pearce
Sir Killalot lifted it out again and dragged it over to the flame pit, ripping off one of its front casters in the process.
Winner: Ultor
Heat Final
[
]
Jonathan Pearce: "Well. Four down to two. Sir Chromalot and Bumblebot have gone, leaving Big Brother against Ultor the heat final."
Craig Charles: "Then there were two, but soon there will be only one. It's the third and final round."
— Lead up to the heat final
Big Brother vs Ultor
[
]
Big Brother started by charging towards Ultor, who initially struggled to move away from the arena wall. Big Brother then rode up on Ultor, before slipping back off and moving away, missing an attempted axe attack by Ultor. Big Brother hit Ultor with the mace twice until the weapon got caught on Ultor's axe, who was then able to drag Big Brother around, nearly pulling it over on to its back.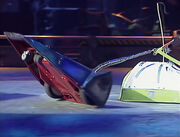 "Caught though, on the spike of Ultor, who could drag here, Big Brother, towards oblivion, if they play it right, no, they let Big Brother get away."
— Jonathan Pearce as Ultor pulls Big Brother
Big Brother escaped and pushed Ultor around, until, suddenly, the mace fell off.
"Oh, and it's gone! The whip's come off!"
— Jonathan Pearce
Now Big Brother only had the wedge on the front as a weapon. It shoved Ultor onto the floor flipper, causing it to bump into the air and escape. Ultor axed Big Brother a few times, before getting flicked up multiple times by an arena spike. The battle went to the judges, who awarded the battle to Ultor.
"Ultor wins on a judges' decision! You can't get closer than that"
— Craig Charles
Winner: Ultor
However, later on, the Ultor team told the Big Brother team in the Pits that they felt the Judges' decision was wrong, so they overturned the decision and let Big Brother take their Semi-Final place. In actuality, Ultor withdrew from the competition, as work commitments prevented its team from attending filming for the Semi-Finals.[1]
Heat Winner: Big Brother
"Forget about bull-fighting, and those brave matadors, cos we always see red, on Robot Wars!"
— Craig Charles signs off
Special Event
[
]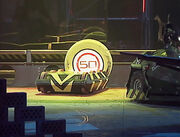 Between Round 1 and Round 2 of each Heat, a Special Event or Trial took place. For Heat D, it was the second Pinball Warrior run, featuring Crusader.
Score: 90 points
Trivia
[
]
Heat D marked the first instance of a robot's team overturning a judges' decision, with Ultor doing so in the heat final.
Interestingly, Heat D was comprised entirely of robots new to fighting in the main competition - Bumblebot had not fought in the main competition, and Milly-Ann Bug had been eliminated before the Arena stage in Series 2.

This heat also featured more newcomers to the main competition than any other heat in the show's history, including the reboot, at 7.

The "Sir Chromalot tradition" was established in this heat, with the defeat of Sir Chromalot by Big Brother in Round 2.
Sir Killalot nearly achieved the first Out of the Arena attack when he spun Shell Shock on his lance.
References
[
]