"Robots are a big like boxers, and I don't mean they're hard, ugly and can be quite thick. What I mean is that not all of them are like the heavyweights in the main competition. Which is why, over the series, we'll also be running a middleweight competition, and its seconds out for Round 1"
— Craig Charles introduces the Middleweight Melee
The Middleweight Melee was one of the Special Events that took place during Robot Wars: The Third Wars. It was a single exhibition battle between five middleweight robots, all weighing 45.4kg or under, and was held as a replacement for that series' Middleweight Championship, which was cancelled due to a behind-the-scenes accident.
Tentoumushi
Weight
52kg
Dimensions
1.02 x 1.12 x 0.30m
Clearance
0.05m
Power
24 US Volts
Weapons
Angle Grinder
Notes
Swallows Enemy Whole
From: United States of America
Team Members: Lisa Winter, Mike Winter
Hard Cheese
Weight
Not listed
Dimensions
Not listed
Clearance
Not listed
Power
Not listed
Weapons
Pickaxe
Notes
N/A
From: Aintree, Merseyside
Team Members: Nigel Kerr, Andrew Norton
Grinder
Weight
Not listed
Dimensions
Not listed
Clearance
Not listed
Power
Not listed
Weapons
Angle Grinder
Notes
N/A
From: Not listed
Team Members: Ian Sitten, William Sitten
A-Kill
Weight
42.6kg
Dimensions
0.23 x 1.00 x 0.41m
Clearance
0.01m
Power
2 x Wheelchair Motors
Weapons
Spikes
Notes
Cost £200
From: Buckinghamshire
Team Members: Chris Delph, Ryan Delph, Andy Brasted
Ripper's Revenge
Weight
Not listed
Dimensions
Not listed
Clearance
Not listed
Power
Not listed
Weapons
Pickaxe
Notes
N/A
From: Yorkshire
Team Members: Anthony Mills, Donald Mills, Jackie Holland
Tentoumushi vs Hard Cheese vs Grinder vs A-Kill vs Ripper's Revenge
[
edit
|
edit source
]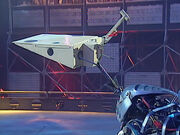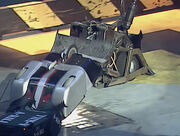 Reigning middleweight champion Hard Cheese started by attacking Ripper's Revenge with its axe, before it was attacked and covered up by Tentoumushi. Meanwhile, A-Kill pushed Grinder into Shunt, and Grinder sustained heavy damage from Shunt's axe. Tentoumushi covered up Ripper's Revenge while the immobilised Hard Cheese was picked up by Sir Killalot.
"Pick on someone your own size Killalot! This is unfair!"
— Jonathan Pearce, as Hard Cheese is picked up by Killalot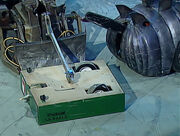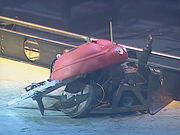 Tentoumushi then had one if its antennae cut off by the chainsaw of Matilda. As Sir Killalot pushed away the immobilised Grinder, Ripper's Revenge was flipped over by an arena spike and was out of the battle. Tentoumushi then started to fight the house robots and covered up Shunt, blocking the radio signal so that Shunt could no longer move. Tentoumushi and A-Kill were the only survivors at the end of the battle and the judges declared a draw between the two robots.
Joint Winners: Tentoumushi & A-Kill
Both of the Melee's joint winners, Tentoumushi and A-Kill, would later fight each other in the War of Independence, a grudge match broadcast as part of the International League Championship. The aforementioned battle was actually filmed before the Middleweight Melee, despite being broadcast afterwards.
Although the Middleweight Melee replaced the cancelled Series 3 Middleweight Championship, Craig Charles incorrectly introduced the battle as the first round of the latter. As the incumbent champion, Hard Cheese was given the Middleweight trophy.
Community content is available under
CC-BY-SA
unless otherwise noted.