"Well, now it's time to feature those robots who prefer to show off their pins. Wheels aren't the only way a robot gets about!"
— Craig Charles introduces the Series 3, Heat H Walker Battle
The Walker Battles were two of the Special Events that took place during Robot Wars: The Third Wars. Featuring in Heat H and Heat M, they consisted of one-on-one battles between two walkerbots, each built to different weight classes.
Competing Robots
[
]
Anarachnid
Weight
72.1kg
Dimensions
0.6 x 1.2 x 1.0m
Power
Electric
From: Unknown
Team Members: Mike Tibbs, Paul Fenna & Mike Smith
Mammoth
Weight
46kg
Dimensions
0.7 x 0.85 x 0.6m
Power
Electric Motor
From: Essex
Team Members: Ian Burrell & Stuart Burrell
Miss Struts
Weight
136kg
Dimensions
0.8 x 1.0 x 0.9m
Power
4HP Petrol Engine
From: High Wycombe
Team Members: Ian Inglis, Kerry Inglis & William Inglis
Stomp
Weight
73.4kg
Dimensions
0.8 x 1.2 x 0.4m
Power
Electric Motors
From: Hertfordshire
Team Members: Carl Nielsen, John Lilley & Tim Mitchell
Battles
[
]
Miss Struts vs Stomp
[
]
Miss Struts slowly advanced on its opponent but Stomp was not able to walk at all. Stomp began to spin around and eventually hit Miss Struts when it got close enough. Miss Struts tried to push Stomp around and eventually the house robots came in and attacked the inactive robot.
Winner: Miss Struts
Mammoth vs Anarachnid
[
]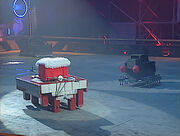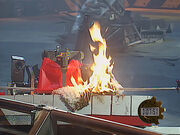 Anarachnid slowly moved across the arena but Mammoth was unable to walk properly as the legs just flailed around. Eventually, the robots met and Anarachnid pushed Mammoth to the side. Sergeant Bash set Mammoth's hair on fire with its flamethrower and the other house robots came in and attacked both robots for the rest of the battle. The judges declared a draw between the two robots.
Winner: None (draw declared)
Trivia
[
]
Team EyeEye was the only team to go on to compete in the main competition, although Team Mammoth would also later compete in the Middleweight and Featherweight Championships with various versions of Mammoth.
Anarachnid became the only robot not to win or lose a single battle.