"...and what they lack in mass, they make up for in mass destruction!"
The Featherweight Championship of Robot Wars Extreme: Series 1 was a single battle event shown in Episode 13 of Robot Wars Extreme: Series 1. This Featherweight Championship was contested by just two machines, which were required to weigh less than 11.4kg, making it the smallest class to fight in the main arena.
Competing Robots
Edit
Beef-Cake
Weight
4kg
Dimensions
0.45m x 0.3m x 0.8m
Power
8v Electric Motors
Weapons
Ramming Wedge
Strengths
Fast & Agile
Weaknesses
Effectiveness of Weapon
From: Broadheath, Manchester
Team Members: Tommy Winkworth, Lindy Robinson, John Lowe
RC Warrior
Weight
4kg
Dimensions
0.69m x 0.37m x 0.27m
Power
7.2v Electric Motors
Weapons
Ramp & Spikes
Strengths
Well Armoured
Weaknesses
High Ground Clearance
From: East Sussex
Team Members: Jason Halsey, Stefan Halsey, Stephen Halsey
Featherweight Championship
Edit
RC Warrior vs Beef-Cake
Edit
"Size doesn't matter on Robot Wars. And to prove it, I'm here with RC Warrior and Beef-Cake. Welcome, teams... you nutters!"
— Julia Reed introduces the Featherweight contenders before they enter the arena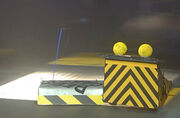 The two robots began with Beef-Cake shoving RC Warrior, before spinning away, and running away from RC Warrior. The two robots danced away from each other, occasionally colliding, before Beef-Cake pushed RC Warrior into the CPZ, but no House Robot intervened, and both robots escaped unharmed.
"This is ballet! This is Robot Wars ballet! Look at them, pirouetting and dancing and away, zippy nippy!"
— Jonathan Pearce as Beef-Cake darts around RC Warrior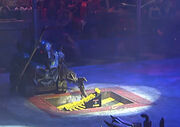 More dodging ensued, before RC Warrior broke down over the pit, and Beef-Cake rammed Shunt. Beef-Cake then pressed the pit release, and RC Warrior slowly descended into the pit, a tactic that Razer would later use against Raging Reality during the first heat of the Sixth Wars.
"Oh, err, no, no, this isn't fair! Don't take on Beef-Cake, now you've - aw, you've flipped him over - he's like a little beetle - YOU'VE CRUSHED HIM! Oh no, you've crushed him, Killalot! Oh that is so cruel! Now, I'm hardened to Robot Wars. I don't care if any of them get smashed up to be honest, but not this little tiddler!"
— Jonathan Pearce as Beef-Cake is attacked by the House Robots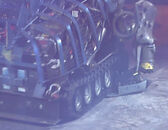 Beef-Cake then ran into Shunt again, and was punished for it by being turned over by Shunt, and then squashed by Sir Killalot. Shunt then attacked Beef-Cake with hisaxe, before Sir Killalot tried to pick it up with the claw, but Beef-Cake was too small, and slipped through Killalot's grasp. The destruction of Beef-Cake did not go down well with the audience, or Jonathan Pearce, and especially not with the team itself.
"I think that's a bit unfair... it's horrible. We were unable to protect ourselves and they just ran over us."
— Tommy Winkworth of Team Zap objects to the House Robots' attacks
Featherweight Champion: Beef-Cake
With only two competitors, this Featherweight Championship featured the fewest entries out of any championship in this weight category.

Notably, both competitors were considerably lighter than the maximum featherweight limit, weighing only 4kg each.

Beef-Cake took the Featherweight Championship title off of then-defending champion Demolisher, which was also well below the weight limit, and based on a radio-controlled car.
Community content is available under
CC-BY-SA
unless otherwise noted.