The Middleweight Championship of Robot Wars Extreme: Series 1 was a single-battle event from Episode 2 of Robot Wars Extreme: Series 1. The championship consisted of a single battle featuring six robots weighing no more than 54kg.
Competing Robots
Edit
Doom
Weight
29kg
Dimensions
0.82m x 0.52m x 0.28m
Power
24v Battery
Weapons
Pushing Power
Strengths
Self-Righting Mechanism
Weaknesses
Vulnerable Shell
From: Rosendale in Lancashire
Team Members: David Smith, Simon Rushton, Gideon Smith
Genesis
Weight
49kg
Dimensions
0.8m x 0.7m x 0.32m
Power
2 x 24v Wheelchair Motors
Weapons
No Active Weapon
Strengths
Tough Construction
Weaknesses
Lacking in Power
From: Rhuddlan in Denbighshire
Team Members: Mark Tessutt, Jeremy Kent, Kieran Day
Hard Cheese
Weight
42kg
Dimensions
1.04m x 0.58m x 0.3m
Power
2 x 36v Wheelchair Motor
Weapons
Cutting Disc
Strengths
Classic Wedge Shape
Weaknesses
No Self-Righting Mechanism
From: Liverpool
Team Members: Nigel Kerr, Stephen Pearson
Mammoth
Weight
42kg
Dimensions
1.18m x 0.98m x 0.75m
Power
2 x Battery Drill Motors
Weapons
Axe and Rear Saws
Strengths
Multi-Weaponed
Weaknesses
Poorly Armoured
From: Southend-on-Sea in Essex
Team Members: Ian Burrell
Typhoon
Weight
49kg
Dimensions
0.75m x 0.75m x 0.43m
Power
2 x 24v dc Drive Wheels
Weapons
Circular Steel Pipe
Strengths
Rapid Spinning Ability
Weaknesses
No Self-Righting Mechanism
From: Edinburgh Air Cadets in Scotland
Team Members: Flying Officer Peter Bennett, Cadet Gary Cairns, Cadet Hazel Taylor
Zap
Weight
42kg
Dimensions
0.84m x 0.70m x 0.26m
Power
2 x 24v Wheelchair Motors
Weapons
Flipper
Strengths
Sturdy Construction
Weaknesses
Poor Manoeuvrability
From: Broadheath, Manchester
Team Members: Tommy Winkworth, Lindy Robinson, John Lowe
Middleweight Championship
Edit
Typhoon vs Zap vs Doom vs Hard Cheese vs Genesis vs Mammoth
Edit
The battle begun with Genesis, Doom and Zap pushing against each other, with Typhoon slowly moving towards them, its spinning shell quickly up to speed. It hit Zap and Genesis very quickly, knocking them away.
"And Typhoon looks the most effective of all of these immediately"
— Jonathan Pearce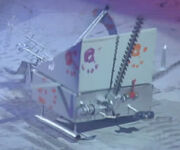 After just a few more hits, Zap was flung into the arena wall and rendered immobilised. Typhoon also managed to annihilate the bottom of Mammoth, therefore it couldn't move properly anymore. Doom quickly came in and began to push the wounded Mammoth, whilst Typhoon then dealt blows to Hard Cheese and Genesis, effectively immobilising both machines, with Genesis being knocked onto the floor flipper.
"This is only a middleweight contest, but I think if you threw Typhoon in with some heavyweights, they'd have a real chance. Mammoth's chances...well, I'm not too sure. To be honest, I think my lawnmower could do better!"
— Jonathan Pearce on Typhoon and Mammoth.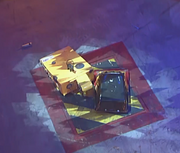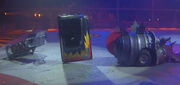 Hard Cheese was still spinning around in circles, but couldn't move freely across the arena floor. Doom was immobilised next, around the time that Genesis was counted out by the Refbot and thrown by the arena floor flipper. The two next to go on the floor flipper were Mammoth and Zap. The final two to be put on the floor flipper were Hard Cheese and Doom, as Hard Cheese finally ground to a firm halt. After being flipped by the floor flipper, Doom landed on Matilda's flywheel, causing horrific damage. Typhoon won as the last robot left mobile.
"What a Mammoth fight! Hard Cheese to Doom, Genesis and Zap!"
— Craig Charles, using all the beaten robot names
Typhoon had single-handedly defeated all of its opponents, becoming the Robot Wars Extreme Series 1 Middleweight Champion, and even ripped a fibreglass tusk away from Matilda[1], not shown on television.
Winner: Typhoon
Mammoth, although it weighed as much as most of the other competitors in the melee, was in fact a Lightweight class robot, due to it being a walkerbot. The only reason that Mammoth participated in this event was because the Lightweight Championship that was to be held during Extreme 1 had been cancelled.
This battle marked the first appearance of Team Typhoon in any Robot Wars competition. Conversely, it was also the last appearance of former Middleweight champion Hard Cheese.
References
Edit
Community content is available under
CC-BY-SA
unless otherwise noted.