"The Vengeance match is a completely new contest being introduced for Robot Wars Extreme. Robots or teams harbouring grievances, or those whose pride has been wounded as much as their robot armour, can challenge each other to a Vengeance match."
Vengeance battles were a series of one-on-one battles held during Robot Wars Extreme: Series 1. Two teams harbouring grudges against each other would have their robots fight each other to settle the grudge. The grudges ranged from losing to the robot the previous year to teams simply trying to out-do each other or responding to opponents' comments about themselves and/or their robots.
Competing Robots
[
]
101
Weight
97kg
Dimensions
1.2m x 0.75m x 0.3m
Power
Electric Motors
Weapons
Autonomous Spike
Strengths
Agile & Violent
Weaknesses
Traction Control
From: Kettering in Northamptonshire
Team Members: Mike Franklin, Amy Franklin, Steve Bickle
Bigger Brother
Weight
96kg
Dimensions
0.8m x 0.8m x 0.4m
Power
24v Electric Motor
Weapons
Pneumatic Powered Flipper
Strengths
Powerful Weapon
Weaknesses
Difficult to Control
From: Brighton in Sussex
Team Members: Joe Watts, Ellie Watts, Ian Watts
Comengetorix
Weight
93kg
Dimensions
1.28m x 0.88m x 0.31m
Power
24 Volt Electric Motors
Weapons
Axe and Flipper
Strengths
Self-Righting Mechanism
Weaknesses
Reliability
From: The Isle of Wright
Team Members: Ian Gear, Alistair Curtis-Horsfall, Tom Curtis-Horsfall
Diotoir
Weight
93kg
Dimensions
1.17m x 1.04m x 0.39m
Power
36V Motor
Weapons
Wedge & Scoop
Strengths
Low Ground Clearance
Weaknesses
Flammable
From: Clondalkin, Dublin in Ireland
Team Members: Peter Redmond, Joe Gavin, Dr. Zulu
Firestorm 3
Weight
100kg
Dimensions
1.05m x 0.90m x 0.31m
Power
2 Electric Motors
Weapons
Pneumatic Flipping Arm
Strengths
Powerful Flipper
Weaknesses
Poor Transmitter Reliability
From: Durham
Team Members: Graham Bone, Alex Mordue, Hazel Heslop
King B Powerworks
Weight
88kg
Dimensions
1m x 0.77m x 0.25m
Power
36v DC Motor
Weapons
Front Disc and Rear Lifter
Strengths
Extremely Powerful
Weaknesses
Exposed Tyres
From: Havant
Team Members: Simon Harrison, Grant Hornsby
Mega Morg
Weight
99kg
Dimensions
1.5m x 0.9m x 0.6m
Power
2 x 12v Motors
Weapons
Pneumatic Spikes and Axes
Strengths
Self-Righting Ability
Weaknesses
Slow & Sluggish
From: Penclawdd
Team Members: Dorian Caudy, Dylan Jenkins, Mark Hooper
Ming 3
Weight
100kg
Dimensions
1.33m x 0.77m x 0.8m
Power
2 x 12v Motors
Weapons
Crushing Arm
Strengths
Powerful Weaponry
Weaknesses
Exposed Tyres
From: Somerset
Team Members: Andrew Cotterell, Alexander Cotterell, Oliver Cotterell
Napalm
Weight
84kg
Dimensions
1.94m x 0.95m x 0.7m
Power
24v Electric Motor
Weapons
Spikes & Rotary Arm
Strengths
Heavily Armoured
Weaknesses
Poor Reliability
From: New Ash Green
Team Members: David Crosby, Vikki Allgood, Clare Greenaway
Panic Attack
Weight
98kg
Dimensions
1m x 0.7m x 0.16m
Power
24v Motor
Weapons
Lifting Forks
Strengths
Impenetrable Armour
Weaknesses
Reliability of Weapon
From: Thornhill
Team Members: Kim Davies, Michael Davies, Christian Bridge
Plunderbird 5
Weight
99kg
Dimensions
1.20m x 1m x 0.40m
Power
24v Electric Motor
Weapons
Slicing Jaw & Lifter
Strengths
Brute Force
Weaknesses
Lack of Control
From: Alton in Hampshire
Team Members: Mike Onslow, Bryan Kilburn
Pussycat
Weight
97kg
Dimensions
0.56m x 0.73m x 0.97m
Power
2 x Electric Motors
Weapons
Spinning Blade
Strengths
Always Lands On Its Feet
Weaknesses
Exposed Tyres
From: Gloucester
Team Members: Alan Gribble, Robert Bettington, David Gribble
Razer
Weight
96kg
Dimensions
0.39m x 1.06m x 0.66m
Power
2 x 24v Motors
Weapons
Hydraulic Ram & Scoop
Strengths
Crushing Arm
Weaknesses
Reliability
From: Bournemouth in Dorset
Team Members: Simon Scott, Vincent Blood, Ian Lewis
Sir Chromalot
Weight
96kg
Dimensions
1.05m x 0.64m x 1.12m
Power
24v Electric Motor
Weapons
Gas Powered Flipper & Drills
Strengths
Quick & Versatile
Weaknesses
Poor Weaponry
From: South Ockendon in Essex
Team Members: Steve Merrill, Ray Tait
Stinger
Weight
83kg
Dimensions
0.71m x 0.61m x 0.38m
Power
2 x 24v Electric Motors
Weapons
Bludgeoning Spike
Strengths
Heavy Duty Weapon
Weaknesses
Exposed Tyres
From: Branston, Lincoln
Team Members: Kevin Scott, Tim Mann, Karl Skinner
Thermidor 2
Weight
95kg
Dimensions
1m x 0.8m x 0.34m
Power
2 x 750w Motors
Weapons
Pneumatic Flipper & Claws
Strengths
Powerful Flipper
Weaknesses
Fragile Shell
From: Costessey, Norwich, Norfolk
Team Members: David Harding, Ian Harvey
Tornado
Weight
97kg
Dimensions
0.85m x 0.7m x 0.25m
Power
2 x 750w Motors
Weapons
2000rpm Spinning Disc
Strengths
Invertible
Weaknesses
Easily Flipped
From: Huntingdon in Cambridgeshire
Team Members: Andrew Marchant, David Gamble, Bryan Moss
X-Terminator
Weight
99kg
Dimensions
0.8m x 0.6m x 0.5m
Power
24v Electric Motors
Weapons
Pneumatic Axe
Strengths
37kg Axe & Base
Weaknesses
Poor Maneuverability
From: Belmont
Team Members: Marlon Pritchard, Paul Lewis, Simon Baldwin
Grudge Matches
[
]
Stinger vs Tornado
[
]
"We fought Stinger in a slightly fake grudge match - at least Tornado performed better than our acting!"
— Team Tornado website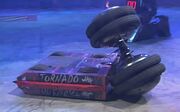 The Stinger team had referred to Tornado as a "big boring box on wheels", which "upset" the Tornado team greatly. The battle was held at the request of the two teams, who both had supporters in the audience to watch them fight, and was originally intended to be part of the All-Stars tournament.[1]
"They're boring! My mother hates them, they just spin around in a circle, and we're going to show them who's boss!"
— Andrew Marchant
This was the first match held for the first series of Extreme. Tornado drove straight at Stinger and began to push it around the arena, with Stinger hitting it with its mace, but with no great effect. Stinger then tried its spinning tactic, but was instead pushed over by Tornado. Tornado continued to pressurize Stinger and attempted to push it on the flame-pit, but backed away before this could happen. A second try managed to get Stinger on the flame pit, but no obvious damage was caused.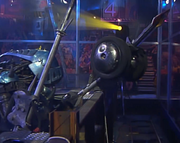 "...and throughout this series of Robot Wars Extreme, the Vengeance Battles give plenty of opportunity for teams to get their own back"
— Jonathan Pearce on the Vengeance battles
Tornado struck Stinger again, this time flipping it over, but as Stinger was invertible, this had no effect. Stinger tried spinning again, but Tornado pushed it into Dead Metal's CPZ, who attempted to grab it by its axle. Stinger escaped before this could happen, hitting the house robot on the "head" in the process. Stinger drove away and began hitting Tornado again, but could not prevent the lower robot from pushing it around the arena. Another slam from Tornado flipped Stinger over again, but in its aggressive attacks, Tornado strayed towards Dead Metal, who cut into it with his saw.
"Wanting vengeance of its own, perhaps?...Dead Metal is very much part of the warzone now!"
— Jonathan Pearce as Dead Metal attacks Tornado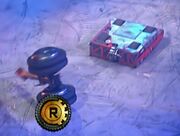 Stinger briefly got caught under Dead Metal, but Tornado pushed it away and towards the other end of the arena, this time into Sir Killalot's CPZ. Stinger was boxed into the corner and Sir Killalot grabbed hold of it by the axle and dangled it over the arena wall, threatening to drop it out.
""Oh no!" he's saying, "No!" Yes, yes, yes, yes! Get the wig off!"
— Jonathan Pearce, in response to the reactions of a Stinger fan in the audience
However, Sir Killalot reversed away from the arena wall before it let go of Stinger, but the axlebot seemed a lot more sluggish as Tornado pushed it towards the angle grinders. Stinger drove away, but both robots seemed somewhat lethargic, with a bit of foam sticking out of Stinger's tyres. As they continued pushing each other, Refbot counted down to the end of the battle, and the judges were called to make a decision.
Winner: Tornado
Panic Attack vs X-Terminator
[
]
"Can you believe it? Someone's got a grudge against Panic Attack, the former British champions."
— Craig Charles sets the scene for the grudge match
The X-Terminator team were unhappy with their losses against Panic Attack, not only after it beat it in Series 3 after X-Terminator's CO2 canister was ruptured, but also after Panic Attack narrowly beat it in the Sumo Basho of Series 4. The team also blamed Panic Attack's attack on Sir Killalot in Series 4 for their poor performance later in the same semi-final.
X-Terminator entered the arena with a large fixed spike at the front, but this proved to be its undoing, as Panic Attack flipped it over straight away. The spike prevented X-Terminator from righting itself. Panic Attack opened the pit, then attempted to push X-Terminator towards it, but in doing so actually helped to right it. The two robots then chased each other around the arena, with Panic Attack pushing underneath X-Terminator a few times, its foe missing an axe blow. Eventually, Panic Attack drove near the pit, luring X-Terminator towards it, before lifting it up and carefully dropping it in the pit.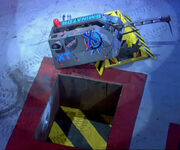 The X-Terminator team later described this battle as their worst ever.
Craig Charles: "Do you accept that this robot, now, is far superior to yours?"
Marlon Pritchard: "No, we were just unlucky. It just wasn't working as well as it should"
— Excuses after the battle
Interestingly, a clip of X-Terminator entering the arena in its Series 5 guise was used, rather than the bodyshape it featured in this particular battle.
Winner: Panic Attack
Razer vs Pussycat
[
]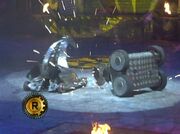 This grudge match, the main event of the 4th show, dated back to Series 4, after Pussycat caused major damage to a disabled Razer. Team captain Ian Lewis was unhappy with the way that Pussycat had treated Razer, claiming that the team had broken a "Gentleman's Agreement" not to cause excessive damage.
"In the fourth wars, Pussycat beat us up when we were immobilised, and we're not happy about that at all"
— Ian Lewis of Team Razer
The Pussycat team argued that because Razer's wheels were still moving, it gave the impression of mobility, which was why they continued to attack.
"If the wheels had stopped turning when we'd hit the switch, they wouldn't have got smashed up! When the wheels stop turning, we stop smacking them!"
— Alan Gribble of the Cold Fusion Team
The battle started with both robots driving around each other. Pussycat then drove head-long into Razer's claw, causing a few sparks, but neither robot was able to gain an advantage from there. As Pussycat tried to turn away, Razer suddenly got a side-on attack and sunk its claw into Pussycat's body.
"Ian Lewis is very unhappy, but...well, do you see Hypno-Disc's victims bleating and coming back? You don't! Ian, it's in the nature of Robot Wars, if you're beaten, you're beaten! Take it like a man! He is, look at this!"
— Jonathan Pearce's thoughts, right as Razer grabs Pussycat
Razer lifted Pussycat into the air and carried it over to the flame pit, but ended up dropping its foe. Pussycat fell onto its side on the flame pit, but managed to escape.
"Now there's a cat on a hot tin roof if ever there was one"
— Jonathan Pearce
Pussycat quickly retaliated, charging at Razer and hitting it side on, causing some nasty looking sparks. It then hit Razer right on its front right wheel, causing even more sparks. These two attacks caused something to break inside of Razer, because although its wheels were spinning, it was unable to move at all, seemingly off-balance by one of Pussycat's attacks. Pussycat continued to push into Razer, but even though the claw was working, Razer still wouldn't move. After a few more nudges, it became clear that Razer wasn't going to be able to fight anymore.
"I think it is going to be defeat, but Ian with a smile, and what's important is that he is smiling"
— Jonathan Pearce, noting that Ian is taking defeat better this time
Pussycat then pressed the pit release button, then started attacking Razer, just like it had done in Series 4. This time, though, it was unable to cause any damage to Razer's thicker armour plating. After a few more attempted assaults, Razer was finally counted out by Refbot.
"...and it's ended just like before, with Pussycat the winners, and Razer grumbling and stumbling and out! They won't like it! They're gonna have to accept it! Pussycat is the better robot of the two when they come head-to-head"
— Jonathan Pearce
Pussycat attempted to push Razer towards the pit, but its body plan made this difficult. In the end, Shunt took over, and pushed Razer straight into the pit.
The Razer team were much more gracious in defeat this time, but they still requested another re-match for the future.
"Will the score EVER be settled?"
— Craig Charles as Ian Lewis requests another battle
Winner: Pussycat
Firestorm 3 vs Diotoir
[
]
Although the two had fought each other in Series 3, the grudge was actually based on an insulting comment that Diotoir team member Ciaron Byrne (aka Dr Zulu) made about the Firestorm team in the Robot Wars Magazine in his column. An agreement was made that, if Firestorm won, Zulu would write an apology in the magazine. In addition to this, CCTV camera picked up an (obviously staged) illegal sabotage involving Zulu vandalising Firestorm. The Diotoir team were promptly threatened with being stripped of their Sportsmanship Award should it happen again.
"Zulu! I've taken my pin-ups of you off my wall at home!"
— Jonathan Pearce gets in on the action
In the battle itself, both robots charged at each other, but neither was able to get underneath the low ground clearances both had. Firestorm attempted to drive around the side of Diotoir, but Diotoir kept turning towards it and momentarily got underneath its side, but failed to flip it. Another head-on collision proved futile, but moments later, Firestorm got underneath Diotoir from the side and rolled it over until it fell onto its back. Diotoir attempted to right itself, but it only served to knock its eyes off. Refbot came in to investigate Diotoir, but Firestorm sportingly righted Diotoir. However, after pushing the now-blind Diotoir over the flame pit, Firestorm flipped Diotoir over onto its side and left it there to burn. Sergeant Bash also added to the blazing Irish robot's troubles with his flamethrower.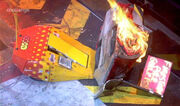 "Where there is smoke, there must be fire, and there must be Diotoir!"
— Jonathan Pearce as Diotoir goes up in flames (as usual)
Only after most of the fur had been burned off did Refbot finally put Diotoir out of its misery and count it out. Firestorm, in giving Diotoir another shove, managed to catch fire itself. Sergeant Bash finally knocked Diotoir off the arena wall and back onto its wheels, revealing that even the metal underneath was badly burnt. Despite being counted out, it still tried to ram Firestorm, but the former grand-finalist simply drove it to the other end of the arena and tried to pin it against the wall.
"Diotoir, a charcolled mess. A nude Diotoir, nuded of fur and Firestorm have well and truly rubbed them in it."
— Jonathan Pearce
Unfortunately for Firestorm, despite winning the vengeance battle, the Robot Wars Magazine was cancelled before Dr Zulu could write his apology.
Winner: Firestorm 3
Sir Chromalot vs Plunderbird 5
[
]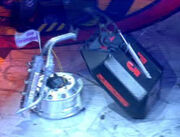 "Tonight, the ultimate vengeance battle! Plunderbird against Sir Chromalot!"
— Jonathan Pearce, introducing Show 6
This grudge match, the main event for Show 6, was to determine which one of the two teams were the better showmen. The pre-match banter included various name-calling and insults, including a mock award presented to the Plunderbird team by Steve Merrill.
Mike Onslow: "It's about time you pair of girlies got yourself a decent hard image"
Steve Merrill: "Listen here, Plunder-Girls, everytime I move my foot, your mouth opens!"
— The Class Act and International Wrecking Crew trade insults
In the battle itself, the two robots spun around each other at first, before eventually making contact with little more than a nudge on each other. After dodging a little more, the two charged again, but Sir Chromalot missed an attempt to flip Plunderbird. Plunderbird pushed back at Sir Chromalot, but didn't follow through.
"And don't forget, this might even go to the judges. I wouldn't want to be a judge if it DID go to them, mind you, because, um....they have "minders". Just to make sure, the boys who came with the Chromalot team, make sure the marking's correct. Don't be intimidated boys, we've got Killalot we can send in"
— Jonathan Pearce, noting the Class Act's "bodyguards" overseeing the judges markings
Plunderbird was proving to be the more active robot, but made no obvious attempt to attack Sir Chromalot. Eventually it rammed Chromalot head-on, but this proved to be a mistake as Chromalot got underneath Plunderbird and lifted it up, tearing off the black machine's front wedge plate in doing so. It then attempted to push Plunderbird over, but was forced to retreat, and drove into Sergeant Bash, who then entered the battle himself. Chromalot missed another attack on Plunderbird, and was then spun around by both its opponent and Bash. Plunderbird drove in for another attack, but missed.
"Are they shaking their heads as if to say "How are we going to get out of here? Are we going to get out alright?"
— Jonathan Pearce, noting the judges and bodyguards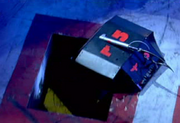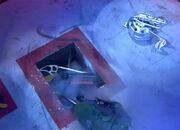 Plunderbird had by now caught hold of Sir Chromalot's flipper with its claw, and attempted to push it, but Chromalot retaliated by raising its flipper, lifting Plunderbird's wheels off the floor. Chromalot then attempted to flip Plunderbird, just as the siren for the pit release was sounded. It missed, and Plunderbird quickly pushed it across the arena, towards the pit. It missed the first attempt, then pulled back and attempted for a second, but a combination of an awkward angle and too much drive meant that Chromalot was pushed away from the pit. This proved to be a fatal error for Plunderbird as it had gone too far, and wedged itself onto the pit in an attempt to escape. Sergeant Bash confirmed the pitting by pushing Plunderbird down properly, leaving Chromalot as the victor.
Craig Charles: "If it had gone to the judges, you would have been disqualified for intimidation, with those security guys hovering around there"
Steve Merrill: "They were there just in case, Craig, if there was a split decision, they was gonna convince the judges"
— Steve explains the use of the bodyguards
Winner: Sir Chromalot
King B Powerworks vs 101
[
]
"Well, actually, judging by your past Tag Team performance, that's hardly surprising"
— Julia Reed
Perhaps the most infamous grudge in Robot Wars history, having fought twice before in Series 2 and 3, and winning one battle each, Teams King Buxton and 101 had apparently put their history behind them in Series 4, where they won the Tag Team Terror tournament (albeit not without fighting each other). However, their early loss to Diotoir and Mega Morg had bought the grudge back again, with each side blaming each other for their loss.
The battle started with the two robots charging at each other, but merely deflecting away. After a bit of spinning, King B Powerworks pushed 101 from the side. It then turned around and attempted to use its saw, but caused no obvious damage. 101 then rammed into King B, twice getting underneath it, but deflecting it away again. After a little while, it forced itself underneath once more and pushed King B into the arena wall. King B managed to escape, climbing off the top of 101. 101 then pushed back King B and, after a little bit more driving around, pushed it into the arena wall once more, forcing underneath and then pulling back before driving King B into the CPZ. Both Sergeant Bash and Shunt attacked King B, the latter hitting it with his axe but causing no obvious damage. As Sergeant Bash pushed King B back, it began to spin, which prevented Bash from pushing it any further. It continued to dart away from Bash, but 101 caught it side on. After another push, where it was attacked briefly, 101 let King B Powerworks go, but its opponent ran into the CPZ and began spinning again. When it suddenly charged into the opposite CPZ and began spinning again, it became apparent that something was wrong.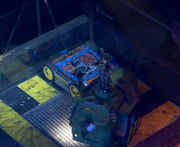 "Are they in control? We've seen this before from them, when they lost the Tag Team Terror earlier!"
— Jonathan Pearce remembers the spin-drive rampage
With control now completely gone, King B Powerworks charged around the arena, crashing into the angle grinders, spinning around the floor flipper, crashing into Refbot and Shunt, before reversing into a CPZ and spinning there.
"Let's go crazy for a while, shall we?"
— Jonathan Pearce watches King B Powerworks in delight
Eventually, Shunt and Sergeant Bash managed to trap King B Powerworks in the corner it was left in, and Sergeant Bash was able to restrain it using his pincer. As the pit was activated, he attempted to drive King B Powerworks into the pit, but very nearly drove in himself instead. However, as Sgt Bash dropped King B Powerworks into the pit, he fell in anyway.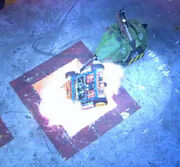 "It was good up until it went wrong, I would have liked a longer fight"
— Mike Franklin after the battle
At the conclusion of this battle, King B Powerworks concluded that 101 was the superior robot, and the teams shook hands, pledging to continue their Tag Team partnership in the future.
"History is made!"
— Craig Charles, as the King Buxton/101 rivalry is finally bought to an end
However, 101 was retired, and neither King B Powerworks nor Anarchy entered Extreme 2, making this the last contact between the pair.
Winner: 101
Ming 3 vs Mega Morg
[
]
"Last wars, Fourth wars, we had a battle with Ming. We went into that war because Scar couldn't continue. We fought them, they broke down...they've said that we won by default"
— Dorian Caudy prior to the battle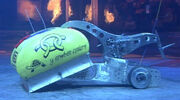 This grudge dated back to The Fourth Wars, where Ming 2 and The Morgue had fought each other. Ming 2 had being the dominant robot of the two, flipping The Morgue around the arena, before it broke down and was eliminated. Team captain Andrew Cotterell insisted that Ming was superior to Morg, and that they had only won on a technicality.
"We got right to the end of the battle and we lost power, so we did technically lose, but then the House Robots came in and did their dirty work for them, and I'd like to have a chance to kick their butts, really."
— Andrew Cotterell
As the battle begun, the two robots drove around each other a few times. Ming looked by far the more agile of the two and it wasn't long before it got around Mega Morg's side and used its claw to puncture the top of its opponent's shell.
"And look at this! The "Razer" just cutting straight through Mega Morg's shell!"
— Jonathan Pearce, having just noted Ming's similarities to Razer
Ming continued to puncture the same spot on Mega Morg, trying to make the wound deeper, before eventually attempting an attack on another part of the body. However, it failed to crush through and reversed, letting Mega Morg get away. Mega Morg's lifting spikes seemed to have jammed upwards as the two drove around the arena, before it collided with Ming side-on. The crusher-wielding robot seemed to stop momentarily, but fortunately got moving again a few seconds later.
"They haven't broken down again, have they? No, they're OK"
— Jonathan Pearce noticing Ming's pause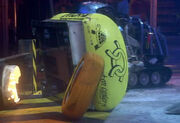 Ming attempted to attack Mega Morg from the corner, but only managed to wedge it off the ground. After more dodging, Mega Morg drove beside the arena wall close to the pit and CPZ. It attempted to flip Ming, but missed, however it was able to use its spikes to force Ming into the CPZ. However, Sir Killalot pushed Mega Morg into the pit release button, its rear spike tearing it off the wall. Mega Morg was now stuck on its side and Sir Killalot took hold of its front and attempted to pull it away, nearly falling forwards in doing so. He eventually managed to pull Mega Morg away from the wall and nearly dropped it into the pit. Dead Metal, who was reclaiming the pit release tyre, nearly drove in too second later.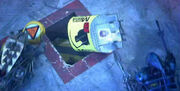 "You're supposed to do the tidying up, Dead Metal! Not go in the rubbish tip yourself! Silly old thing!"
— Jonathan Pearce as Dead Metal is beached on the edge of the pit
Now in the centre of the arena, Sir Killalot released Mega Morg and it charged at Ming once again, where it momentarily stopped again. Despite a few attempts, Mega Morg could not capitalise, unable to get underneath Ming's wheel and failing to push it. Ming drove away and wedged under Mega Morg once more, but by now Sir Killalot and Dead Metal had entered the battle fully and spent the last few seconds attacking Mega Morg and Ming, respectively. The judges were called upon and they ruled in favour of Ming 3.
After the battle, Mega Morg captain Dorian Caudy attempted to justify Mega Morg's performance by stating that they let Ming win deliberately to be "fair". Unsurprisingly, nobody believed his claims.
Craig Charles: "Where was the inspiration for that robot?"
Andrew Cotterell: "Nothing to do with Razer at all"
Craig Charles: "How did they react when you "nicked" their idea?"
Andrew Cotterell: "Well, actually, they were quite pleased, it was quite flattering to have someone else who looks like them....and it's a good idea, it works and I wanted to do something more original than a flipper, which I did before, and y'know, the piercer's different, there's not many piercers out there."
— Ming 3's origins and inspirations
Winner: Ming 3
Plunderbird 5 vs Mega Morg
[
]
This grudge was to determine which team were the best singers, after the Mega Morg team implied they were Superior because they were Welsh ("From the Land of Song"). Included in the build-up to the battle was a staged singing competition between the two teams.
"You can't sing! You can't dance! We don't like yellow, and we don't like you!"
— Mike Onslow's warning to Mega Morg
Plunderbird was by far the quicker, but it took a while to actually attack Mega Morg, driving around it before ramming into it, but Mega Morg managed to escape. The Welsh robot rammed into the side of Plunderbird, but failed to flip it. Likewise, when Plunderbird rammed into Mega Morg's side, it was unable to utalise its "Plunderthocker" due to its opponent's awkward shape.
"At the moment, it's not dramatic"
— Jonathan Pearce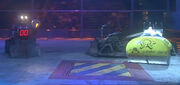 Eventually, the two met head on. Mega Morg managed to use its lifter to lift Plunderbird off the ground by its claw, and drove it around the arena a bit. After quite a while, it finally dropped Plunderbird, and the older machine started to ram it tentatively side on. Just then, Sergeant Bash, apparently bored by the lack of action, came out of his CPZ and fired his flamethrower at Mega Morg, deflating its Ninja Sheep mascot.
"Baa, Baa, Burnt Sheep!"
— Jonathan Pearce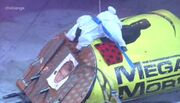 Plunderbird continued to push Mega Morg around, with its claw actually making some small dents, although nothing more than that. Mega Morg's lifter completely missed its opponent, before Shunt, who was also 'bored', came out of his CPZ and axed Mega Morg right on the melted Ninja Sheep. Refbot issued Shunt with a yellow card, but the house robot seemed to take little notice; in fact, it appeared to be stuck on Mega Morg, and his attempts at freeing himself nearly pulled him over on a few occasions.
After a little help from Refbot and Plunderbird, Shunt managed to free himself, with Plunderbird managing to get its claw between the front panel and body of Mega Morg. It continued to push it around as time ran out, and the judges had to make a decision on the decidedly boring fight.
"For a vengeance battle, that was just pushing and shoving and calling names. I'd usually show you some highlights, but there weren't any."
— Craig Charles
Winner: Plunderbird 5
Bigger Brother vs Comengetorix
[
]
This grudge match was held as a filler battle for the Annihilator special, after Panic Attack had suffered severe damage which the team had trouble fixing. The grudge dated back to another first round clash in the Tag Team Terror, where Comengetorix (with Spawn Again) beat Bigger Brother (and Major Tom). The Comengetorix team later mocked the Bigger Brother team, claiming that they had no right to fly the Union Jack (which Bigger Brother and Major Tom were flying together). The Bigger Brother team were quick to demand a grudge match.
"They dishonoured the flag"
— Ian Gear of Comengetorix
The Battle
[
]
The battle began with the two robots dodging around each other. Comengetorix missed an axe blow, and Bigger Brother quickly capitalised, ramming Comengetorix, then flipping it over.
"And has Bigger Brother already won this vengeance crunch?"
— Jonathan Pearce after the first attack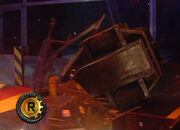 Comengetorix showed no sign of righting itself, and Bigger Brother pushed it towards the CPZ. Sergeant Bash rushed out to attack Comengetorix, who finally self-righted. Bigger Brother had seemingly forgotten about its opponent and turned its attention Bash, flipping him up against the arena wall. Sir Killalot quickly retaliated and tried to attack Bigger Brother. The former semi-finalist tried to flip the house robot and succeeded in lifting him up slightly, but no further.
"You ain't gonna flip that, young Joe!"
— Jonathan Pearce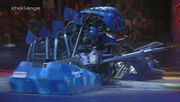 The attempts at flipping Killalot had bent Bigger Brother's flipper, and it tried to escape, when suddenly Comengetorix came to its aid, using its axe on the house robot. Its attacks proved to be more successful, the axe hooking in Killalot's armour and causing minor damage. Eventually, Sir Killalot managed to trap both robots in his CPZ, but Comengetorix's axe was at such an angle it was unable to pursue further.
"Hang on! This is a Vengeance grudge match! No no no no no, you're not supposed to be having a go at OURS, you're supposed to be having a go at THEIRS!"
— Jonathan Pearce as the "rivals" team up
After a while, Bigger Brother drove away and began spinning in the middle of the arena, firing its flipper in apparent celebration. Comengetorix was much more sluggish in response, but managed to finally escape Sir Killalot's CPZ. Eventually, the two met head on, but Bigger Brother's flipper was so badly bent it was unable to flip Comengetorix, who hit it with its axe, but caused no damage. Realising flipping it was not an option, Bigger Brother hit the pit release, before chasing after Comengetorix, nearly pushing it onto the flame pit. Taking advantage of Comengetorix's sluggishness, Bigger Brother pushed it towards the pit, shrugging off axe blows. Right at the last moment, Comengetorix tried to flip Bigger Brother away, but doing so caused it to over-balance towards the pit, where Bigger Brother quickly took advantage, and nudged it in.
"It's almost rocked itself in! It's in now!"
— Jonathan Pearce
However, moments later, Sir Killalot grabbed hold of Bigger Brother and in retaliation for its attacks, dropped it in the pit moments later.
The Revelation
[
]
"This was a ploy! We haven't got anything against each other"
— Alistair Curtis-Horsefall after the battle
After the battle, it was revealed that the two teams had never held any grudge against each other, and that the only reason the battle went ahead was to fight Sir Killalot. In spite of this, Team Big Brother were given a Union Jack to fly at the end, to signify they had gained vengeance.
Craig Charles: "They really upset you, didn't they, Joe?"
Joe Watts: "No"
— The revelation, at which point everyone, including the audience, bursts out laughing
Winner: Bigger Brother
Thermidor 2 vs Napalm 2
[
]
This grudge match stemmed from a staged comment made by Team Lobster, stating that "Robot Wars was no place for women", a comment that didn't go down well with Julia Reed or the Napalm team.
"Girls are soft, nice and friendly, this is a man's game"
— David Harding
Both robots had a very sluggish start. Thermidor got underneath Napalm's front and flipped it up, but not over. It quickly spun around, drove straight underneath its older opponent and flung it straight onto its back. After a few moments, Thermidor flipped Napalm again, causing it to land right side-up, but on the flame pit.
"Vicki [Allgood] seems to love it, they [the audience] do...but what about Napalm?"
— Jonathan Pearce, sympathising with Napalm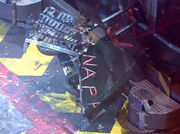 Upon landing, Napalm showed no signs of movement. Thermidor rammed it twice, causing its armour to bend and even dislodge slightly. The lobster-robot then flipped it against the arena wall, but failed to strand Napalm there. However, Napalm's immobile form attracted the attention of Refbot, who counted it out. Thermidor then flipped Napalm up against the arena wall properly this time, causing the entire front to bend and a panel to fall off, before returning and throwing it straight out of the arena.
"You shouldn't be in the arena....you're out of it now!"
— Jonathan Pearce as Thermidor 2 wins the battle of the sexes
However, despite winning the battle, Team Lobster apologised for their sexist comments from before.
Winner: Thermidor 2
Trivia
[
]
Despite these battles being called Vengeance, only five of the battles taking place were due to prior encounters. One other battle was a rematch from a previous series, but it actually took place for an entirely different reason. Of the five grudge matches, only two robots achieved a different result to the previous one.
This was the last occurrence and mention of the King Buxton/Team 101 rivalry, because the two never met again.
Pussycat became the only robot ever to defeat Razer by knockout, as opposed to a Judges' decision or a malfunction.
Razer's grudge match with Pussycat was actually filmed after, but broadcast before, The Fifth Wars.
In the Italian dub of Extreme 1, these battles were referred to as "La Vendetta", which translates simply to "Revenge", which means the same as "Vengeance".
According to Ian Gear, the roboteers were told at the start of filming to come up with ideas for Vengeance battles, meaning that the "rivalries" were thought up by the contestants themselves.[2]
References
[
]
↑ Private correspondence between RobotManiac and Ian Gear in May 2021