The Grand Final of the All-Stars Championship of Robot Wars Extreme: Series 2 was the deciding battle of the second All-Stars Championship, which took place during Robot Wars Extreme: Series 2. It featured the winners of the two heats and was broadcast at the end of the episode featuring Heat B, which was originally broadcast on January 14, 2003 on BBC Choice and repeated on May 16, 2003 on BBC Two.
Competing Robots
Edit
Firestorm 4 (winner of Heat A)
Weight
100kg
Dimensions
0.36 x 1.10 x 0.83m
Power
Electric motors
Weapons
Pneumatic flipper
Strengths
Excellent manouverability
Weaknesses
2 Wheel drive
From: Langley Moor, Durham
Team Members: Graham Bone & Hazel Heslop
Razer (winner of Heat B)
Weight
92kg
Dimensions
0.41 x 1.14 x 0.60m
Power
2 x 1000W electric motors
Weapons
Hydraulic piercer
Strengths
Nimble & very accurate
Weaknesses
Slow self-righting
From: Bournemouth, Dorset
Team Members: Ian Lewis, Simon Scott & Vincent Blood
Grand Final
Edit
Firestorm 4 vs Razer
Edit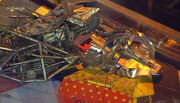 The battle started cautiously as both robots circled in the centre of the arena, looking to find a gap in the other to exploit. Firestorm 4 eventually rode up the front of Razer and pushed it back in towards Dead Metal, who kicked sparks into the air with its circular saw before Razer finally wriggled out of the House Robot's grip.
"Razer in trouble momentarily and away."
— Jonathan Pearce
Meanwhile, in attempting to keep up its pressure on Razer, Firestorm 4 got itself stuck under the angle grinder. Razer caused little damage when it came across, however, and instead, with the help of Dead Metal, unpinned Firestorm 4. Firestorm 4 instantly came back onto the attack by getting under the front of Razer but couldn't manage to fully throw it over with its flip. Firestorm 4 then drove onto Razer's wedge again, and although it managed to force Razer backwards once more, the defending All-Stars champion had penetrated Firestorm 4's armour sufficiently enough for it to be able to lift Firestorm 4 up into the air as the beak retracted.
"Out come the wings of victory which signal the wings of doom for the defeated."
— Jonathan Pearce as Razer hoists Firestorm 4 aloft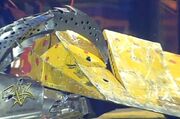 Finally, Firestorm 4 came back down onto the arena floor and tried to retreat, but Razer gave it no room to breathe and brought its crushing arm down onto the top of Firestorm 4. Firestorm 4 edged its way towards the pit, clearly limited in its movement, before Razer came in and inflicted more punishment onto Firestorm 4. Firestorm 4 then pushed the pit release button after a nudge from Razer, and was slowly pushed towards the pit before finally falling in to confirm Razer as the winner and the All-Stars champion for a second time.
"Razer all-conquering - take a bow."
— Jonathan Pearce
All-Stars Champion: Razer
"Light the fires, scream your applause, they're still the All-Star champions, on Robot Wars"
— Craig Charles signs off
This was the third and final time Firestorm and Razer would meet, and the only time that did not go to a judges' decision.
The winner of the All-Stars Championship was originally intended to automatically qualify for the Commonwealth Carnage, but runner-up Firestorm ended up representing England in the Commonwealth Carnage instead, presumably because the winner, Razer, was already fighting in the European Championship.
Community content is available under
CC-BY-SA
unless otherwise noted.