The Lightweight Championship of Robot Wars Extreme: Series 2
was an event which took place during the
Robot Rampage
episode of
Robot Wars Extreme: Series 2
. This event consisted of a single one-on-one battle between
two robots weighing no more than 27kg
.
Robots Competing
Edit
Typhoon Thunder
Weight
24kg
Dimensions
0.34m x 0.73m x 0.64m
Power
4 x 18V Drill Motors
Weapons
Spinning Shell
Strengths
No weak sides
Weaknesses
Flippable
From: Edinburgh in Scotland
Team Members: Martin Armistead, Keri Scott, Amy Drinkwater
Ellie's Little Pink-Bot
Weight
14kg
Dimensions
0.15m x 0.55m x 0.39m
Power
24V Motor
Weapons
Circular saw
Strengths
Steel armour
Weaknesses
Untested
From: Merseyside
Team Members: Hrolf Douglasson, Doug Weight
Typhoon Thunder vs Ellie's Little Pink-Bot
Edit
"I'm looking forward to the pink robot causing as much damage as a baby robot can"
— Philippa Forrester pre-battle, and in for a disappointment
Ellie's Little Pink-Bot never moved off the start, Typhoon Thunder collided with it a couple of times, after which the pink robot moved, either in a brief spasm of life, or under the recoil from a hit from Typhoon Thunder. Refbot then counted out Ellie's Little Pink-Bot, Growler attacking it with a jet from its rarely-seen flamethrower. Shunt then pushed Ellie's Little Pink-Bot onto the flipper, and it was thrown across the arena and into the pit release tyre.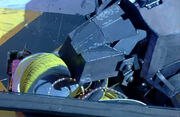 Growler then knocked the tyre off the wall, and crushed it, along with Ellie's Little Pink-Bot. After dragging the tyre and the pink robot across the arena, Growler briefly roasted both object on the flame pit, before putting them on the flipper for the second time- this time the tyre landed out of the arena. After cease was called, Growler gave one last almighty charge to rip panels off Ellie's Little Pink-Bot, and Shunt finally pitted it, leaving Typhoon Thunder the Lightweight Champions, despite doing almost nothing.
"We didn't get going because the motors will drive it providing the drive wheels are off the ground, as soon as we put it on the ground, it weighs too much for it and it wouldn't move!"
— Hrolf Douglasson explains the design flaw
Lightweight Champion: Typhoon Thunder
Community content is available under
CC-BY-SA
unless otherwise noted.