Armament! This Robot Wars article is in need of rewriting to bring it up to a higher standard. You can help Robot Wars Wiki by rewriting it.
"The adults have been hogging the controls for far too long! It's time for the kids to show Daddy how it's really done! We're talking an infant inferno, nippers with flippers! So prepare for a Minor Meltdown!"
— Craig Charles opens the Minor Meltdown
The Minor Meltdown was a side competition broadcast as part of Robot Wars Extreme: Series 2. As its name implied, the competition was a knockout tournament between six UK Series competitors driven by children, similar in concept to the one-off series Nickelodeon Robot Wars.
The episode was originally broadcast on BBC Choice on January 16, 2003 and repeated on BBC Two on June 13, 2003.
Competing Robots
Edit
Bigger Brother
Weight
96kg
Dimensions
0.50 x 0.73 x 0.93m
Power
2 x 750W electric motors
Weapons
Spiked CO2 gas ram flipper
Strengths
Indestructable
Weaknesses
None!
From: Brighton in East Sussex
Team Members: Joe Watts, Ian Watts & Ellie Watts
Killer Carrot 2
Weight
100kg
Dimensions
0.55 x 1.53 x 1.05m
Power
2 x 800W electric motors
Weapons
Flipper/lifter
Strengths
Invertible
Weaknesses
Poor armour
From: Turners Hill in West Sussex
Team Members: Rob Englebright, Adam Englebright & Mark Hale
Lambsy
Weight
94kg
Dimensions
0.34 x 1.20 x 0.53m
Power
2x 750w electric motors
Weapons
Pneumatic flipper & spike
Strengths
Invertible
Weaknesses
High ground clearance
From: Wellingborough, Northamptonshire
Team Members: Scott Lockhart, Daniel Lockhart, Tony Tobbell
Rick
Weight
98kg
Dimensions
0.32 x 0.84 x 0.83m
Power
420w electric motor
Weapons
Flipper & spinning blade
Strengths
Powerful flipper
Weaknesses
Exposed rear wheels
From: Southampton, Hampshire
Team Members: Francis Gallagher, Ian Aldridge & Kevin Gallagher
Saw Point
Weight
100kg
Dimensions
0.55 x 1.30 x 0.94m
Power
350w Electric Motor
Weapons
Lifter, Thumper & Spinner
Strengths
Tough as old boots
Weaknesses
No Side Weapons
From: Chesham, Buckinghamshire
Team Members: Ryan Delph, Chris Delph, Gordon Johncock
Tetanus 2
Weight
99kg
Dimensions
0.76 x 1.60 x 1.20m
Power
2 x Wheelchair motors
Weapons
Spike, ram and fork lifter
Strengths
Big & strong
Weaknesses
Slow self-righting
From: Ludlow in Shropshire
Team Members: Paul Snook, Conrad Snook & Luke Angell
The Minor Meltdown was a straightforward knockout tournament with a similar format to the heats of The Fourth Wars and various other Extreme 2 competitions. Six competitors would be grouped into two three-way 'Eliminators', with two robots going through to the Semi-Finals. The two winning Semi-Finalists would meet each other in a one-on-one Final, where the winner would be crowned Minor Meltdown champion.
Eliminators
Edit
Bigger Brother vs Lambsy vs Saw Point
Edit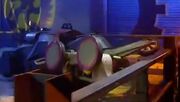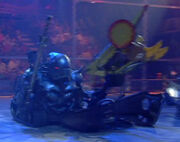 The initial clash caused the sheep to become dislodged from the top of Lambsy. Lambsy attempted to clamp onto the wheels of Saw Point, but they were too big to reach. Bigger Brother drove into Saw Point and attempted to flip it, before pushing it the length of the arena and tossing it onto its back. Bigger Brother pushed both robots across the arena, before putting Saw Point into Growler's CPZ. Growler seized the immobile Saw Point. As Lambsy and Bigger Brother continued their battle, Growler slammed Saw Point into the side wall, dislodging one of its wheels. Bigger Brother pushed Lambsy into the pit release, flipping it over as Saw Point was counted out.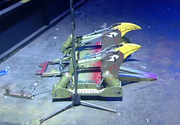 Sir Killalot threw Saw Point around the arena, and Bigger Brother pitted Lambsy, but Saw Point was already out, and it was crushed underneath an array of car parts. Sir Killalot then dropped Saw Point out of the arena while Growler pushed a refrigerator, also from the drop zone into the pit on top of Lambsy.
Qualified: Bigger Brother & Lambsy
Rick vs Killer Carrot 2 vs Tetanus 2
Edit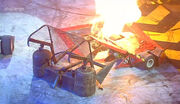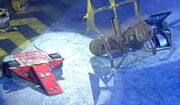 Rick and Killer Carrot 2 collided, but neither flipper got beneath the other. Meanwhile Tetanus 2 moved ponderously towards both robots, and pushed Killer Carrot 2 into the CPZ. However, Rick caught Tetanus 2 and pushed it back, flipping it onto its back. Tetanus 2 used its bizarre design to self-right, and pushed Killer Carrot 2 onto Rick's wedge, which flipped it up but not over.
Tetanus 2 and Killer Carrot 2 then fought as Rick activated the pit release. Flipping Tetanus 2 over, Rick pushed it into Killer Carrot 2, who reversed it into the pit.
Qualified: Rick & Killer Carrot 2
Semi-Finals
Edit
Lambsy vs Killer Carrot 2
Edit
Killer Carrot 2 flipped over Lambsy, dislodging the sheep again. Lambsy avoided Killer Carrot 2's flipper, and clamped on to Killer Carrot 2, pushing it into the CPZ, where Mr. Psycho smashed it with its hammer. Both fled the CPZ, and clashed by the flame pit, where Killer Carrot 2's wheel became dislodged and rolled away from the robot. Killer Carrot 2 then attacked Mr Psycho, who had picked up its wheel, but to no avail; its flipper was nowhere near strong enough.
"Lambsy's graze on grass, surely, not root vegetables!"
— Jonathan Pearce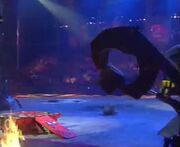 With only one wheel mobile, Killer Carrot 2 was counted out by Refbot who Killer Carrot 2 also tried to flip over. Dead Metal sliced into the rear of Killer Carrot 2 and put it on the floor flipper, but it drove off at the last minute when it got flipped. It was finally pitted by Dead Metal.
Winner: Lambsy
Bigger Brother vs Rick
Edit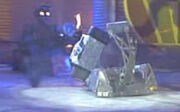 The beginning of the battle was filled with excitement, but neither robot could land a blow on the other. Rick partially flipped Bigger Brother, but it landed on its wheels. Bigger Brother flipped Rick over, when suddenly Dead Metal's blade came rolling across the arena floor, disappearing in the crack between the arena wall and floor. The pit descended, and Rick fled, with Bigger Brother in pursuit.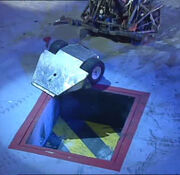 Rick attempted to right itself, despite being invertible, it could not use its flipper while upside down, thus it failed. Rick broke down in the CPZ, and placed on the Disc of Doom, with Refbot counting it out of the episode. It flew off quickly, but Bigger Brother could not push it because of the spin. Dead Metal pushed Bigger Brother away, but was also spun to one side. Dead Metal caught Rick and pitted it.
Winner: Bigger Brother
Bigger Brother vs Lambsy
Edit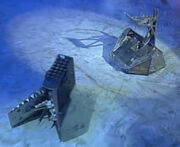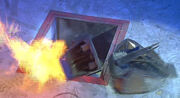 Bigger Brother charged down Lambsy, flipping it onto its side. After activating the pit, Bigger Brother reversed into Lambsy, knocking it down the pit.
Minor Meltdown Champion: Bigger Brother
"They're all off to wash their grubby little paws, 'cause it's all dirty business, it's Robot Wars!"
— Craig Charles' sign-off
The Minor Meltdown final between Bigger Brother and Lambsy is ranked equal nineteenth in the Shortest Battles in UK Robot Wars.
Bigger Brother previously fought Rick in Nickelodeon Robot Wars and Killer Carrot 2 in the Sixth Wars, leaving Tetanus 2 as the only robot in this episode not to battle Bigger Brother. They both previously appeared in Heat I of Series 5, with both fighting 3 Stegs 2 Heaven in that heat.
All battles in this episode ended with a pitting, although in the first battle, Lambsy had already won as Saw Point was defeated before Lambsy was pitted. Therefore, this episode featured no judges' decisions.
In the fourth battle, Jonathan Pearce mistakenly stated that Bigger Brother had defeated Razer in the past when it lost to it in the Series 5 Grand Final.
Saw Point, Team Coyote and Tetanus will all appear again in Heat E of Series 7, with Team Coyote fighting them both there.
When originally announced on the Robot Wars discussion forums, the competition rules stated that team members had to be aged twelve or younger, and that adults, whilst able to help, could not appear with the teams on screen. Neither of these rules were in place in the episode as filmed.
"Six teams of tiny roboteers, all under the age of 12, take to the controls to show their Dad's how to do it and become the Junior Champion of Robot Wars. If you've got a son or daughter who deserves to win let us know - or a godchild, friend of the family, neighbours kids, whatever. Open to anyone under the age of 12 years old. Naturally, for health and safety reasons adults will be involved in the team - but behind the scenes and not in vision. "
— Official announcement for the Annihilator from the Robot Wars Forum[1]
References
Edit
Community content is available under
CC-BY-SA
unless otherwise noted.