Rolling Thunder 2, stylised as Rolling Thunder II, was a box-shaped super heavyweight robot from Greenock, Scotland that failed to appear in the Third Wars.
In April 2000, team captain Peter Smith moved to America, where he formed a new team and started building a new robot based on the original drive train of Rolling Thunder. It is unknown if the robot was completed.
Rolling Thunder competed in local live events alongside Blade, Baby Blue, KillerWatts and many other competitors from Series 2.
Design
[
]
Rolling Thunder 2's armour was a mixture of 9.5mm and 5mm Lexan with aluminium diamond plate top cover. Its weapon was a 4" milling cutter mounted on pneumatic rams and driven by a car starter motor. It was an invertible machine, mainly based on King Buxton. The team claimed it was to make the robot more reliable than most of the machines that competed in the previous wars.
"The design was the result of extensive study of the televised series I and II robot wars shows and a study of what other competitors were thinking and doing on the many web sites on the net. We concluded that we should concentrate on reliability, ease of control and power rather than on a super weapon system. It seemed that few robots were eliminated by being destroyed by their opponents but the vast majority because they either broke down, were hard to control or had insufficient power to resist being pushed about into the house robots or down a pit."
— The team's website
Qualification
[
]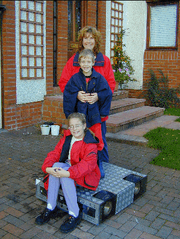 It initially failed to qualify due to being 4kg overweight. The team were capable of reducing the robot's weight by drilling holes into the body, but the team were instead encouraged to keep the weight, and enter the Super Heavyweight Championship, which they qualified for. However, due to an incident in which an unidentified robot injured a crew member, the event was cancelled, causing all super heavyweight robots to miss out on Robot Wars.
The team also expressed interest in appearing in the eventually cancelled Tag Team event for Series 3, here they searched for a partner .
"Anyone need a Tag partner? Rolling thunder is in the mould of All torque and king buxton ie a powerfull (bosch 750's, Vantec and Genesis batteries)4WD "box" with lexan side armour and Aluminium tread plate for the top. Weapon is probably a passive ramming spike but may be a motor driven milling cutter if time and weight allows. Battle proven in the local comp. in June."
— Peter Smith
Series Record
[
]
External Links
[
]