Roter Ochse was a super heavyweight robot that competed in Series 2 of Robot Wars. It solely fought in the Super Heavyweight Championship, also known as the Super Showdown, but lost its qualifier battle after losing control and smashing through the arena wall.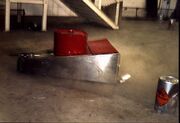 Roter Ochse was a large, silver and red cutoff wedge-shaped robot with an oil barrel mounted on top and powered by an 8.5hp Honda engine. Its weapon was a unique Kango-branded demolition hammer - essentially a handheld-sized jackhammer - which was capable of causing massive damage by buckling and bending other robots' armour and chassis. The demolition hammer proved very potent, even buckling the arena wall at one point. However, this, combined with its tendency to spring out of control, saw it effectively being disqualified on safety grounds from its only battle.
Etymology
Edit
Roter Ochse is German for "red ox."
Robot History
Edit
In its Super Showdown qualifier, Roter Ochse was due to face Siren and Thud. It immediately hit problems when the team started its Honda engine before the battle, with a few pulls of the starter being enough for it to suddenly jump into life and run uncontrollably across the arena. After a short while, Roter Ochse was eventually stopped and the battle was deemed safe to start.
"A panicky floor manager asked us to clear the floor whilst the beast was tamed and captured."
— Team Thud on Roter Ochse (incorrectly referred to as "Bumble Bott" on their website)[1]
In the opening moments of its qualifier, Roter Ochse drove round the outside of Siren, but stayed out of the action as Siren attacked Thud and Thud ended up losing drive to one side after a run-in with Sergeant Bash. However, around 55 seconds into the battle, Roter Ochse ran out of control again, smashing through the arena wall and into a television camera. The battle was stopped and cancelled with immediate effect, with Siren being declared the winner as it was the only robot still functioning fully at that point.
Wins/Losses
Edit
Series Record
Edit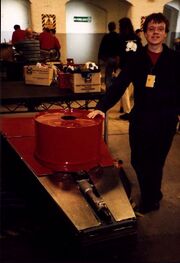 References
Edit
Community content is available under
CC-BY-SA
unless otherwise noted.