For the similarly named super heavyweight competitor, see Bottweiler.
"It may growl and prowl, but its top speed of 10mph is the slowest in the heat. Its high ground clearance of 50mm could leave it vulenerable to a flip. Its shell is 5mm thick, and the hardened steel spikes are 15cm long. I wonder if Rottweiler's bark is worse than its bite!"
— Jonathan Pearce introduces Rottweiler
Rottweiler was a heavyweight robot that was entered by Team UK Robotics in Series 2 of Robot Wars. The robot itself was named after the family's surname, Rott.
"I saw Robotwars On TV and thought it would be good fun to enter as i have always liked electronics and making small robots."
— Dominic Rott on the UK Robotics website
It was eliminated in the Trial stage of its heat and was never seen fighting another competitor robot. The team later built a new robot, Constrictor, which competed in the Seventh Wars.
" It's main weapon was going to be its strength and power - The idea was that it would be powerful enough to push all the other robots out the way with the spikes or stab the spikes into them and immobilise them."
— UK Robotics website on Rottweiler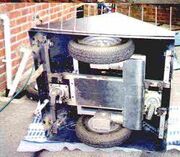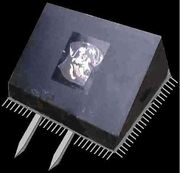 Rottweiler was a triangular prism shaped robot, with a 5mm thick shell and a picture of a Rottweiler dog on the front. To complete the dog theme, it was armed with rows of 15cm spikes around the edge of its shell, resembling a dog collar. It had a high ground clearance of 50mm and was slow at 10 mph.
Construction started when Werner Rott bought an electric wheelchair, which the team took apart for the wheels and electronics. It narrowly weighed over the weight limit for Heavyweights at the time.
"We thought it stood a good chance but the robot had several problems which were not discovered until it was too late: The circuit board which controlled the motors could not take the current the motors were using. The castors were not positioned very well so sometimes, when the robot was on an uneven surface, the castors would touch the ground but the powered wheels wouldn't. The steel used for the spikes was not hard enough so the spikes would bend if to much force was put on them. The robot would not drive in a straight line. We did not have enough driving practice."
— UK Robotics website reflects on Rottweiler
Qualification
Edit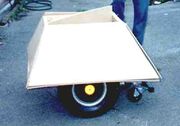 Like many robots at the Series 2 auditions, Rottweiler attended the auditions in an unfinished state, with unpainted wooden armour. Despite catching fire in its audition, Rottweiler was still chosen to compete.
"At the auditions, the people checking it for safety were watching us demonstrate it - after about 2/3 minutes the wires got too hot and went up in smoke. Even so, we still managed to get chosen for the filming in the end"
— UK Robotics website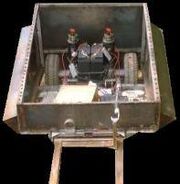 After the Second Wars, Team UK Robotics built an upgraded version of Rottweiler, called Rottweiler 2, which failed to qualify for Series 3. The team missed the Series 4 auditions because they were on holiday, then decided that Rottweiler was too outdated to enter Series 5, so they decided to retire it.
"...unfortunately we were not able to make it to the series 4 auditions because of a 2 week holiday on the Greek island, Skiathos. Because we have missed 2 series, the two year old design (that doesn't even have a self righting mechanism) would be no good against series 5 quality robots. For this reason Rottweiler 2 has been abandoned in its current state."
— UK Robotics website
Robot History
Edit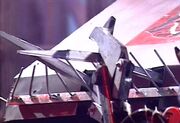 Rottweiler started quickly, but appeared to have some control problems as it spun around on the spot whilst trying to go over the ramp. The house robots then came in and Sergeant Bash cut into Rottweiler's armour, Matilda then tried to flip Rottweiler, but it fell of the ramp and became stuck, sparing Rottweiler from damage until Sir Killalot cut one of Rottweiler's spikes off.
"Rottweiler, bit of a puppy really, so far!"
— Jonathan Pearce as Sir Killalot closed in
Having covered only 3.5 metres, it looked like the team would be knocked out of the competition in the first round, until Cruella's run saw it impale itself on the ramrig.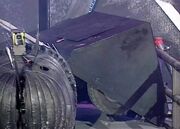 Rottweiler managed to get through to the Trial stage, which was the Joust task. After Prometheus' bad run, all Rottweiler had to do was go forward or maintain its current position, but instead it went sideways and Matilda simply pushed Rottweiler back into the entrance door, eliminating it.
"The spikes won't help Rottweiler here, and his bark was worse than his bite! Get back to the kennels!"
— Jonathan Pearce as Matilda rams Rottweiler
ROTTWEILER - RESULTS
Series 2
The Second Wars - UK Championship
Heat, Trial
Heat I, Gauntlet
3.5m (5th)
Qualified
Heat I, Trial (Joust)
-2.8m (5th)
Eliminated
Series Record
Edit
Outside Robot Wars
Edit
Rottweiler 2, among other Robot Wars competitors such as Killertron, Wheely Big Cheese, Eye of Newt, Tor, St. Agro and Miss Struts, took part in the 2000 Children in Need event which consisted of tug of war, battles and sumo matches [1]
Rottweiler is one of 20 robots never to fight in robot combat, having only ever been in the Gauntlet or Trial.
Rottweiler's electrics had to be repaired after burning out the night before filming.
"the night before the filming at about 11pm and we had just figured out why it had been running so slowly that day. The answer - the brakes burned out because we put too much power into them but it wasn't our fault because we assumed the brakes on a 24v motor would be 24v but we found out later it was 12v, never mind we thought, we just wont have any brakes for Robotwars. But it got worse the circuitry was not at all suitable for the current the motors needed anyway but with the motors fighting against the brakes the whole circuit board would blow up in minutes. Anyway, a few phone calls later we were on the road to recovery - Thanks Bill for coming round at 11:00 at night in the pouring rain to sort out the brakes"
— UK Robotics website
Team member Bill Blakely was absent for the recording of Rottweiler's heat.
Team UK Robotics' later appearance with Constrictor in Series 7 is the longest gap between consecutive appearances for any team in Robot Wars, joint with The General's gap between Series 3 and 2016.
External Links
Edit
References
Edit
Community content is available under
CC-BY-SA
unless otherwise noted.