"This team of engineering students hopes to get under the competition with their 5mm hardened steel scoop, and it's quick too at 14mph!"
— Jonathan Pearce
Rusty was a robot which competed in Series 9 of Robot Wars. Entered by Engineering Systems students from Glasgow Clyde College, it was an upgraded version of Ceros V2.0, a successor to the Series 7 competitor Ceros, which was restored and entered as part of the students' final exam project. It was defeated in the first round by the defending champion Apollo.
Team Glasgow Clyde College previously withdrew from Series 8 with Pod, although the two teams did not share any televised members, as Pod's team members entered Clyde Built, which withdrew from the same heat Rusty entered.
Design
[
]
"Rusty is an old robot brought back to life by the students at Glasgow Clyde College. With the support from staff members the team upgraded it from its original specification which had aluminium armour and old internal components to one with hardened steel, upgraded drive and better electronics. The robot is a low-pressure flipper designed to be highly reliable and easy for students to maintain and run as well as learn the basics of electronics, mechanics, fabrication, pneumatics, manufacture and design."
— The Robot Wars website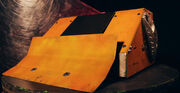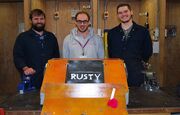 Rusty was an orange and dark grey wedge-shaped robot armed with a low-pressure titanium flipper. The flipper featured a wide 5mm hardened steel scoop at the end and was capable of 1200kg of lift. The robot was armoured in 10mm aluminium with a 3.2mm hardened steel outer layer - this was an upgrade from Ceros V2.0, which only featured aluminium armour, with Rusty's team of students also changing the robot's drive system to new AmpFlow E30-150 motors, and altering the electronics. However, Rusty had a critical design flaw in that it could not self-right from its back panel, and the robot also proved fragile. In its televised fight, Rusty was decorated with pink fluffy mascots.
The Team
[
]
At the time of Series 9, Rusty was owned by Tony Smith, an Engineering Systems teacher at Glasgow Clyde College, although Tony Smith was not present on the team, as he had brought his own entry for Series 9, Clyde Built.
"The team is made up of students currently studying Engineering Systems at Glasgow Clyde College who used Rusty as their final exam project."
— The Robot Wars website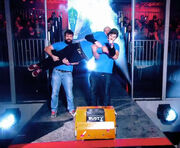 The televised Team Glasgow Clyde College consisted of three mature students taught by Tony Smith. 30-year old David Shields was the driver of Rusty, who was also in charge of assembly. 34-year old Nicholas Haugh contributed to Rusty's CAD process, and 25-year old Cameron Dale was credited for the design and manufacture of Rusty.
According to the Robot Wars website, the three students had converted Rusty from its previous guise as Ceros V2.0 as part of their final exam project.
Qualification
[
]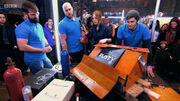 Rusty's method of qualifying for Series 9 was unique, as it never originally applied to compete in the series. Team Glasgow Clyde College had already built the reserve entry Clyde Built, which eventually joined the roster of Heat 5, before later withdrawing. However, the producers noticed an absence of reserve robots, so Tony Smith was contacted to see if he possessed any other robots[1]. Smith suggested his robot Ceros V2.0, and after being accepted as a reserve, Rusty was completed and later took part in Heat 5, the same heat Clyde Built was also entering.
"Robot Wars called me a week and a bit before filming and mentioned that they were really short of reserves and I said I had an old HW that I didn't enter but that my students could use and he said yes."
— Tony Smith
Robot History
[
]
Series 9
[
]
Rusty competed in Heat 5, where it faced the reigning champion Apollo, and fellow newcomers Coyote and Ms Nightshade. However this would prove to be the team's first time driving the robot, adding extra pressure. Team Glasgow Clyde College entered the arena, lifting up one of their team members in their hero shot.
"This local team from Glasgow have never actually driven the robot before, and it's totally untested in the arena."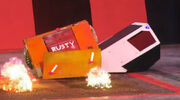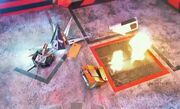 Rusty's inexperience was demonstrated in the opening seconds of the battle, as it drove around with no particular purpose until Apollo slipped underneath it and thrusted it forwards, knocking Rusty's front scoop loose. It was flipped high by Apollo directly afterwards, landing on the flame pit and losing its back armour panel. Rusty vented gas, but was still mobile, as it drove towards Apollo. However, Rusty missed with its flipper, and threw itself over, becoming stranded on its back, where it was pushed by Coyote.
"All over the floor, the Rusty nails! Haha!"
— Jonathan Pearce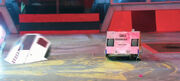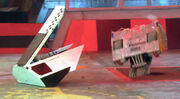 With no way to self-right from this position, Rusty had effectively immobilised itself, and was counted out. Once Rusty was deemed immobile, Apollo charged it towards the arena wall and threw it far, removing more armour. Eventually, Rusty was righted, and it continued to drive around the arena until 'cease' was called, when Apollo once again threw Rusty onto its back. Along with Ms Nightshade, Rusty was eliminated from the competition.
"If you were gonna go out, best to go out against the reigning champion!"
— Angela Scanlon
Results
[
]
Wins/Losses
[
]
Series Record
[
]
NOTE: This record reflects the series record of the robot's owner, Tony Smith. Rusty's televised team competed exclusively in Series 9.
Outside Robot Wars
[
]
Rusty, as well as Coyote are both associated with Scot Bots, which educates Scottish youth about robotics. Both robots appeared at Glasgow Science Centre as part of the Science Lates: Get Curious event on April 8th, 2017.
In May 2017, Rusty's flipper arm was auctioned on eBay, where it eventually sold for £31 to the current owners of PC Plod.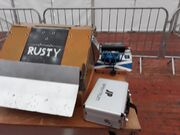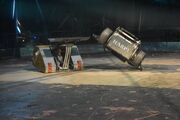 Rusty competed at the 2018 edition of Mechatrons, albeit without success. In its first battle, it was stranded on its back by Iron-Awe 7, and Rusty eventually lost mobility altogether after continued flips. In its battle with King Buxton 20, Rusty's gas supply was disabled, and although it attempted to constantly face King Buxton 20 with its wedge, it ultimately lost the battle. It then fought the powerful flipper of Harpy, but struggled to self-right after expending gas throughout the fight, and eventually lost by knockout. In another battle with Harpy, Rusty achieved a number of flips, but ultimately lost the Judges' decision after being stranded on its back towards the end of the battle. In its final fight, it battled Dozer, and although Rusty was able to flip it over for an instant knockout, Rusty put Dozer back on its wheels, and ultimately lost the Judges' decision.
As of March 2019, Tony Smith has opened up Rusty for public sale, valuing the fully-operational robot at a cost of £1500. The robot was later sold in 2020 to a currently unknown buyer.
Robot Wars Live Events
[
]
For information on Rusty's appearances at live events under its previous guise as Ceros V2.0, refer to Ceros.
Trivia
[
]
Rusty is one of only two robots in Series 9 that didn't have clips from their VT shown in their introduction. This may be due to them being a reserve and not an intended competitor. The other robot to not have the VT clips shown is Meggamouse, although Apex did not use any clips filmed outside of the studio.
References
[
]
External Links
[
]