S.H.A.R.O.N. (alternatively spelt SHARON, originally known during the design process as T.R.A.C.I.E. 2 or TRACIE 2) was a competitor robot built by the KEGS School in Chelmsford, Essex which was intended to enter Series 3 of Robot Wars. Having successfully gone through the first stage of auditions for the series, it was ultimately rejected by the show's producers and would never compete in the televised show.
KEGS School previously had major success on Robot Wars by reaching the Grand Final of Series 1 with their original robot, T.R.A.C.I.E.
Design
[
]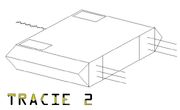 Described by the team as a 'big sister' to T.R.A.C.I.E.,[2] S.H.A.R.O.N. was an invertible, two-wheel drive robot with a flat chassis and a higher ground clearance than its predecessor. An early digital drawing created in by David Mountjoy in Paintbrush software suggested that it was initially to have angled sides, along with being armed with six front spikes (three on each side) and a rotating drill located at the rear. A second prototype made out of Lego Technic pieces was also created, which relocated the drill to the front and had the chassis redesigned with flatter sides to form a stout 'T' shape. It was the latter which formed the basis for the full-scale heavyweight, shown in build photos to be equipped with additional castor wheels at the front. The chassis was completed by mid-November 1998; some components were also planned to be repurposed from T.R.A.C.I.E., which was promptly disassembled to aid with the project.[1]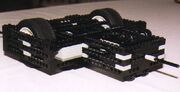 To fulfil their intentions for the drill weapon, which was to be retractable, KEGS School devised a 'sled' system which would run on 'tracks' welded to the inside of S.H.A.R.O.N.'s chassis. This would allow the weapon mechanism to slide back and forth from within the chassis, enabling forward and reverse movement. An air compressor was obtained for this weapon, suggesting that it was to be pneumatically-operated along with the spikes, themselves possibly running on small gas canisters or bicycle pumps.[1]
By March 1999, work on S.H.A.R.O.N.'s drill had slowed, compelling the team to consider abandoning it and designing replacement weapons in time for its first audition. S.H.A.R.O.N. would ultimately attend this with the spikes only, though no images of the completed machine with these installed are currently available online.[1]
Etymology
[
]
The robot's final name was evidently inspired by a remark made by Jeremy Clarkson shortly after T.R.A.C.I.E.'s Gauntlet run in Series 1, Heat F, wherein the eventual Grand Finalist stopped at the halfway point and was attacked by the House Robots. KEGS School's consistent reference to S.H.A.R.O.N. as a 'big sister' of T.R.A.C.I.E. also likely suggests a continuation of their theme of giving their robots female acronymic names.[2]
Qualification
[
]
S.H.A.R.O.N.'s attempted entry into Series 3 was beset by multiple issues, including initial difficulties contacting Mentorn about the timeframe for the series auditions. However, it was ready in time for the first wave of auditions taking place in London on 31st May 1999 (coinciding with the Bank Holiday Monday) wherein it was inspected by Mat Irvine. During the 10-minute scrutineering process, Irvine highlighted concerns with the robot's batteries and spikes as well as the type of 'on-off' power switch it used; the former were deemed 'dangerous' despite KEGS School believing that they posed less of a safety risk than other battery types and petrol-driven systems being permitted. Even with Irvine's reservations, the team received notification shortly after that S.H.A.R.O.N. had successfully reached the next stage of the selection process - a second audition on 21st June.[1]
On the early morning of said audition, disaster struck when S.H.A.R.O.N.'s speed controllers blew, leaving behind what David Mountjoy described as 'mushroom clouds' of smoke. These components were sent away for repair and returned, only to be sent back again after one was only able to run in forward drive. Needless to say, KEGS School were not able to attend the 21st June audition, but continued to receive letters regarding preparations and choices for potential events for some time after.[1]
Though this level of correspondence suggested that it was being considered for entry into the televised show, S.H.A.R.O.N. was ultimately not selected to compete in the main competition of The Third Wars. The decision was confirmed to KEGS School in late September 1999;[1] however, a Tinweb forum thread from earlier the same month suggests that David Mountjoy had participated in discussions with other roboteers surrounding pairings for the planned Tag Team side competition.[3] As his post merely addressed a query from 1 Law Associates who wished to contact the Limpet team, it is unknown whether S.H.A.R.O.N. was planned to compete in this or any other side competitions at all. In any case, the Tag Team event was among the side competitions to later be cancelled following a serious behind-the-scenes accident.[4]
Following S.H.A.R.O.N.'s non-selection, the team decided not to attempt a similar entry for The Fourth Wars, effectively marking KEGS School's retirement from Robot Wars.[1]
Series Record
[
]
Outside Robot Wars
[
]
In their build diary, KEGS School stated that they had planned to attend a live event with S.H.A.R.O.N., though a lack of correspondences received suggested to them that the event had been cancelled while the robot was still under construction.[1]
During S.H.A.R.O.N.'s development, David Mountjoy of KEGS School created the popular Tectonic Robot Wars website, which featured a build diary chronicling its design, construction and application attempt. The unofficial site also provided general information, interviews and images relevant to the first four main UK series, as well as reports on the first three episodes of Robot Wars Extreme: Series 1. Mountjoy would keep updating the site until November 2001, citing increasing work commitments as a reason for reducing the scale and frequency of updates.[5]
Trivia
[
]
References
[
]
External Links
[
]