"A sleek design, it'll beetle around the arena at only eight miles an hour though. Not quick. The jaws are hydraulic. The frame tubular steal. The twenty-four bolt motors come from a wheelchair."
— Jonathan Pearce
Scarab was a competitor robot that solely fought in the third series of Robot Wars. While the first competitor to use horizontal crushing jaws as a weapon, it did not fare well in that series, being eliminated in the first round.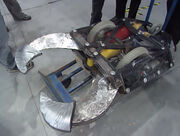 Scarab was an invertible, two-wheeled robot with a roughly diamond shaped tubular steel body, transparent armour and a set of hydraulic crushing jaws which could crush at 2.5 tonnes of pressure. It was the first competitor to use a horizontal crusher, a weapon type which would eventually be used effectively by future competitors Kan-Opener and Tough as Nails in later series. Like many robots of it time, Scarab was powered by wheelchair motors, and had strong armour, but it was slow at 8 mph, had a high ground clearance, and its tyres were vulnerable to damage from the arena spikes.
Robot History
Edit
Scarab fought in Heat P, facing Victor 2 in the first round of Heat P.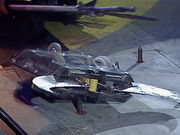 Both robots met in the centre of the arena, with Scarab immediately grabbing hold of Victor 2 and trying to use its jaws to crush Victor 2's body and wheel. Scarab backed away, again grabbing Victor 2 and upending it, causing Victor 2's flail to tear off the protective mesh protecting its internals. Despite this, Victor 2 steered Scarab towards the wall and pushed it into Sir Killalot, with Scarab appearing to be immobilised as it was raised by the arena spikes, which punctured its tyres. 'Cease' was called, and Scarab was eliminated.
Andrew Miles: "I just didn't see the spikes...I guess I have to take the blame."
Philippa Forrester: "Well, you know, this is the point of the spikes. You're not meant to be able to see them, but everyone really knows they're there. It's like the other guy from Killerhurtz saying, 'I forgot about the pit'."
— Philippa Forrester likens Andrew Miles' mistake to John Reid's
Wins/Losses
Edit
Series Record
Edit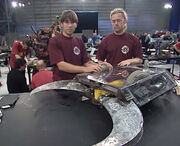 Community content is available under
CC-BY-SA
unless otherwise noted.