Scrap Dragon was a competitor robot that attempted to qualify for Series 6 and Series 7 of Robot Wars. It failed to qualify for either series after losing its qualifier battles.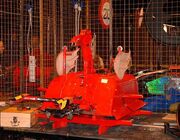 Scrap Dragon was a red wedged box-shaped robot designed to resemble a dragon. Its weapons were a small front lifter and a rear flail which was meant to represent the dragon's 'tail'. The robot also featured a 'dragon's head' at the front which acted as a clamp, as well as a pair of wings with top-mounted spikes which acted as Scrap Dragon's srimech.
Qualification
Edit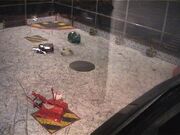 Scrap Dragon first attempted to qualify for Series 6, fighting The Stag, Shell Shock and Gyrobot in its qualifier battle. It initially started strongly, ramming into Shell Shock and The Stag before sustaining a hit from Gyrobot's rim. Scrap Dragon spun around before driving onto the dummy Floor Flipper and firing its flail, then temporarily lost mobility after driving into Shell Shock. It started moving again just as The Stag slammed it side-on and pushed it round in circles, before being hit by Gyrobot and attacking The Stag again. Scrap Dragon was eventually immobilised following another slam from Gyrobot, and lost the qualifier to The Stag, after both Shell Shock and Gyrobot also broke down during the battle. As a result, Scrap Dragon failed to qualify for the Sixth Wars.
A virtually unchanged Scrap Dragon returned to qualify for Series 7, but as before, it failed to qualify for the televised competition.
Series Record
Edit
Outside Robot Wars
Edit
After the filming of Series 7, Scrap Dragon continued to appear at live events, and is known to have faced Leveller 2 at least once, before soon retiring.
Community content is available under
CC-BY-SA
unless otherwise noted.